It is Finally Fall and Biscotti Recipe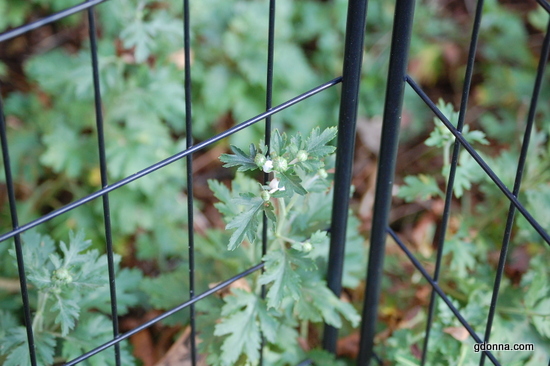 We know it is fall when our Heirloom Chrysanthemums start to bud out.
Somehow we have managed to keep these historic Chrysanthemums alive. Many years ago when I was young there was this very old wooden post office in the small town where we lived. Next door to the post office was a large wooden house and the Post Mistress lived in that house. We all knew her as Mrs. Houston. She had these Chrysanthemums growing around areas in her yard. Then before we knew it time passed, Mrs. Houston grew old and went to a nursing home. A new modern post office had been built and they moved the old post office to a museum.
Then one day while I was visiting my Mother a man that knew my Mother came by her house and brought her these Chrysanthemums that had been dug up from Mrs. Houston's yard. I planted them in my Mothers yard and they took root and bloomed the next year. Then more time passed and my Mother was diagnosed with Breast Cancer then Dementia. We moved my Mother to our house and we moved her Heirloom Chrysanthemums to our yard. Then my Mother passed away and the Chrysanthemums have continued to live on. The heirloom Chrysanthemums will be in bloom soon and I will post pictures. But here is a sneak peek from last year.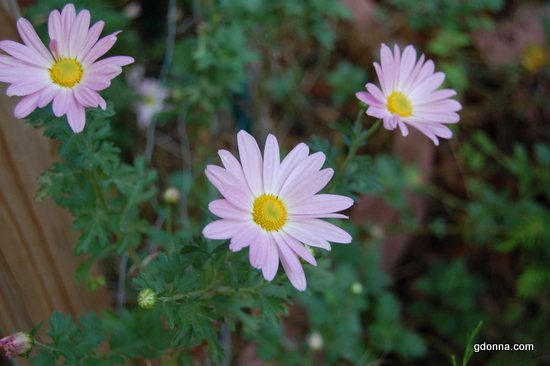 Summer was a bit rough this year here at gdonna's. We suffered drought and very hot temperatures, then came the mosquitos and the threat of West Nile Virus. Since I ain't no spring chicken and into my fall/winter years of life I try to avoid all possible illnesses or falls so I pretty much gave up on the garden except for a few things and stayed indoors dreading the electric bills due to the need for air conditioning. So now that this has passed it is time to move on to enjoy fall. The windows are back open and I have a batch of Biscotti baking in the oven. So while I am waiting for it to bake I thought I would sit down and do a little work at gdonna's.
How about my recipe for Biscotti? Ok, here it is.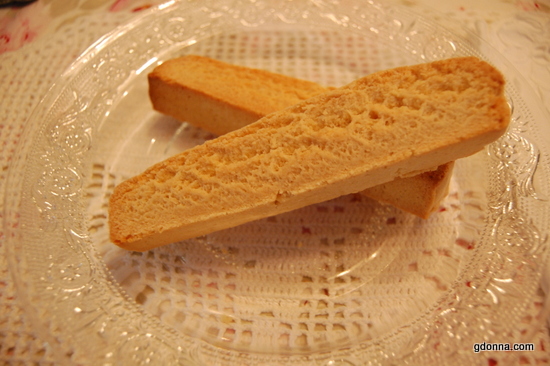 We call this GrandChip's No Nuts Biscotti
Recipe
This is not difficult at all but it does take a little time because it is baked twice and cooled in between.
Preheat 350 degree oven
1 Cup sugar ( I use organic sugar)
1/2 cup real butter softened. ( I use Organic butter)
2 eggs ( I use organic eggs)
3 1/2 cups all purpose flour
1 teaspoon baking powder
1/2 teaspoon salt
1 teaspoon vanilla
Note* If you are allergic to dairy you can substitute 1/2 cup light olive oil for the butter.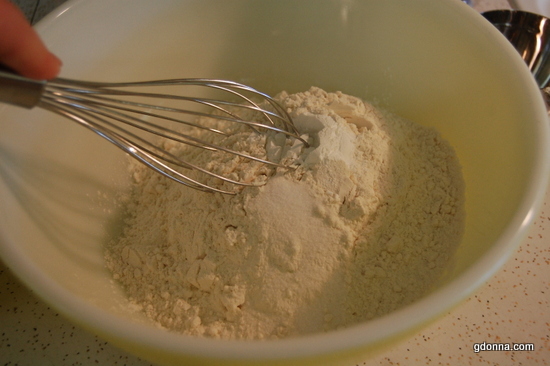 Use two bowls, in one bowl put flour, baking powder and salt and whisk the dry ingredients until mixed together.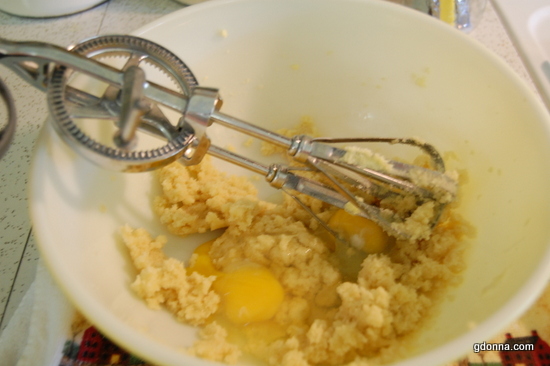 In another bowl mix first the softened butter and sugar then add the two eggs and beat a little bit more.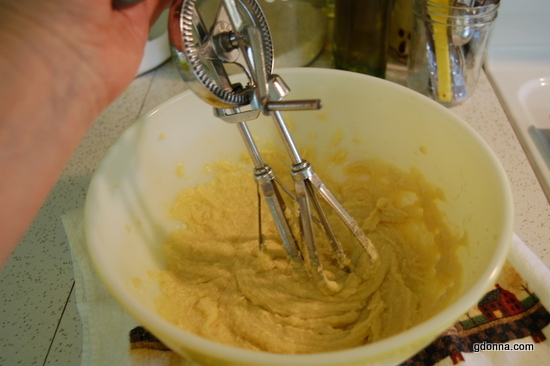 It should look like this, don't over beat.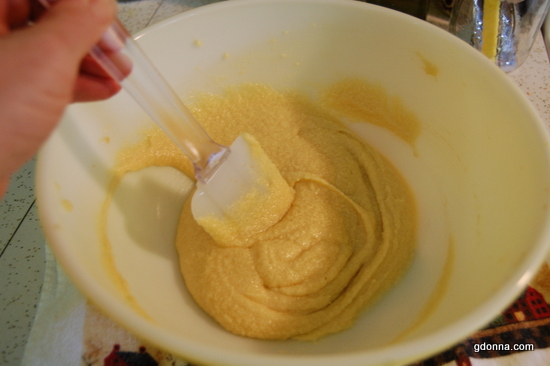 Stir in the vanilla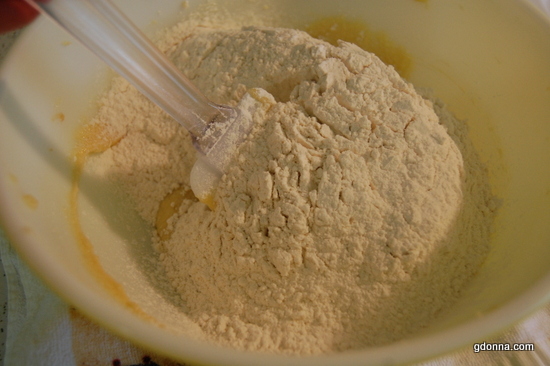 With a spoon or spatula Stir in the flour mixture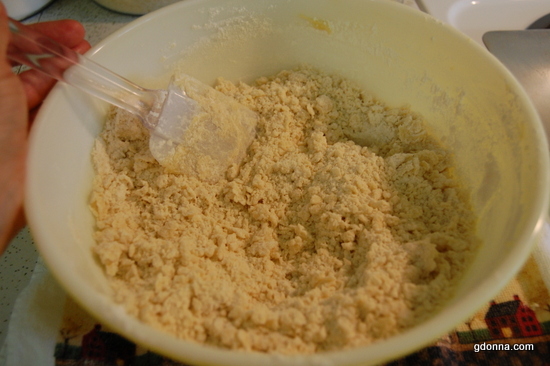 mix with spoon or spatula until it looks like this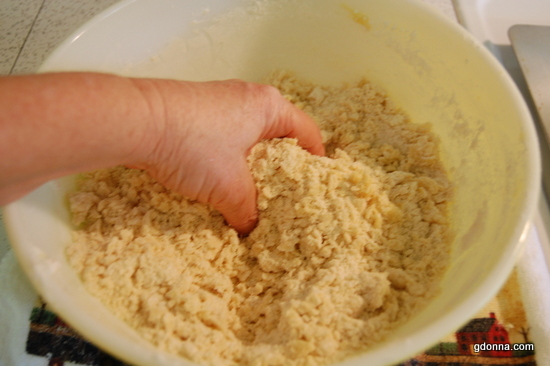 knead it with your hands until it starts trying to stick together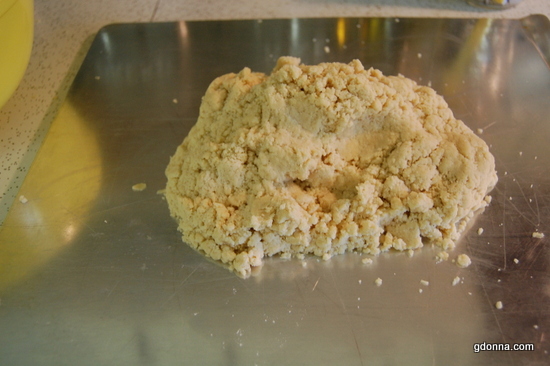 Ease it out of the bowl on to a ungreased cookie sheet. I use the air cookie sheets where there are two layers of metal and air in between. I have never liked a plain flat cookie sheet because they burn things. The dough will still be crumbly so be careful placing it on to the cookie sheet. Then start forming the dough mashing together to form a rectangle.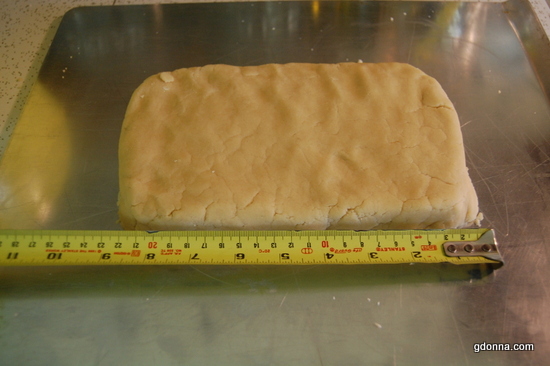 Press it out until it is about 9 inches by 5 inches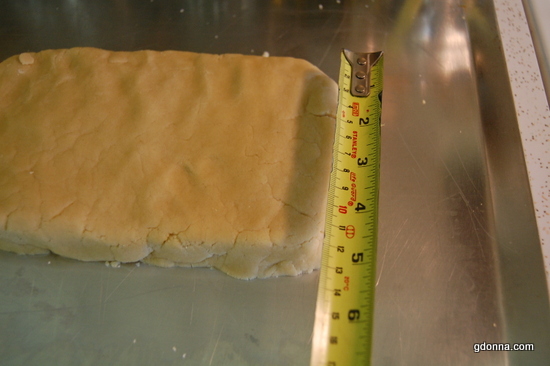 five inches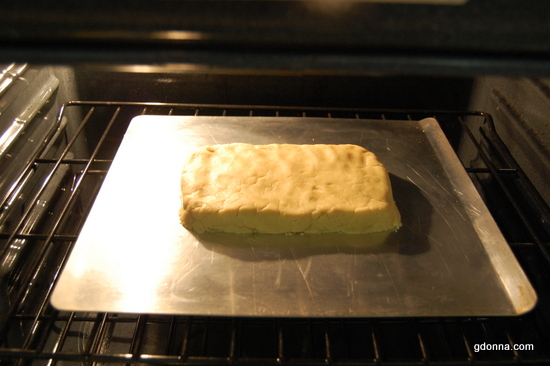 Place in hot oven 350 degrees and cook 20 to 22 minutes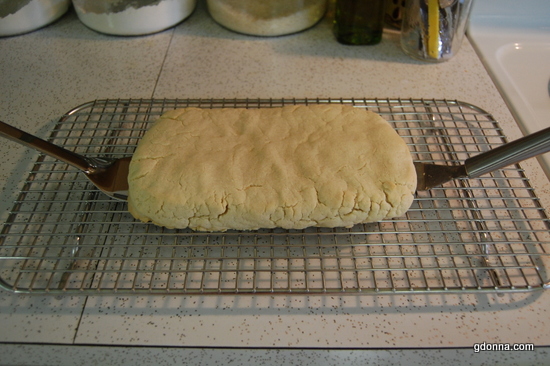 Remove from heat using two spatulas on to a cooling rack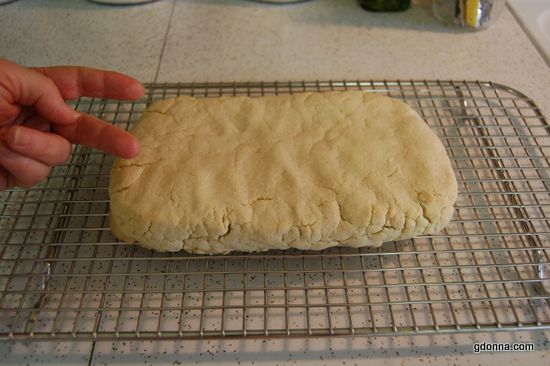 Let it cool for 20 minutes. It will still be a bit warm after 20 minutes but it needs to be like that to cut it.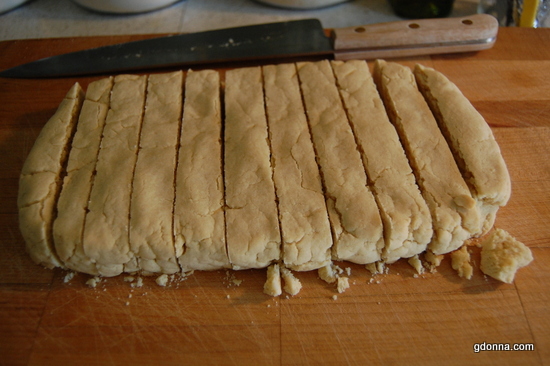 Slice it up like this about an inch wide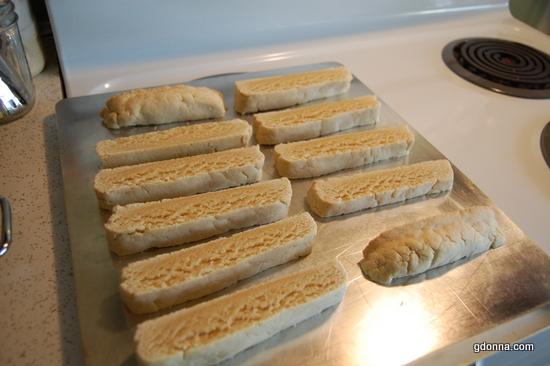 Place them on their side, not like they were when you cut them, on their side.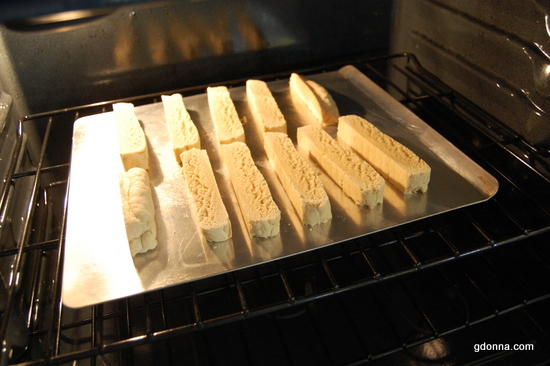 Place them back in the oven and bake another 20 to 22 minutes at 350 degrees.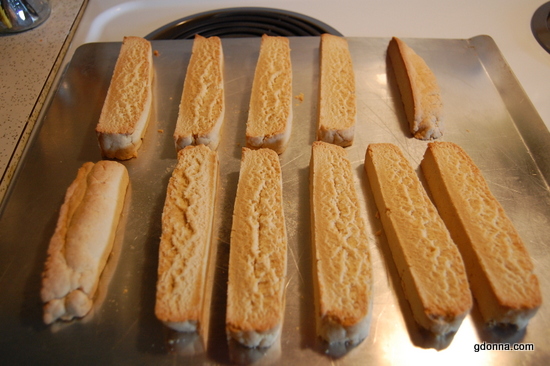 Ok so now they baked another 20 to 22 minutes and are a little golden. Remove them from the cookie sheet on to a cooling rack again.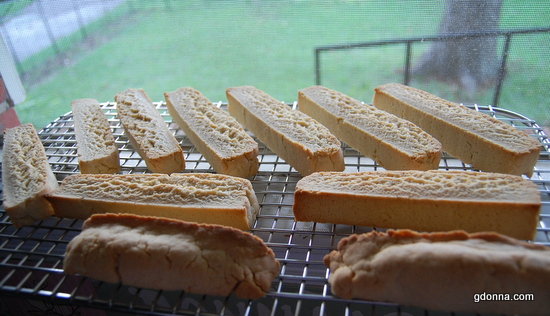 After transfer to cooling rack, put them in a place to cool. I like to put them in a window ledge.
Biscotti is a hard cookie and is very good with coffee, milk or wine.
Ummmmm some more good!