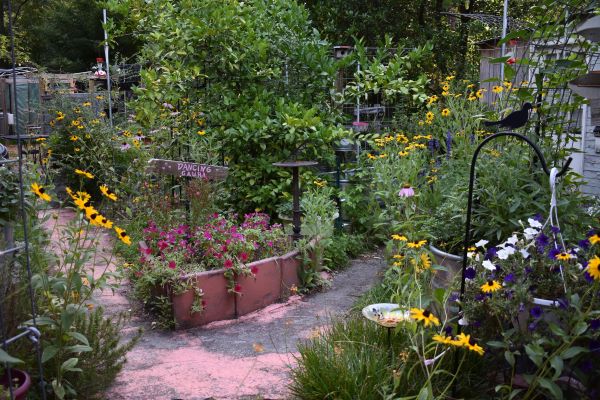 Today is June the 2nd and the garden, I have been painting and cooking and gardening and the garden is getting full but not harvest time. I thought I would just show what is going on in and around the house.
But I will go back inside first.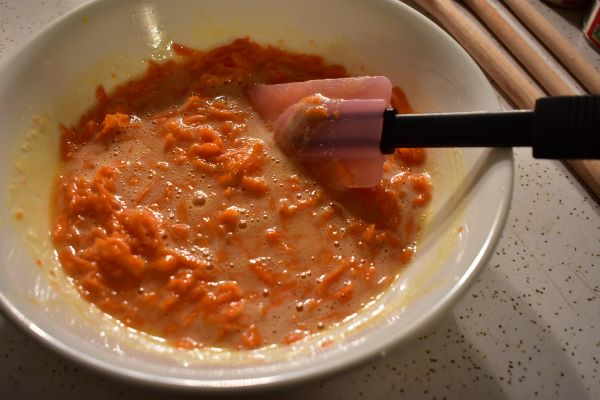 I decided to try a new carrot cake roll that I found online because I wanted a small cake.
***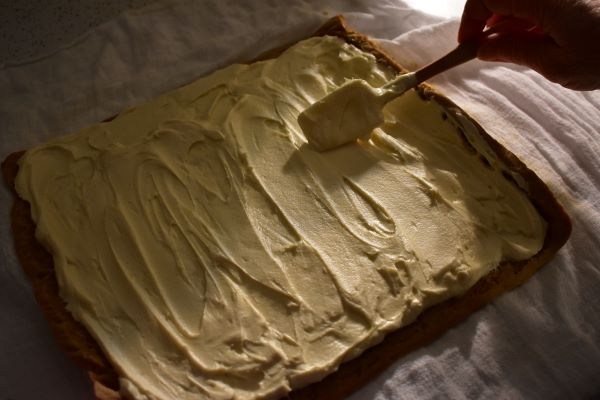 It is a simple cake and just a sheet cake and rolled in a bakers towel, unrolled after it has cooled and filling spread over...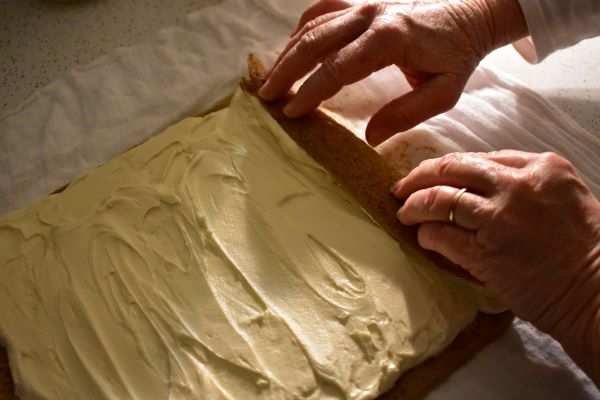 Then it is iced and rolled back into a roll.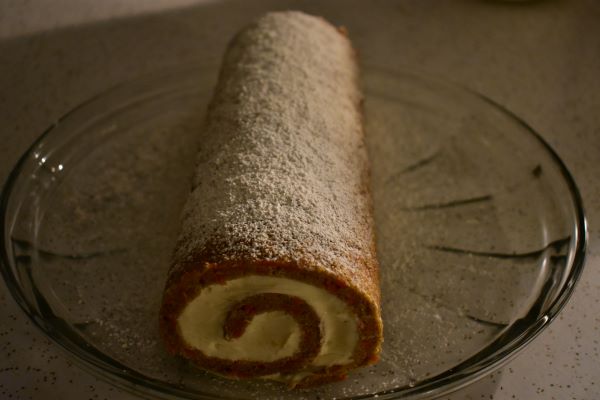 It is then dusted with powdered sugar and placed in the refrigerator to chill.
The cake is more dense than a regular fluffy carrot cake but the rolled cake would be good with a cup of tea or coffee. I will link at the bottom to where I got this recipe.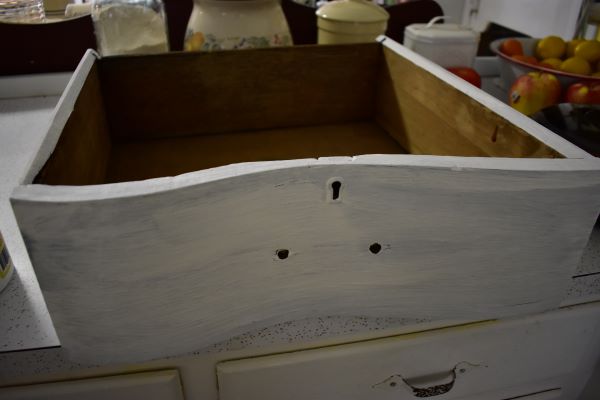 Then I decided to rescue the old dresser that I had in the house with the warped drawers and I put it in the greenhouse for one year then took it out and put it under the carport to make a stove. Well it just did not feel right and we used a different table for the stove and I rescued it again. I decided to paint it and Charles said he would work on the drawers.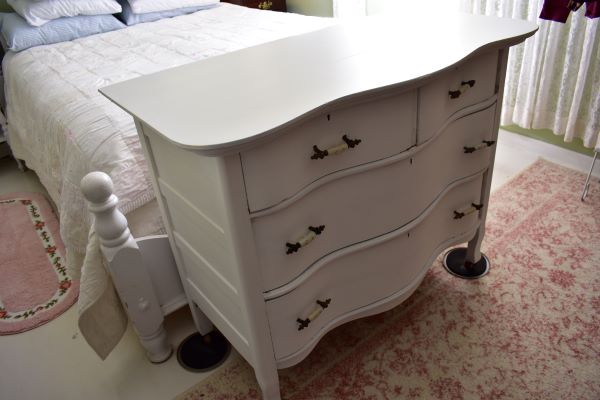 So now it is parked here at the foot of the guest room bed curing.
Someone that reads my blog asked me why do I paint my furniture and that she likes her furniture in its original wood. Oh I love original wood and a few pieces I will not paint. But my eyes are getting bad, I have mentioned this before and that dark furniture or dark rugs make it difficult for me in the house in late afternoon and evening or early morning. So I try to have many light pieces to lighten our dark small house.
Our windows are small short windows and the lighter the walls and furniture the safer it is for old folks. :)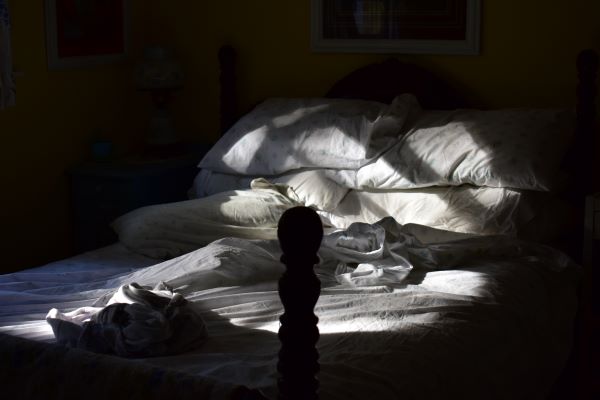 The normal day of making the bed and dusting and cleaning the floors and cooking and washing the dishes.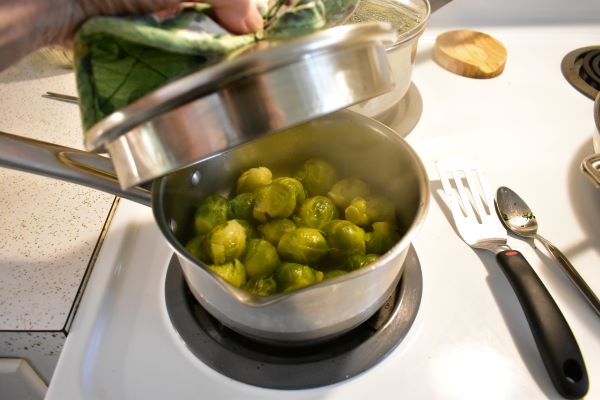 Simple vegetables...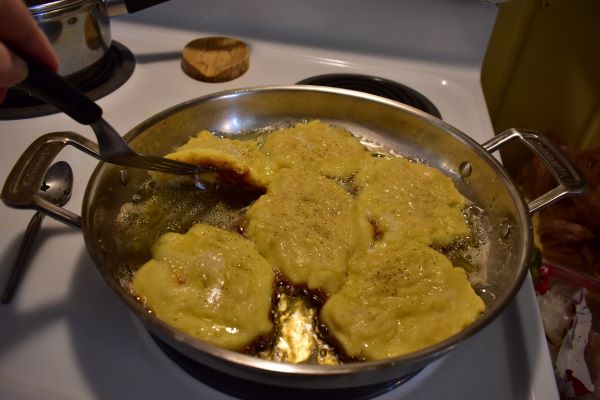 Cooking savory potato pancakes with leftover mashed potatoes. Just add egg, onion, flour, salt and pepper and shallow fry them.
I do not fry a lot of our food but there are a few things that I do such as the potato pancakes, okra occasionally but normally boil them or put them in soup. Hardly fry chicken anymore as I did years ago.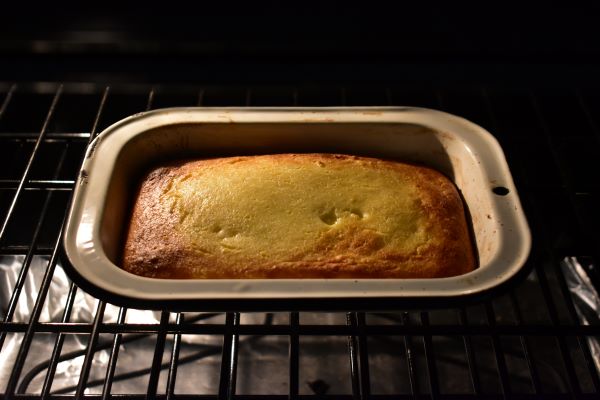 I made a small pan of corn pudding.....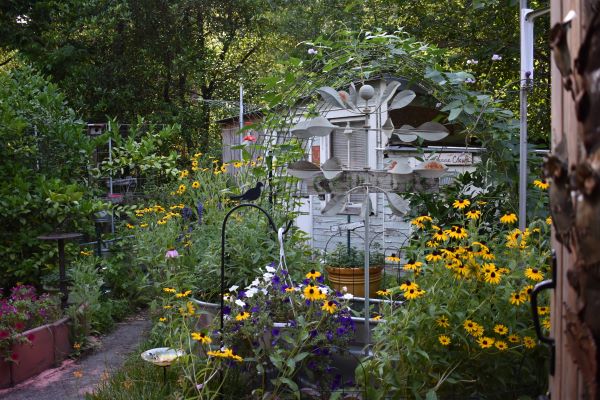 The garden feels like a whimsical, cottage garden.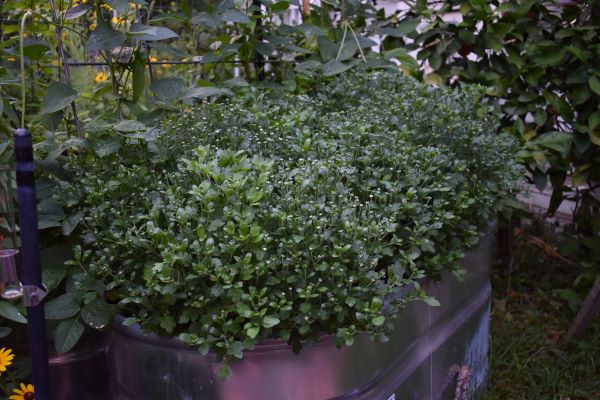 The large water tank containers are full of Mums and long beans that are climbing out and over cattle panel trellises.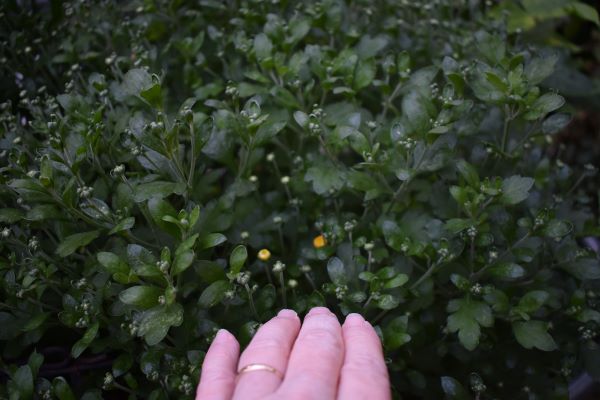 The mums are about to pop open with blooms.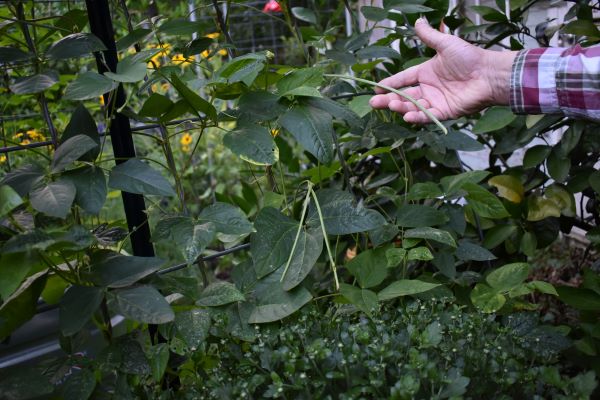 The beans have started making, these still have to fill out and grow longer.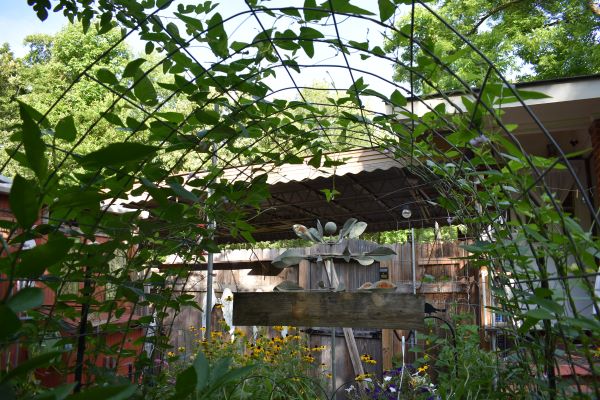 They are on their way up and over the trellis, meeting and overlapping to the other side.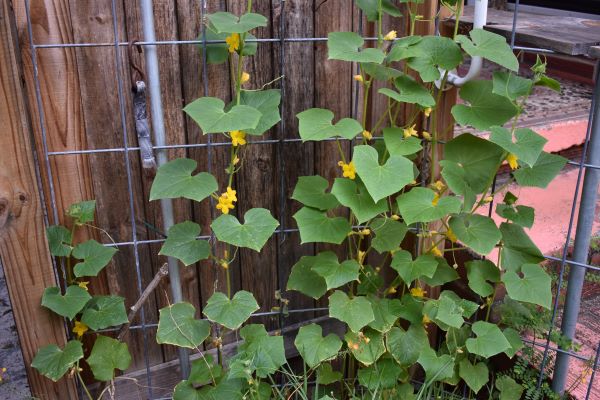 The cucumbers are starting to climb and bloom.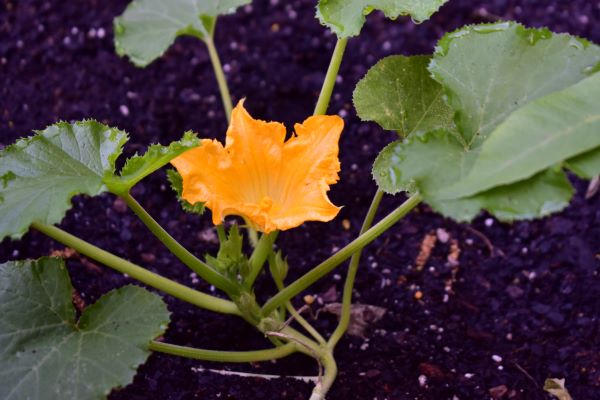 The zucchini are still small but it will not be long before they are plenty big.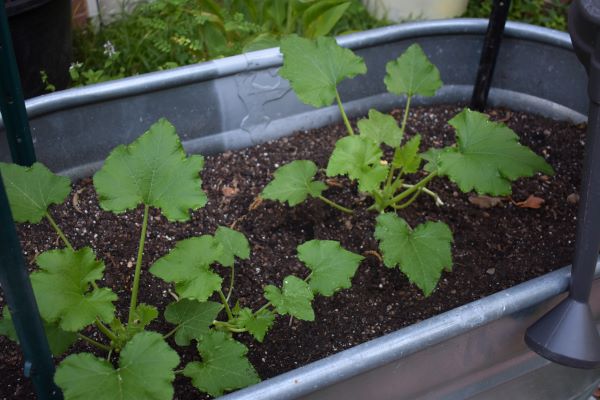 This is one of the tanks holding two zucchini plants.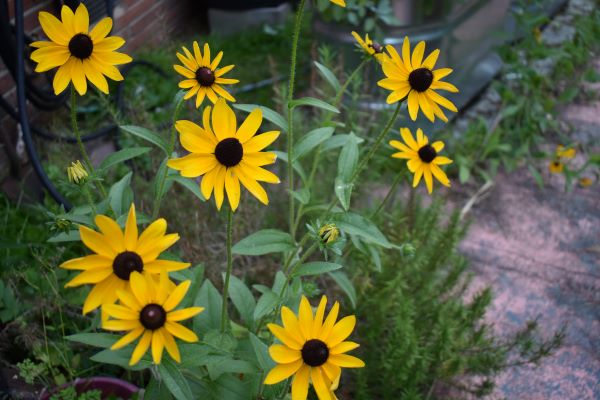 Another tank holds sweet potatoes. We have harvested the garlic and one large tank of potatoes. We have another almost ready to harvest.
The blackeyed susans feel like little bushes of flower families.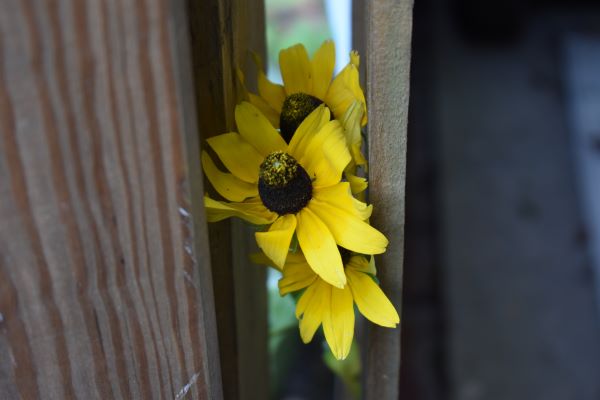 There are even blackeyed susans trying to grow between fences.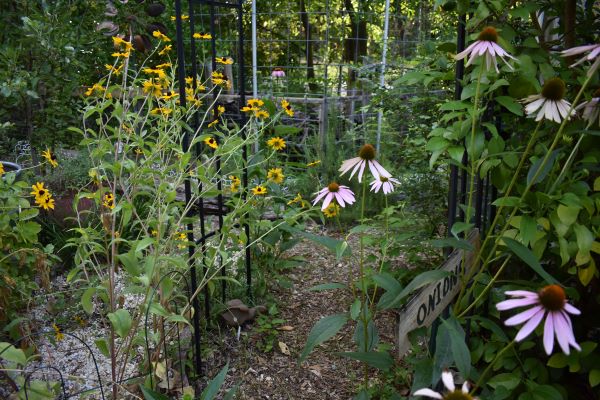 It is pleasantly difficult to walk along the paths for bumping into flowers.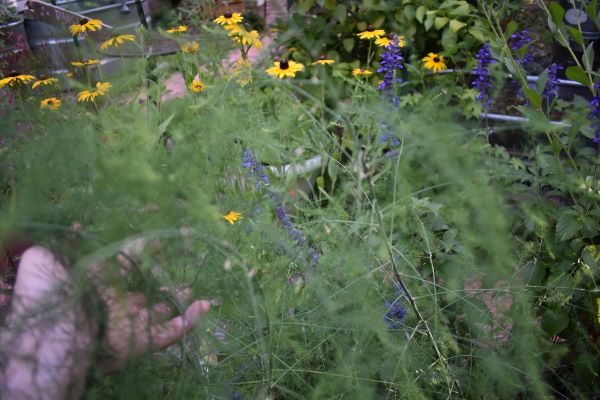 Asparagus ferns look like soft lace among the different colored flowers.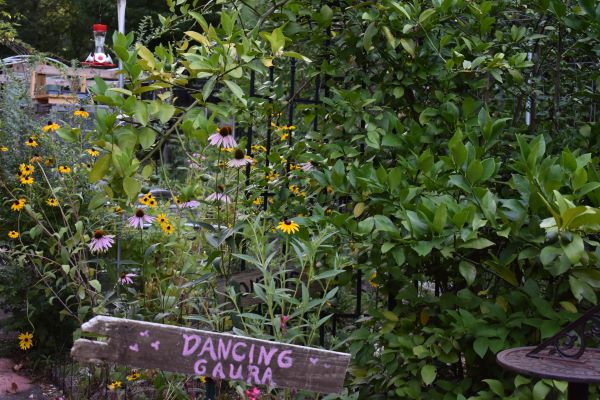 The Guara has pink floating flowers bouncing through the yard...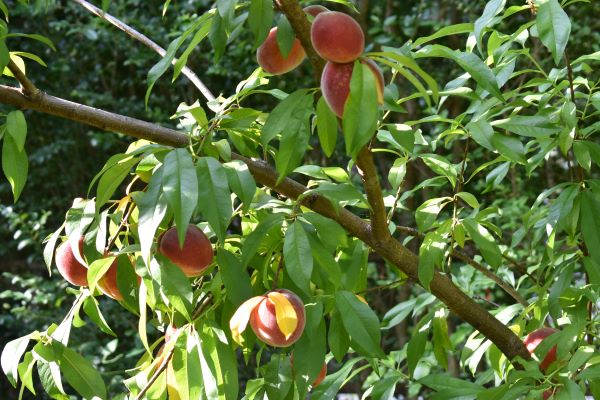 Peaches are hanging on the trees on the side yard and pears in the front yard.
This all did not just happen, it was nothing here until we planted it in the ground. You can have this too if you want it. Just start one plant or bush or tree at a time. :)
Grandma Donna
******* Link to rolled carrot cake below