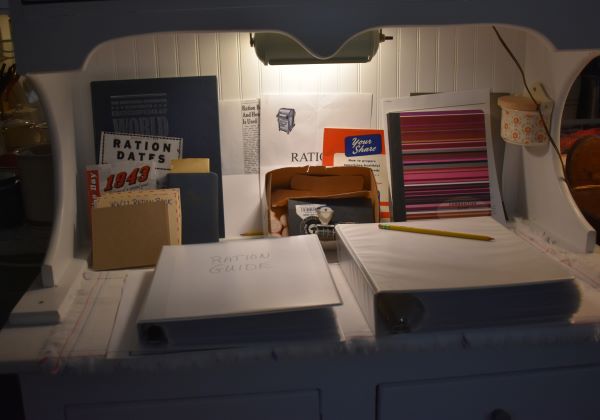 Anyone new that has just popped in on this post, this year of 2022 we are doing a history study of living like the year 1943.
There is a Part one of this post called "Finding Calm Researching the Past Part One".
This post will cover news and rations covering new information from last week after last weeks post and what we know already from this week. As I write this today it is January 17th, 1943.
Starting with the news.
There has been a curfew law for children asked. An ordinance requiring all children, under seventeen years of age to be off the streets of Dothan by 9 p.m. unless accompanied by their parents or guardian, is now before the City Commission for its approval. This ordinance, an amendment to the old curfew law, was drawn by City Attorney. Any child breaking the law after it goes into affect, will be turned over to the juvenile court.
****
We have learned that Salesmen may get additional Gasoline. Immediate steps will be taken to supply traveling salesmen in the preferred mileage category with additional gasoline to carry on their occupations. Houston County War Price and Rationing Board official said today.
****
The office of Price administration has announced that many canned baby foods will be rationed under the same point system to be used for rationing of processed fruits and vegetables.
****
One of our most upsetting news stories (to me) is there is a BUTTER SHORTAGE! And with butter rationing coming. So it is time to learn how to cook with little butter.
Little if any relief in the present butter shortage is expected by the dairymen, although the country has passed the point of lowest production. Butter is rationed voluntarily in practically all sections of the nation but no official system under government control has been announced.
Although more butter is being manufactured now than in December, dairymen said that even under normal circumstances production does not catch up with consumption until around the middle of April.
****
New USO opens here in Dothan on south foster street, officially opened yesterday with volunteer hostesses in charge of the snack bar to hand out coffee and donuts made on the spot. Free movies for the soldiers and their dates and a dance with music furnished by Camp Rucker Orchestra. Last night the servicemen saw a talkie movie featuring Abbott and Costello in "In The Navy". Throughout the day, enlisted men, British Cadets and women thronged the center and steaming hot coffee.
****
Activities of the Dothan food control committee, which is still in a formative stage, are being handled executive secretary, who said today that already complaints of certain food shortages. Some independent retailers had reported they were without any coffee stock where chain stores continued to serve customers with limited supply. There also has been a shortage of a certain brand of milk used in infant feeding. In the months to come the people must learn to substitute foods of equal nutritive value or those not found on the grocery shelves.
****
How will the housewife know when point values are changed?
The newspapers and radio will carry the announcements and every food store will have an OPA poster showing the current point values of each particular product. A new poster will be issued when point values change.
Will the Point Values be the same in all stores or will they vary between high-price and low price stores?
The point values are the same in all stores in the country regardless of the price charged.
****
Movie this week..
Alabama Martin and Davis Theater, Road to Morocco and Tales of Manhattan
Houston Martin and Davis Theater, We are the Marines and The Wrecking Crew.
The martin Theater, Once Upon a Honeymoon
Rationing News
Last post called Our Vintage 1943 Life, I posted ration updates from January 14th.
January 20th 1943 updates.
Gasoline and Tires.
"A" book gasoline coupons good for four gallons thru January 21 and "B" and "C" coupons good for four gallons until expiration date. Motorist are required to write license number and state on back of each coupon.
Local War Price and Rationing Boards will not renew gasoline rations, or authorize tire purchase or recap for any passenger car unless the operator carries a tire inspection record.
The Deadline for the first tire inspection is January 31, for all passenger cars. Thereafter, "B" and "C" book holders must have their tires inspected every two months; "A" book holders every four months; "T" book holders every 60 days, or after each 5,000 miles, whichever occurs first.
Application for new or recapped tires must be made to the local War Price and Rationing Board.
Coffee
Stamp 28 in War Ration Book No. 1 good for one pound from January through February 7.
Sugar
Stamp 10 in War Ration Book No. 1 good for three pounds until January 31.
Meat and Processed Foods
War ration Book no. 2 which will be used to ration processed foods, meat and possibly other food items, will be issued only to holders of Book One (Coffee-sugar book). Book No. 1 must be obtained by January 15 from the local War Price and Rationing Board.
Dates to Remember
January 23 - Fuel Oil Coupon 2 expires.
February 7 - Coffee ration stamp 28 expires
January 31 - Sugar ration stamp 10 expires
January 21 Last day for using No. 3 gasoline coupon in "A" book.
Charles and I are still learning too, Charles has made a gasoline book so he can put his stamps in and when he used them. He applied for the salesmen extra gasoline. Fuel oil is another rationing that we are working on because we are using kerosene to heat our home.
Today has been chilly.
Now the diary.
Friday Jan 15 1943. Same old fog till noon. Over at E.D. St. Caring for Punky. Bob at S. both home at 2:30 had dinner at 5:30
Sat Jan 16. Nice, no fog. Bob took me to E.D. St. Babs went along to Buss Station. Home at 2:30.
Sun Jan 17 Nice but very cold. Bob up at O. Station 8 - 10 Don't have to go to 624 in a.m.
Mon Jan 18 Hard Frost 23 degrees. Bob to S. Mrs. Bridge left baby here in forenoon. Marshall called in Afternoon.
Tue Jan 19 Cloudy & cold 25 degrees, 2 degrees warmer than yesterday. Bob at S. home at 2:50 Ruth & Al in City accident.
Wed Jan 20. Rain last night & all day, 1 3/4 in. Bob at S, home about 2:40 P.M. Don & Jeannie's Baby Boy born.
Thurs Jan 21 Fierce Wind & rain all day. Bob home from S. 2:30. Up town to shop. Over at Frahms in Eve a bare minute.
I will continue next week to see what has been going on with Lil and Bob.
Grandma Donna