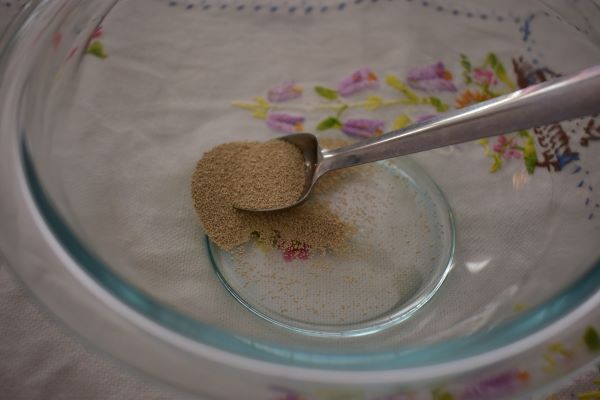 In my last post that I just did, I mentioned that I would post a easy sandwich bread to make.
Bread is not hard to make and only requires a few shelf stable items.
Bread making is like many things that just requires doing it a few times to develop the skill.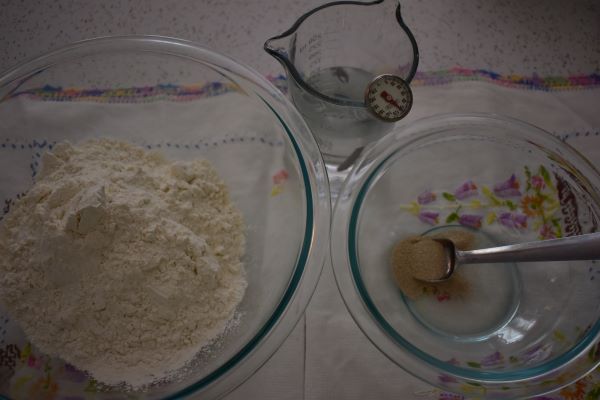 This recipe can be used in the bread machine or done by hand. A lot of people do not have a bread machine so I am showing how to make the bread by hand.
In the photo above there is a thermometer. It is good to have one for making bread but not necessary. I use water between 105 to 110 degrees but this is just warm water. Not hot water but warm water.
Simple white bread one loaf
2 cups all purpose flour
1/2 teaspoon salt
1 teaspoon active dry yeast (or bread machine yeast if using a bread machine)
2 tablespoons sugar
2/3 cup warm water 105 degrees to 110 degrees
2 tablespoons oil ( I use light olive oil) or you can use 4 tablespoons softened butter
Bread is something we plan ahead. We live in an instant world now and want everything easy and right now. Bread making is easy but requires time to let the dough develop and then have a second rise as well. It is not like we are working on this bread all day. Just make the bread early in the morning if you want it for lunch or supper or make it anytime if you want it the next day.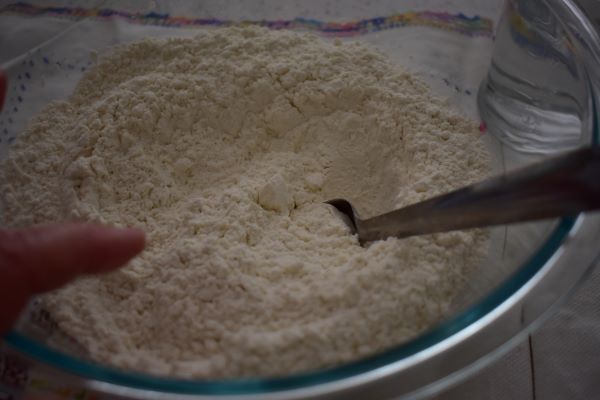 Put two cups of flour in the bowl and one teaspoon of salt. and toss the salt around in the flour and set aside..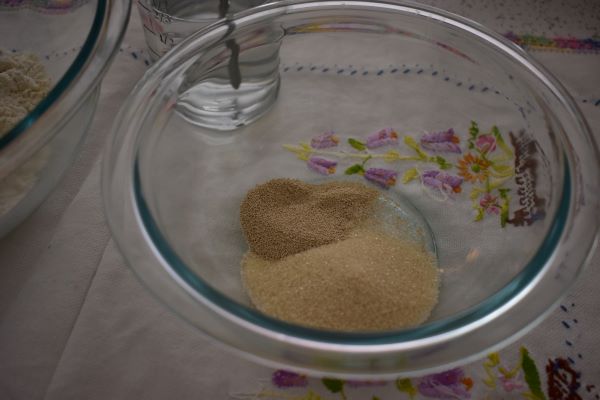 In another smaller bowl put in the yeast and sugar.
(If using a bread machine I add the wet ingredients first then the dry ingredients into the bread mixing pan.)
When making it by hand we want to give the yeast time to develop a bit.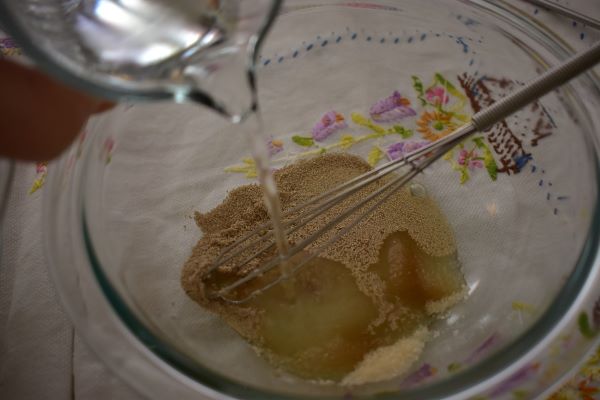 So to develop the yeast, add the warm water to the yeast and sugar and whisk or stir. I have this cute tiny whisk I found I like to use but a spoon is what I always used before. Whisk and wait 10 to 12 minutes..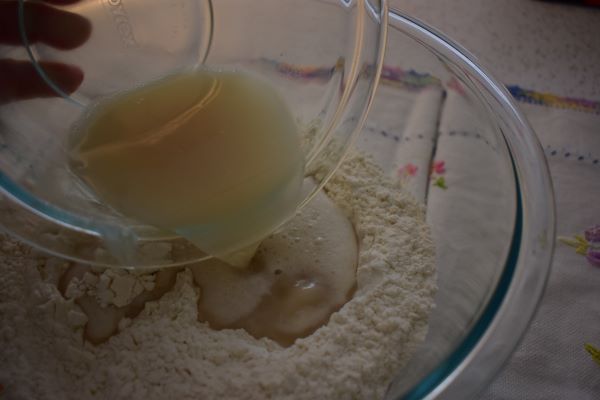 After ten or twelve minutes waiting for the yeast to develop, add the yeast mixture to the flour (that we have already added salt in the flour)...
It is always important to use yeast that is not expired.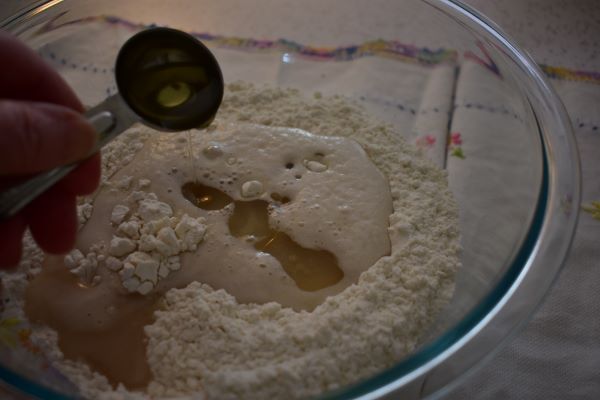 Now add the 2 tablespoons of oil..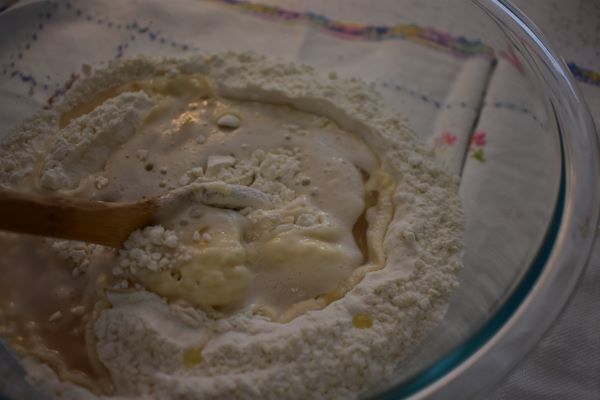 I take a spoon and mix this around until...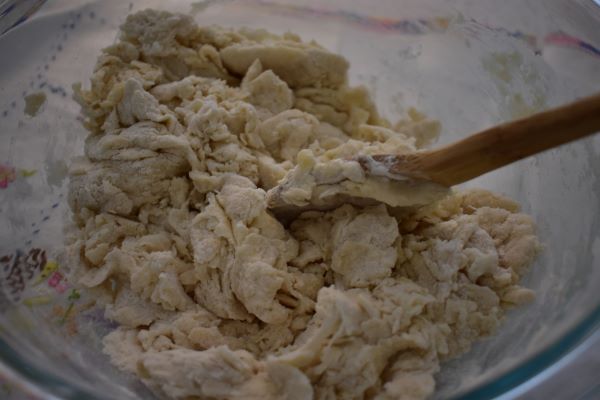 Until it becomes difficult to mix. Now it is time to get our hands into it.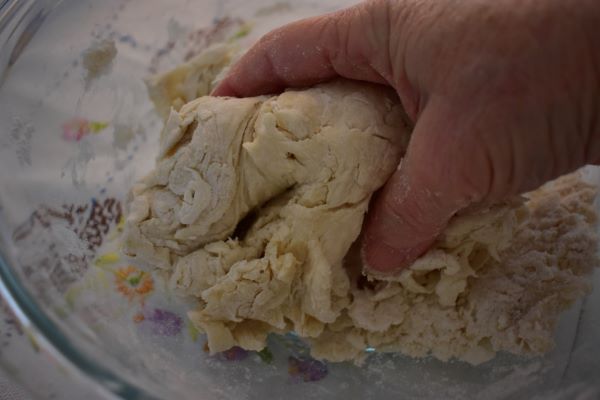 So I squeeze and press around in the bowl to get it ready for kneading..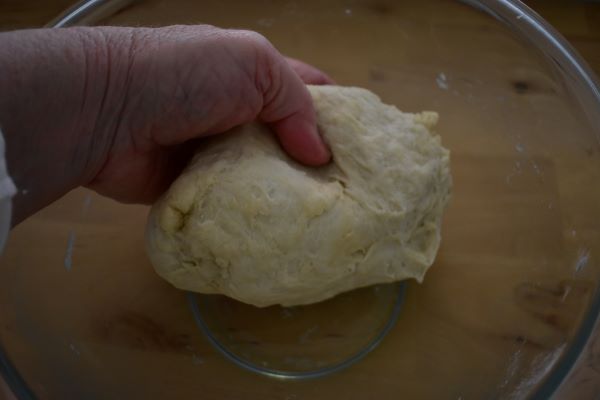 Then when it has been squeezed and mashed (bowl kneading) for about five minutes I take it out and place it on the counter or wood board.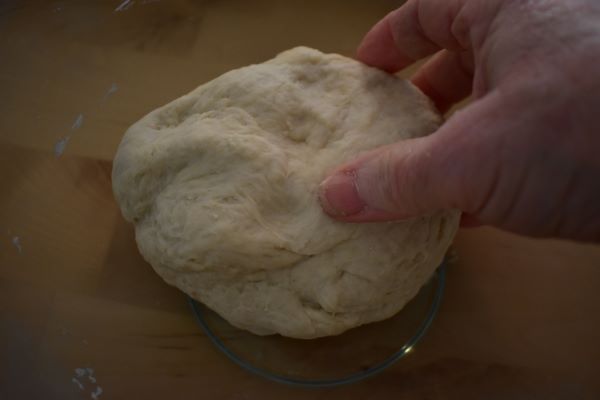 After kneading on the board for another 5 minutes this is what it looks like, It is Not ready.
Kneading is important with bread making and it is not difficult and a really good way to build muscles in your arms.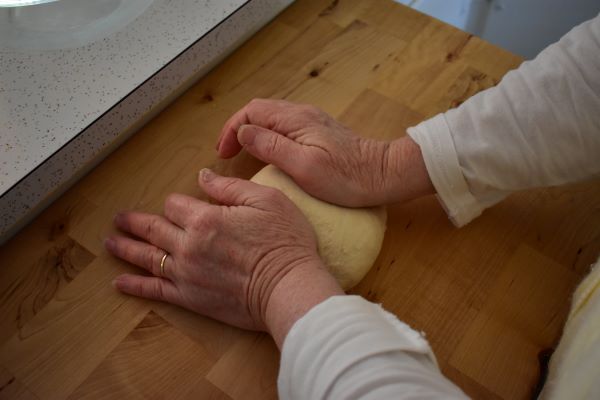 Continue on kneading, you can take breaks if needed. I knead fast so the dough keeps moving so it does not stick to the board or require anymore flour. Weather does affect bread making and other factors so you just might need more flour or more water but just start with this recipe to see if it works.
To knead, press, flip, fold, press, occasionally stretch and slap down and keep moving another 5 minutes or more.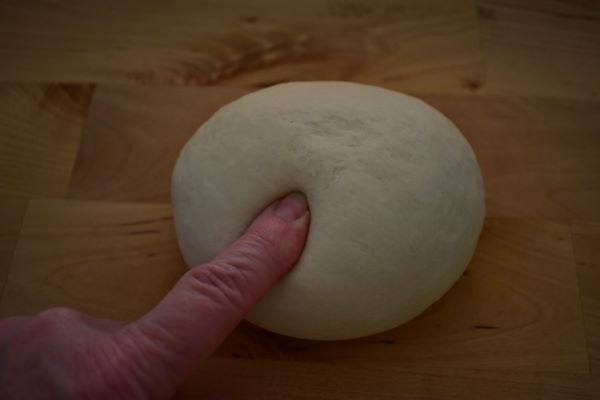 Knead until it is a nice soft dough. Always knead longer than you think is good and it will be good. I knead for at least 15 minutes. A lot cheaper than going to the gym.
Press in with your finger...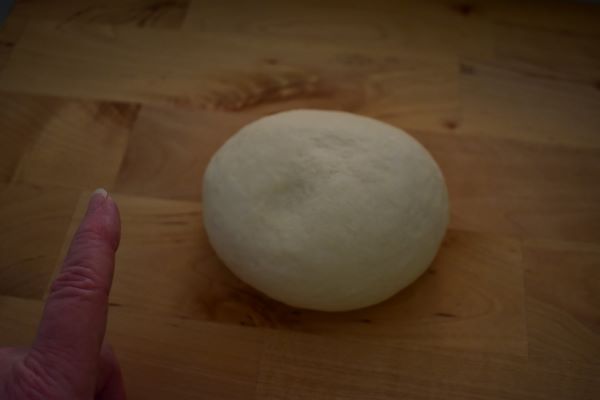 and it springs back.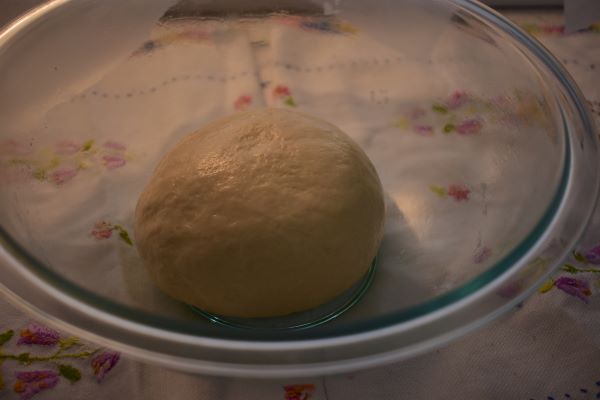 Place into an slightly oiled bowl and flip it around to get a light coating of oil. I use a light olive oil when I make bread.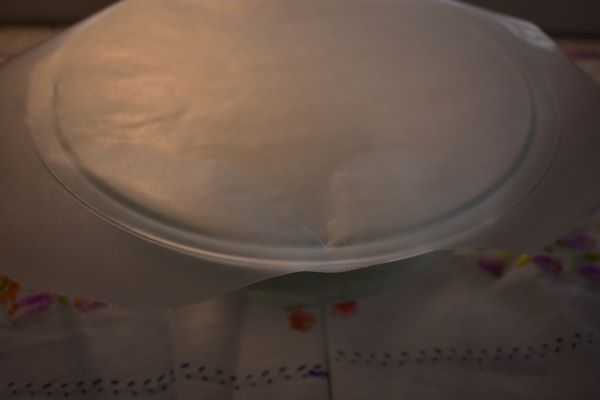 I normally cover with wax paper or a cloth. It all depends on the humidity. If it is dry in the house I cover with wax paper.
Move to a warm place...and let rise 50 to 60 minutes.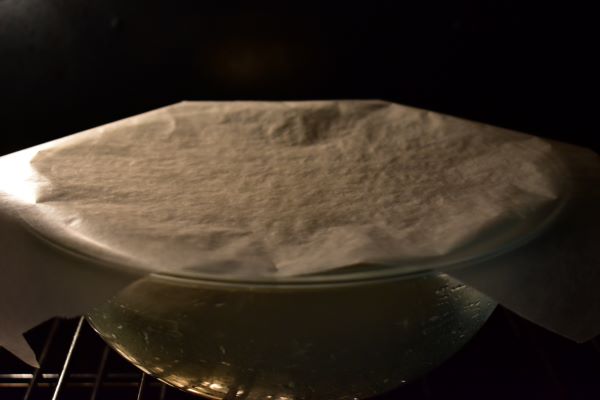 I had to move it to the oven with the light on because it was cool in the house and not rising well. I normally turn the oven on 350 and count 15 "seconds" and turn it off and turn on the light and it will be warm like the kitchen in the summer.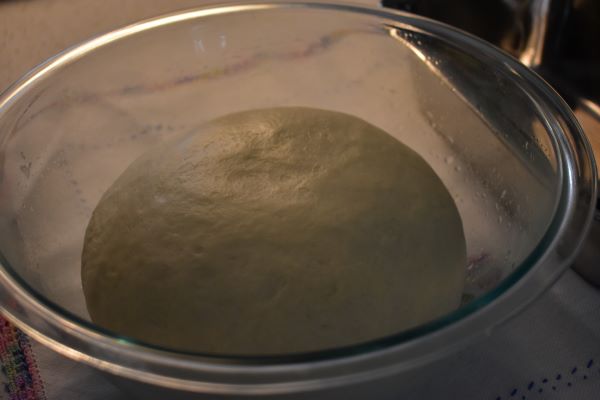 Now it has risen more than twice where it was when it went into the bowl..
It is ready now to go in the pan and have it's second rise.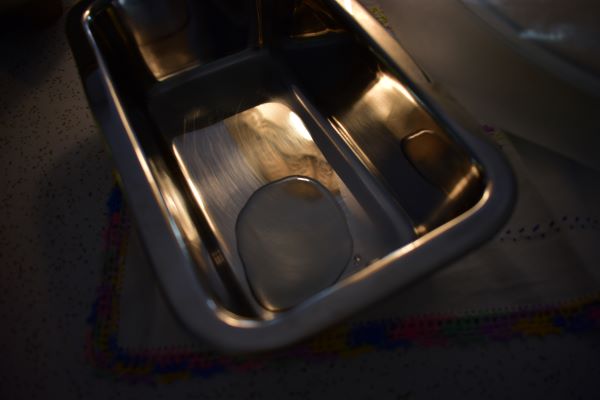 Oil your bread pan, put a dab in and rub the oil around to coat the pan and then rub the oil into your hands.. before removing the dough from the bowl.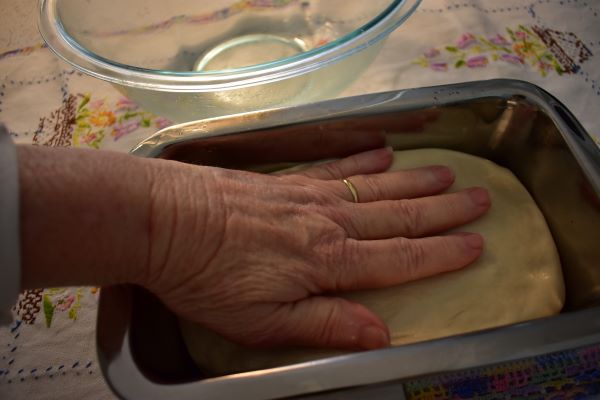 Remove the dough from the bowl to the pan and press the dough down into the pan.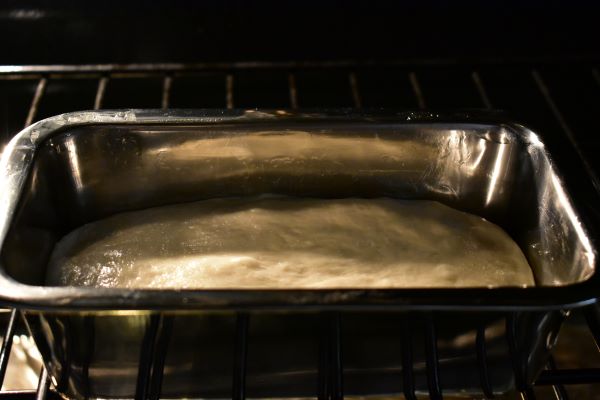 Place in the warm place to let it rise. It can take anywhere from half hour to an hour..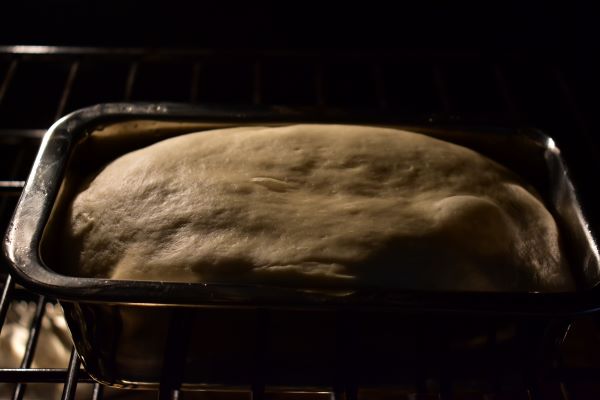 Now it is ready to bake because it has risen. It developed a bubble but that is okay, still does not change the taste. I do not want to pop it because I could sink in and start the bread to collapse. Just let it be...
Leave the bread in the oven and turn it on 350 degrees and set your timer to bake about 25 minutes. However I keep an eye on it and when it turns the color I want it I all a piece of foil gently over the top and continue baking so the top is not too dark.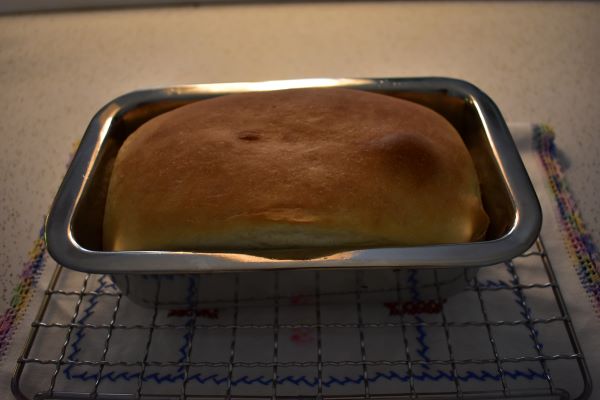 Remove and place on a rack or stove top to cool..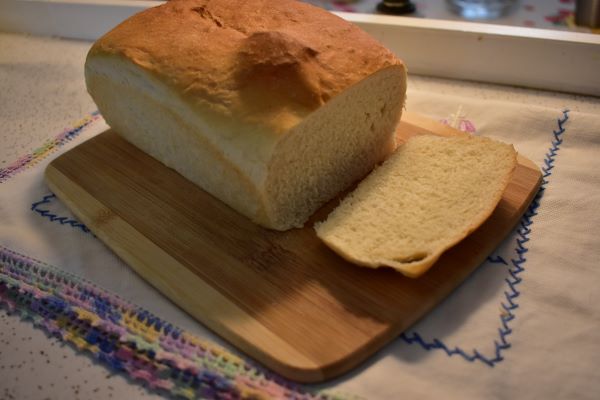 Now we have a small loaf of bread for sandwiches. People with children at home and make bread a lot normally make a couple of loaves at a time.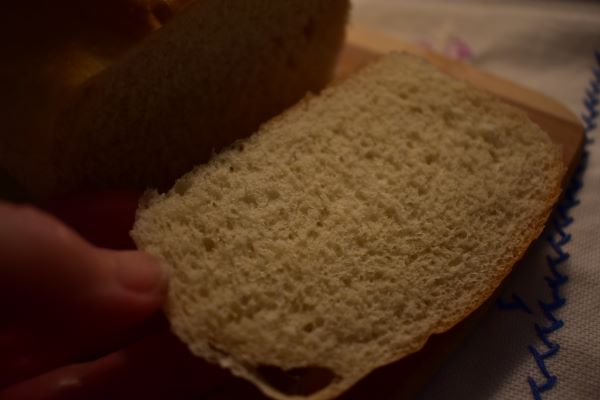 This is the end piece, I normally cut it and use it against the bread after slicing to help keep the bread fresh. I also place the bread back in the pan after the bread has cooled and cover the top with wax paper or foil.
Here below is the recipe for a double loaf
"Double loaf" to make 2 loaves of sandwich bread.
4 cups all purpose flour
1 teaspoon plus 2 pinches of salt
2 teaspoons of active dry yeast (or bread machine yeast if using bread machine)
Just under 1/3 cup sugar
1 & 1/3 cups of warm water 105 to 110 degrees
4 tablespoons oil or 4 tablespoons butter
Same instruction as above.
I have other bread recipes on my blog just look under cooking from scratch.
If you don't succeed at first Try, Try again......
Enjoy! Grandma Donna