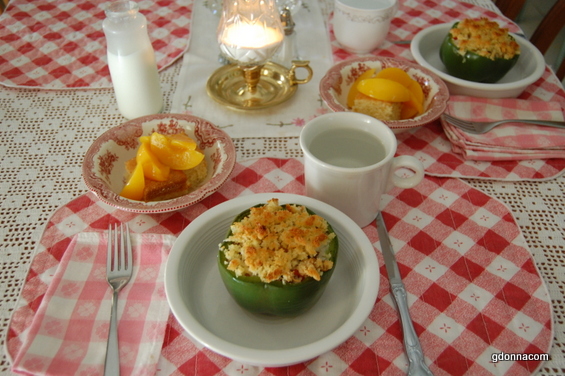 As we continue on our 1942 journey we have made it to the end of January. We are cooking traditional meals and trying out new / old recipes. I have found many foods we have eaten through time in the old books but we have varied the ingredients along the way.
One thing I like about doing the 1942 project is finding out how much we have changed and one big change is how we have supersized so many things.
This weekend we made stuffed peppers from one of our 1942 recipes.
We have many homemade recipe books and purchased books. my mother collected recipes for most of her adult life and I have over the years organized her clippings and hand written recipes We should never have a shortage of old recipes at our house.
STUFFED PEPPERS

Cut tops off 6 peppers. Remove inner fibers and seeds. Cook in boiling water 2 or 3 minutes. Drain, sprinkle with salt and fill with corned beef hash, creamed cooked corn or other stuffing suggestions listed below.
Cover with buttered crumbs and bake in moderate oven 375 degrees about 25 minutes. Serves 6

Cheese Stuffing
2 cup crumbs, cooked rice or cooked macaroni
1 & ¾ cups grated cheese
1 teaspoon minced onion
1 tablespoon melted butter
Salt
Combine ingredients.

Meat Stuffing
2 cups minced cooked meat, beef, chicken, ham
1 & ¼ cups crumbs or cooked rice
Salt and Pepper
1 tablespoon fat, melted
½ onion, minced
1 cup water or stock
Mix meat with crumbs and add salt, pepper, melted fat and onion. Moisten with water.

Meat may be increased to 3 cups, reduce crumbs to ½ cup and add 1 egg. Omit water.
* The instructions on this recipe tells us to slice of the tops of the peppers, remove the seeds and the inner fibers and then boil the peppers for 2 to 3 minutes.
Right now we are purchasing store bought peppers since we are in January and since we really live in 2017 our peppers are super sized. Due to their large size we had to boil them about 5 minutes.
We made the meat stuffing, We used ground beef, rice, chopped red bell pepper, onion and chicken broth.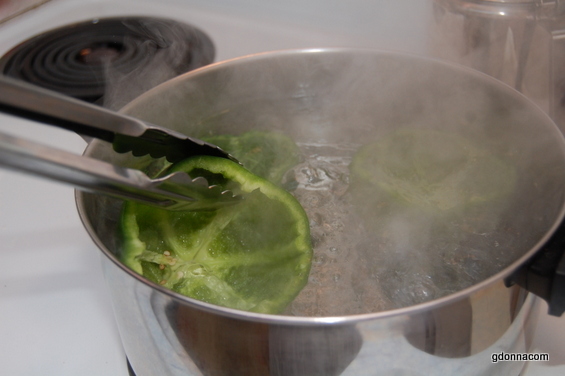 Place your peppers into boiling water...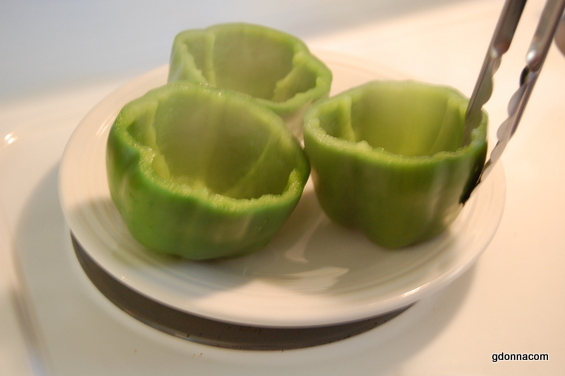 Remove and drain...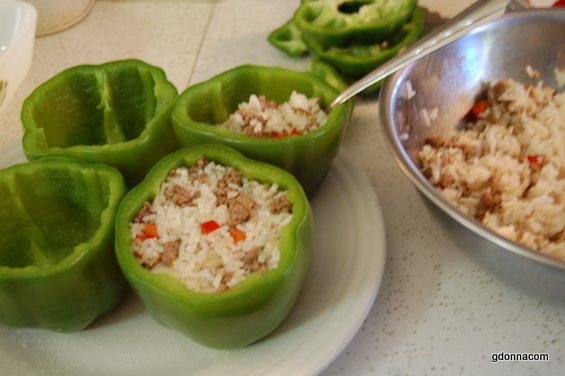 Stuff them with anything you want to use. It can be leftovers, any kind of meat or make it all vegetarian, you can use cheese or macaroni or anything you like to go inside.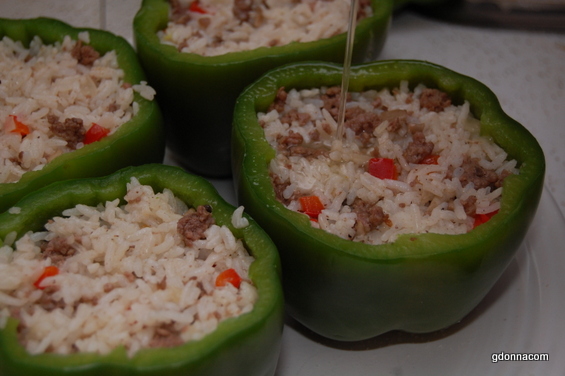 When through stuffing them we poured broth over them.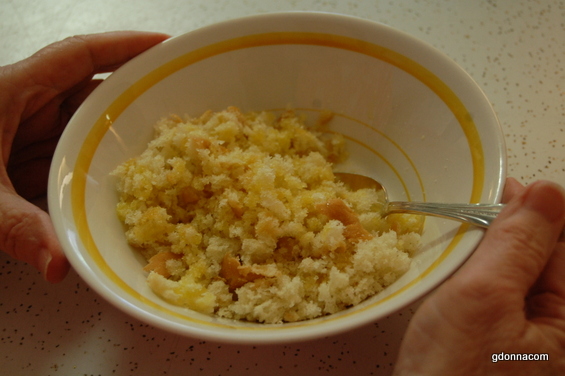 Add some melted butter to some breadcrumbs and toss around with a spoon until coated.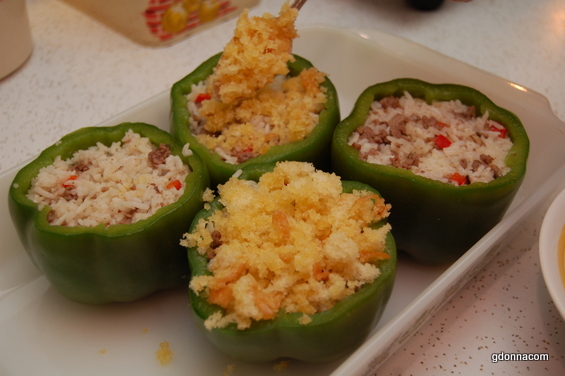 Spoon the buttered breadcrumbs over the top of the stuffed peppers.. Another option could be cheese instead of breadcrumbs.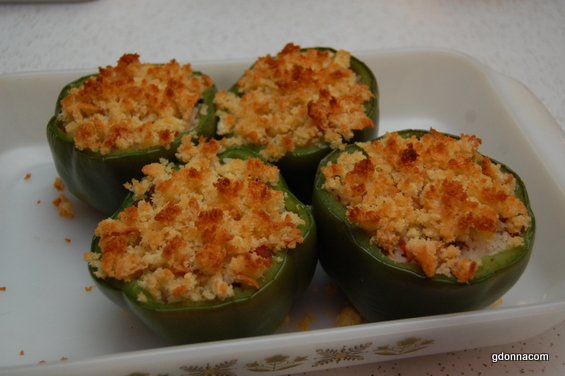 Bake in the oven at 375 degrees for 25 to 30 minutes and when the breadcrumbs get golden during the baking I add foil over the top so the crumbs stay lightly browned.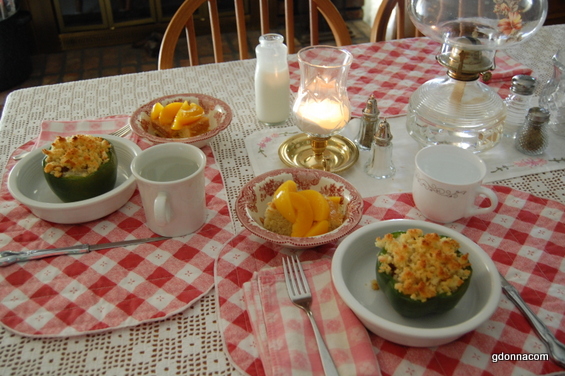 I served hot milk cake with peaches and cream for dessert.
I was going to post the link to my hot milk cake below but I found I never posted my hot milk cake! I thought I did that a long time ago.
I will just show you my recipe :)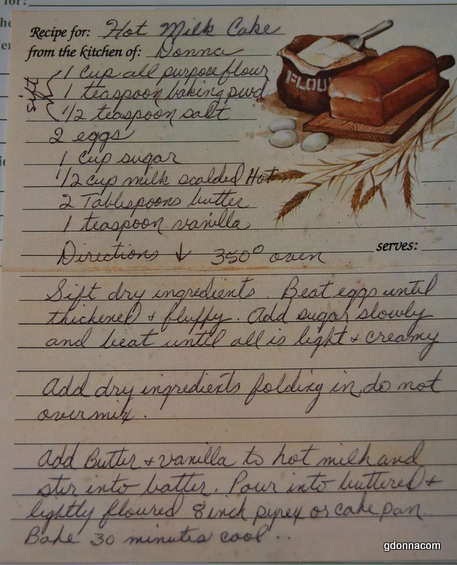 Where it says beat eggs until thickened and fluffy. That means thick and fluffy which means to keep beating it. Also when folding in the dry ingredients do not over do this step, the idea here is to keep this light because this is making a light sponge like cake.
When you add the butter, vanilla milk it should not be scalding hot, but warm. You don't want to cook the eggs in the batter but it does need to be warm. It will be a bit slippery while you are mixing this with a spoon or spatula into the batter.
The bottom there says to pour into a buttered and lightly floured 8 inch pyrex or cake pan. Bake 30 minutes and cool.
I cut it into squares because I make this in a 8 inch square pan. You can sprinkle powdered sugar over the top and eat it like that or frost it but I normally use it like a sponge cake and put strawberries and whipped cream or regular cream or peaches and cream.
I am adding another recipe you might enjoy. I am looking forward to spring so we can have some of these fresh vegetables growing in our garden.
EGGPLANT STUFFED WITH HAM
1 large eggplant
Salted water
1 onion, minced
1 green pepper, chopped fine
2 tomatoes, quartered
2 tablespoons butter
1/2 teaspoon salt
1/8 teaspoon pepper
1 cup diced boiled ham
Bread Crumbs
Wash and dry eggplant and cut off a slice from top. Scoop out inside to within 1/2 inch of skin. Cover shell with salted water and set aside. Chop eggplant pulp and combine with onion, pepper and tomatoes. Cook in a small amount of boiling salted water until tender. Drain and mash. Add butter, salt and pepper and ham. Drain shell well and fill wit mixture. Sprinkle top with bread crumbs and bake in 350 degree oven about 25 minutes. Serves 4 to 6.
I hope you enjoy, I'll be back... Grandma Donna