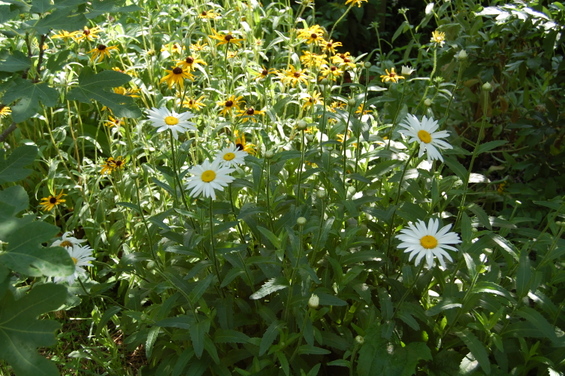 The entire backyard is full of flowers, vegetables and herbs. Also we have a new visitor this year.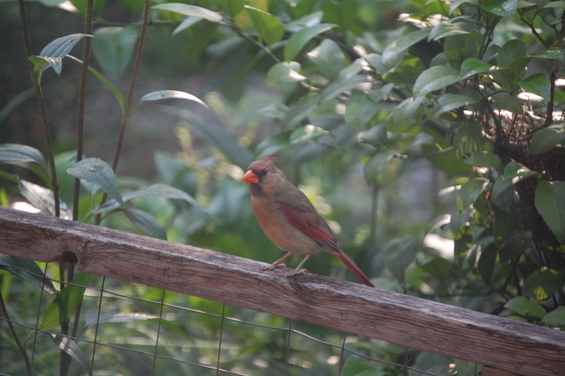 Mrs Cardinal has decided to build her a nest in the Meyer Lemon Tree. You can see the nest to the right side of this photo.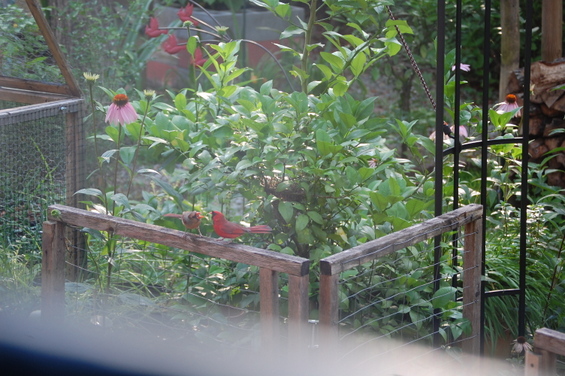 Mr Cardinal has brought her something to eat. He is feeding her while she is building the nest. Wouldn't it be nice if humans would do this :)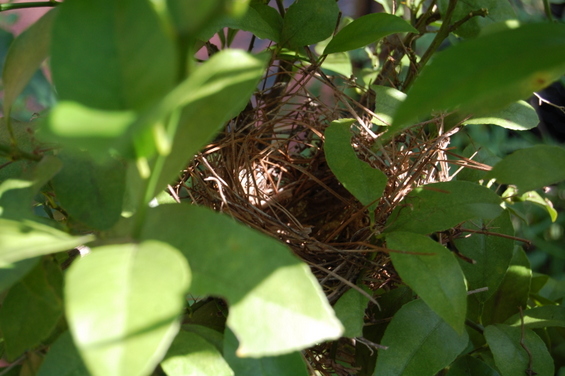 Her nest is coming along nicely. She will fly off and bring back the things she is using including a nice leaf down in the bottom that you cannot see in this picture.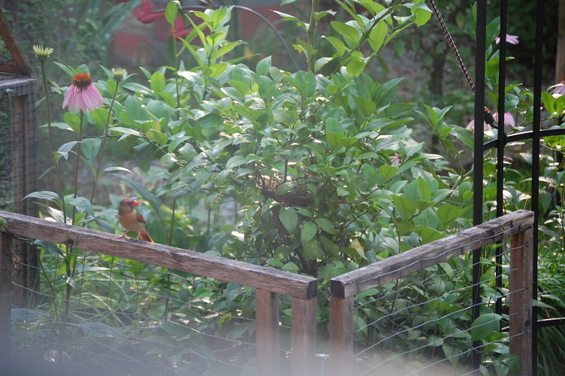 I can watch her from my dinning room window and where I took this photo from. She picked a very pretty place as she is next to the wrought iron arbor and among coneflowers, blackeyed susans and many other pretty flowers. Ironically she has nested by some metal yard art that has red cardinals that fly around as the wind blows.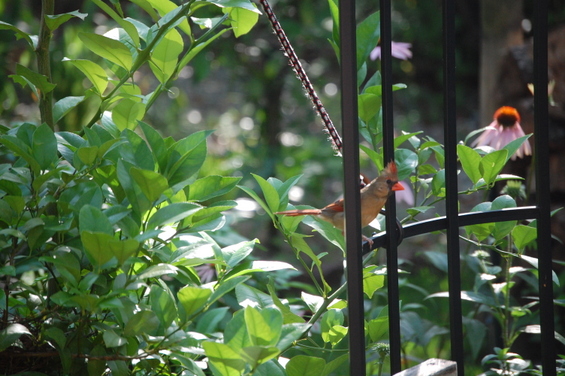 This is where she likes to perch as she comes out of her nest.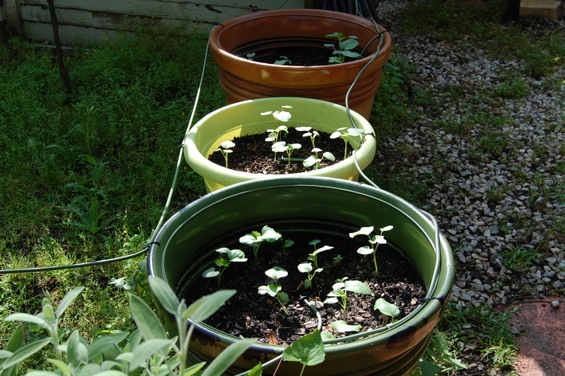 The okra is coming up nicely in the large pots with the irrigation tubes.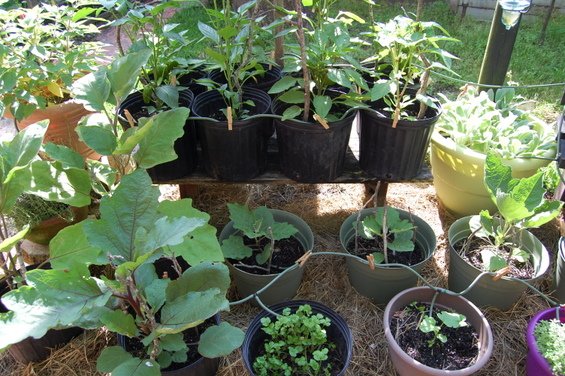 The peppers are sitting on the bench and below in the pots are fairy tale eggplants and to the left other eggplants. front small pots is cilantro, cantelope and thyme.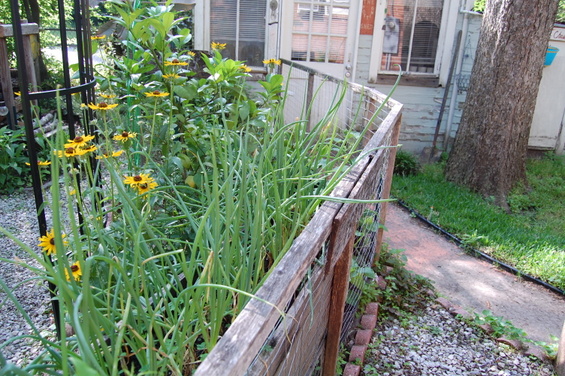 The onions are doing well in the wood trough...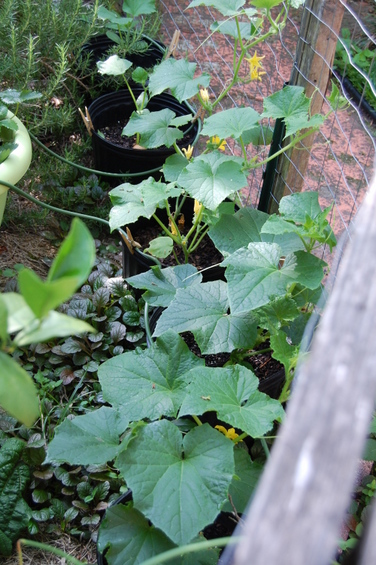 Cucumbers are starting to climb now, their feelers came out about a week ago. We have baby cucumbers already.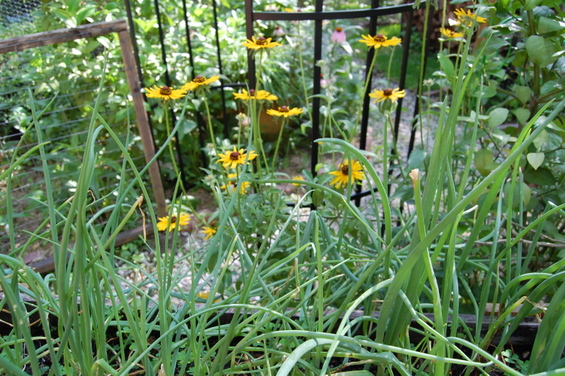 Blackeyed Susans are just everywhere mingled in with many of the vegetables as if they enjoy the company.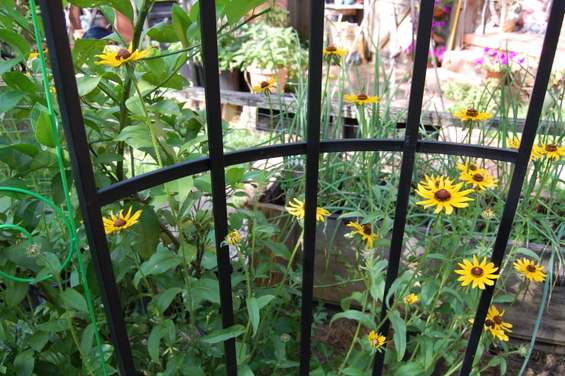 This is the newest arbor, we have not finished the top as we are training the lemon trees to cross over the top of the arbor.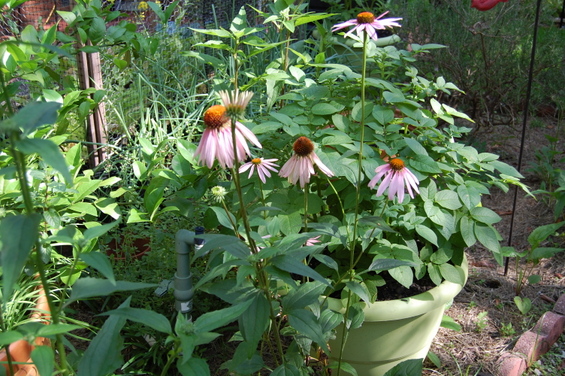 The green pot is full of potatoes (we hope)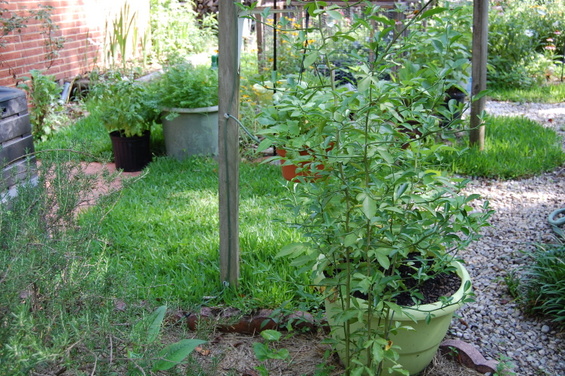 Leaving the jungle we follow the path curving path and find many containers that have either potatoes, sweet potatoes or carrots.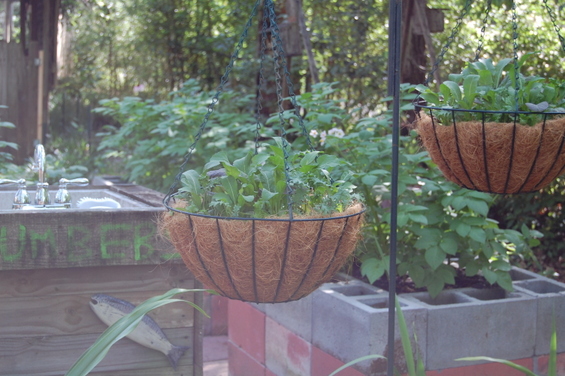 We have hanging baskets filled with lettuce of different types and the cement block bins have more potatoes.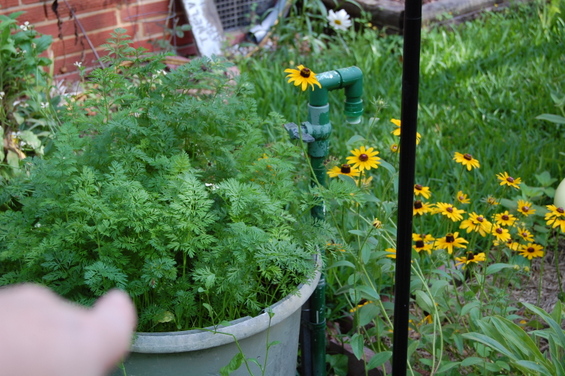 That is another pot full of carrots.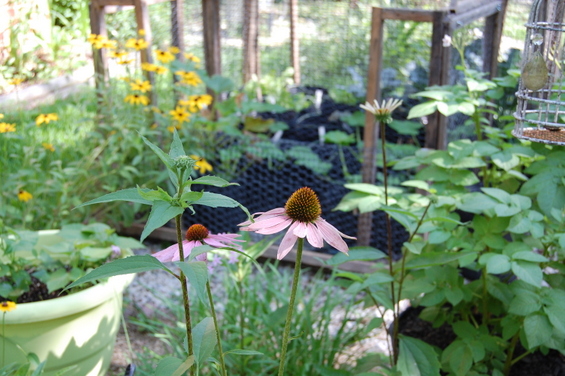 The large cage in the background has zucchini squash.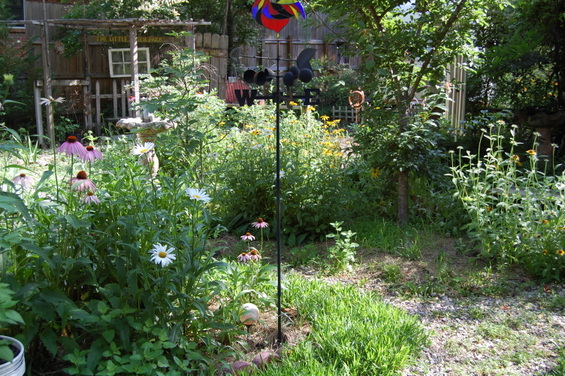 We are making our way toward the camper and as we follow the path now we have Daisies, coneflowers, more blackeyed susans, a fig tree and a plum tree.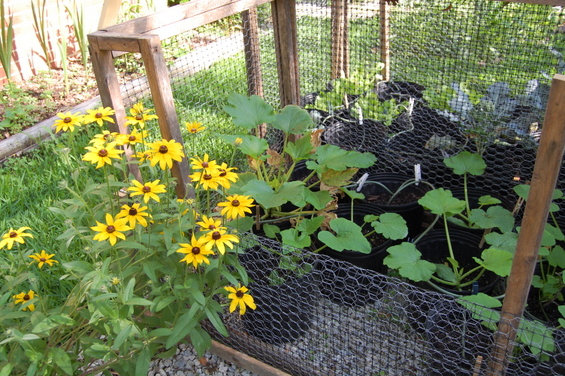 More squash...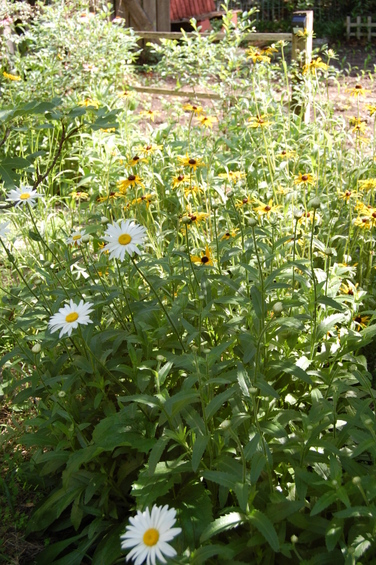 White daisies that glow in the evening...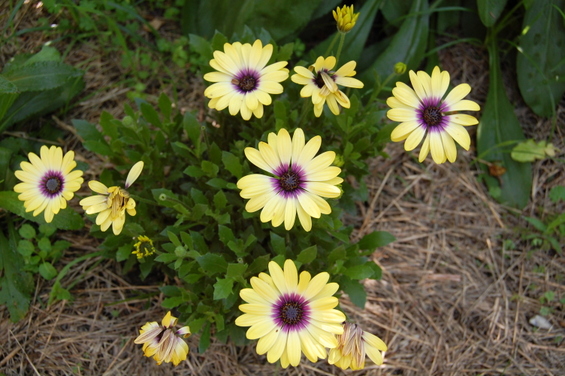 Mexican daisies....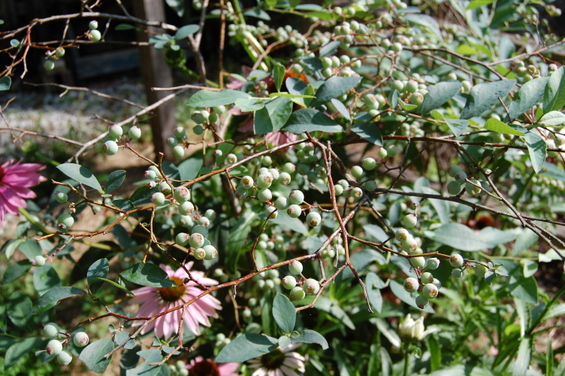 Blueberries....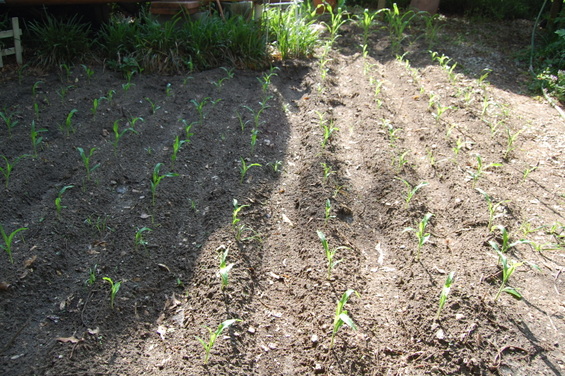 Our corn patch right in front of the camper the Shabby Cabby. We have decided to turn our camper area into a campground for fun after the corn has harvested.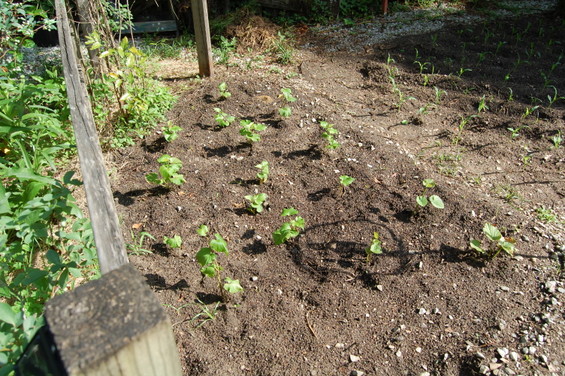 Sweet potatoes that are planted too close together but with little space this is what we do.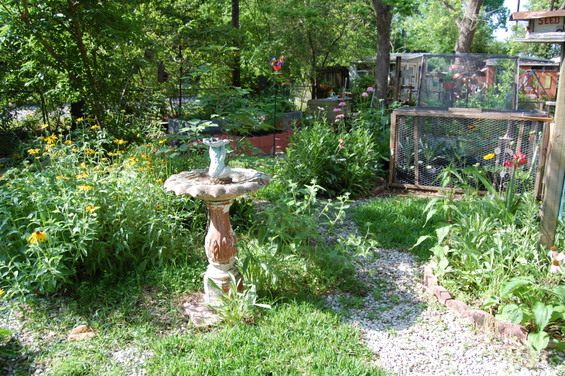 Leaving the "Campground" we head back to the broccoli cage.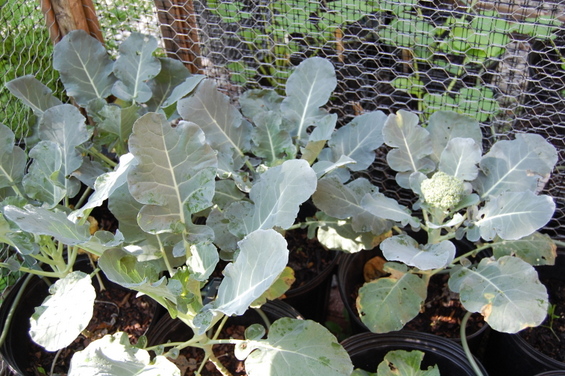 We do not really have the space to grow broccoli so we just grow a few plants for our Cockatiel that loves broccoli. :)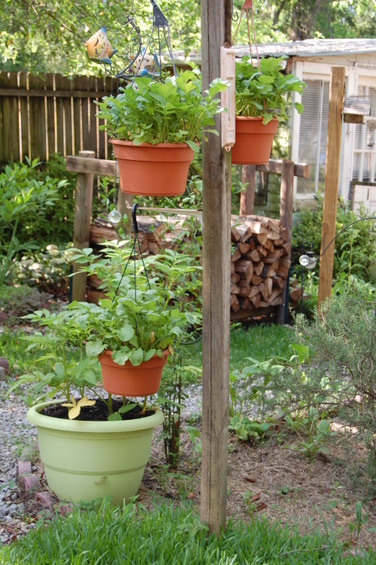 Radishes in hanging pots....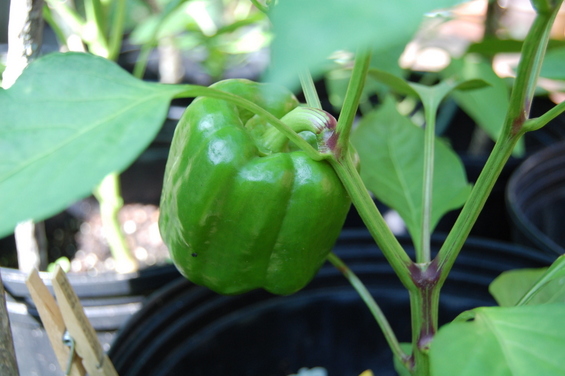 Our first bell pepper for the season..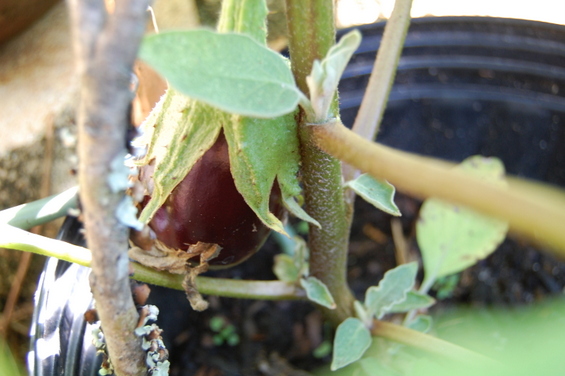 And first eggplant...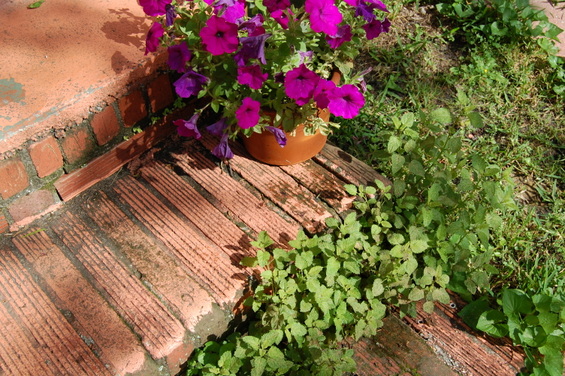 Well I am back to my back steps where lemon balm is growing from the cracks. I had many more photos but the post would be too long. I will go for now. Grandma Donna