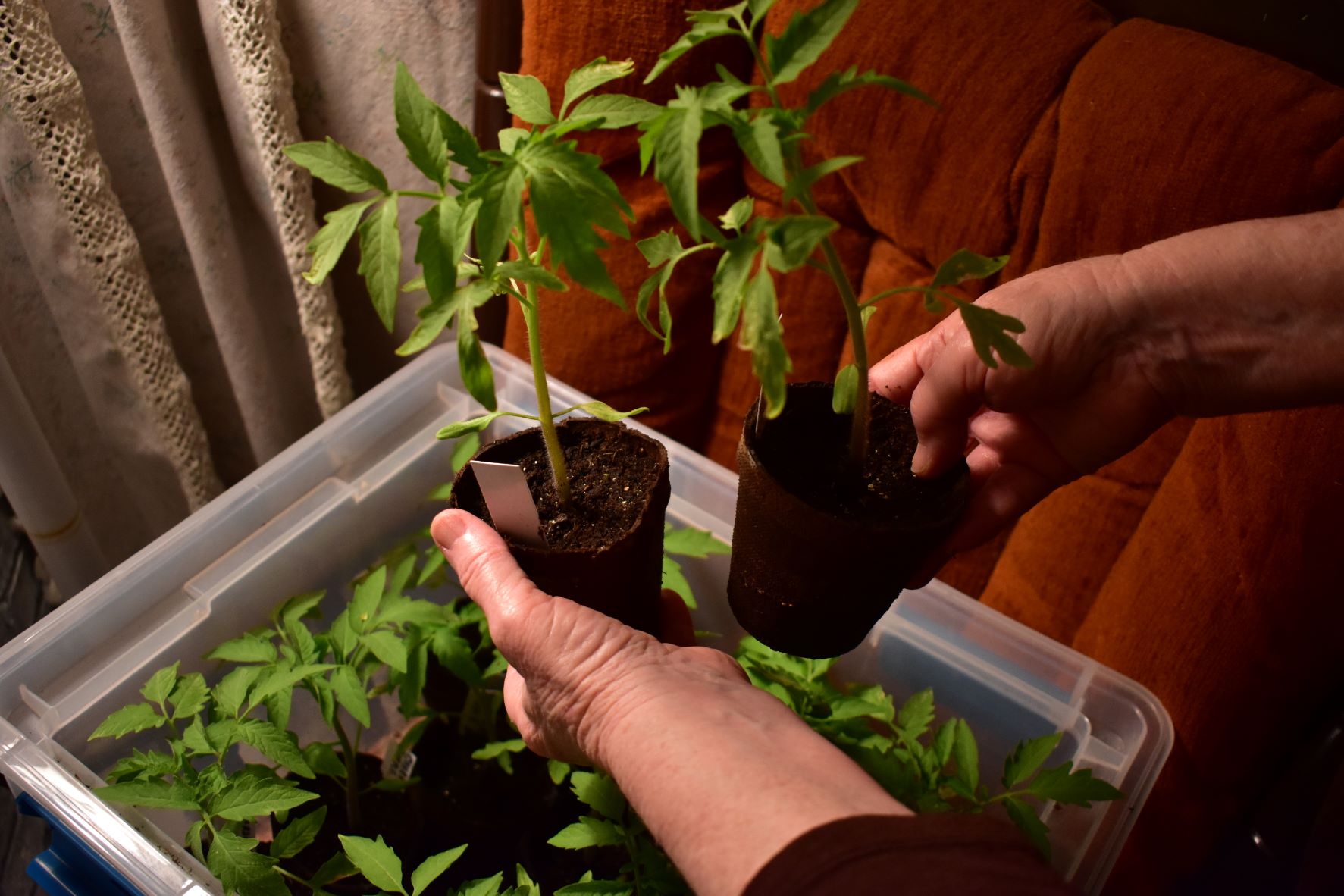 My post will not be on a particular day for awhile like my regular Friday post because there is so much to do in and out of the house. Don't worry if there are gaps. I am just trying to catch up on some things because we are doing repairs and gardening. This post is catching up on all that is going on around here and answering some questions.
As many of you here in the U.S. know that the weather is a bit "off" in many areas of the country. This past weekend and this week as well, it has been 80 plus degrees (26-27 Celsius? )and we are still in the season of winter. Some places in the country have had unusual snow and ice.
Here where we live many things are budding, blooming or setting fruit. This is a problem because the forecast is suggesting a cold spell coming this month but that would be awful if it does because there is baby fruit on many of our trees. So I call it Spring "Like" Gardening in winter.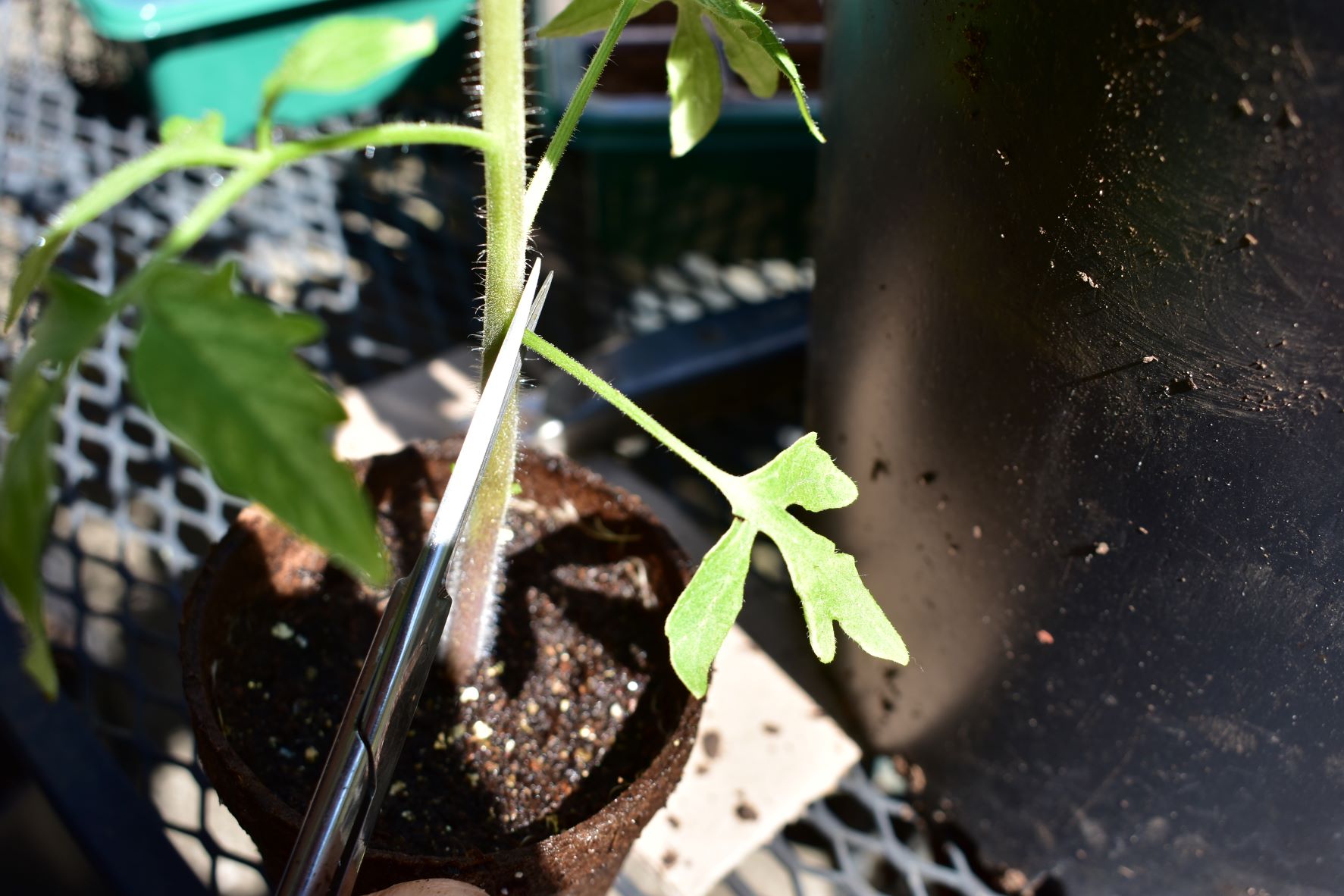 I am repotting the tomato plants again, I call potting up, moving to a larger pot. I am trying to keep things in pots so I can bring the plants inside or somewhere to keep them warm if the temperature drops too cold for them. Pictured above, I am cutting the lower leaves so I can plant the tomato in a larger and deeper pot. The stem of tomatoes are different than other plants, they have fuzzy spikey stalks and they will form roots all the way up wherever the soil reaches. When you pot them deep they will root and be stronger plants.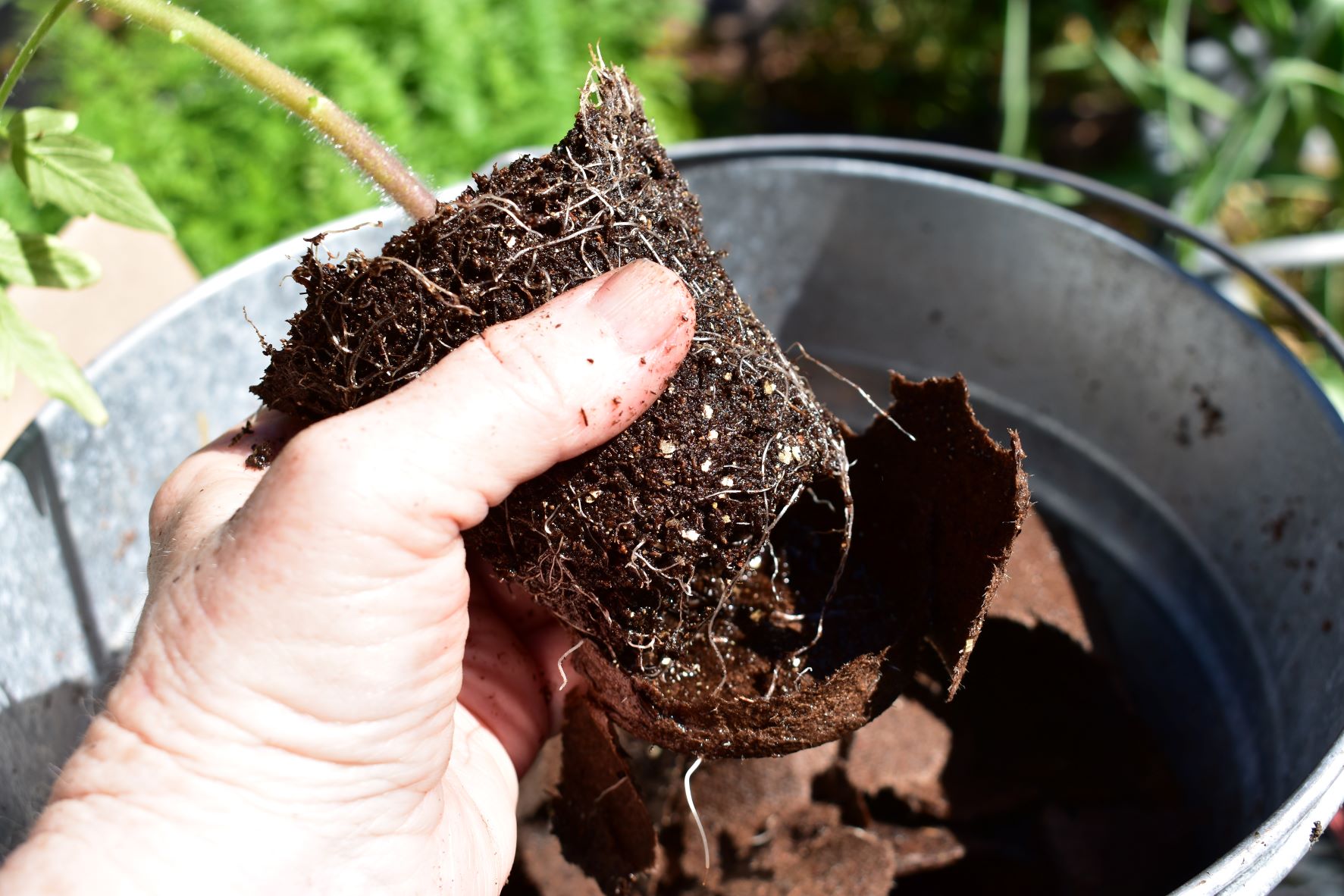 I normally remove the peat pots when the plants are ready to transplant. I soak them first and then carefully peel the peat pot away from the soil.
When I first planted the tomato seeds I planted them in small a seed trays. When they outgrew the seed trays I moved them to peat pots and now they have outgrown the peat pots. I cannot trust the weather to put them in the ground because we could have a frost or freeze, so they are going in bigger pots.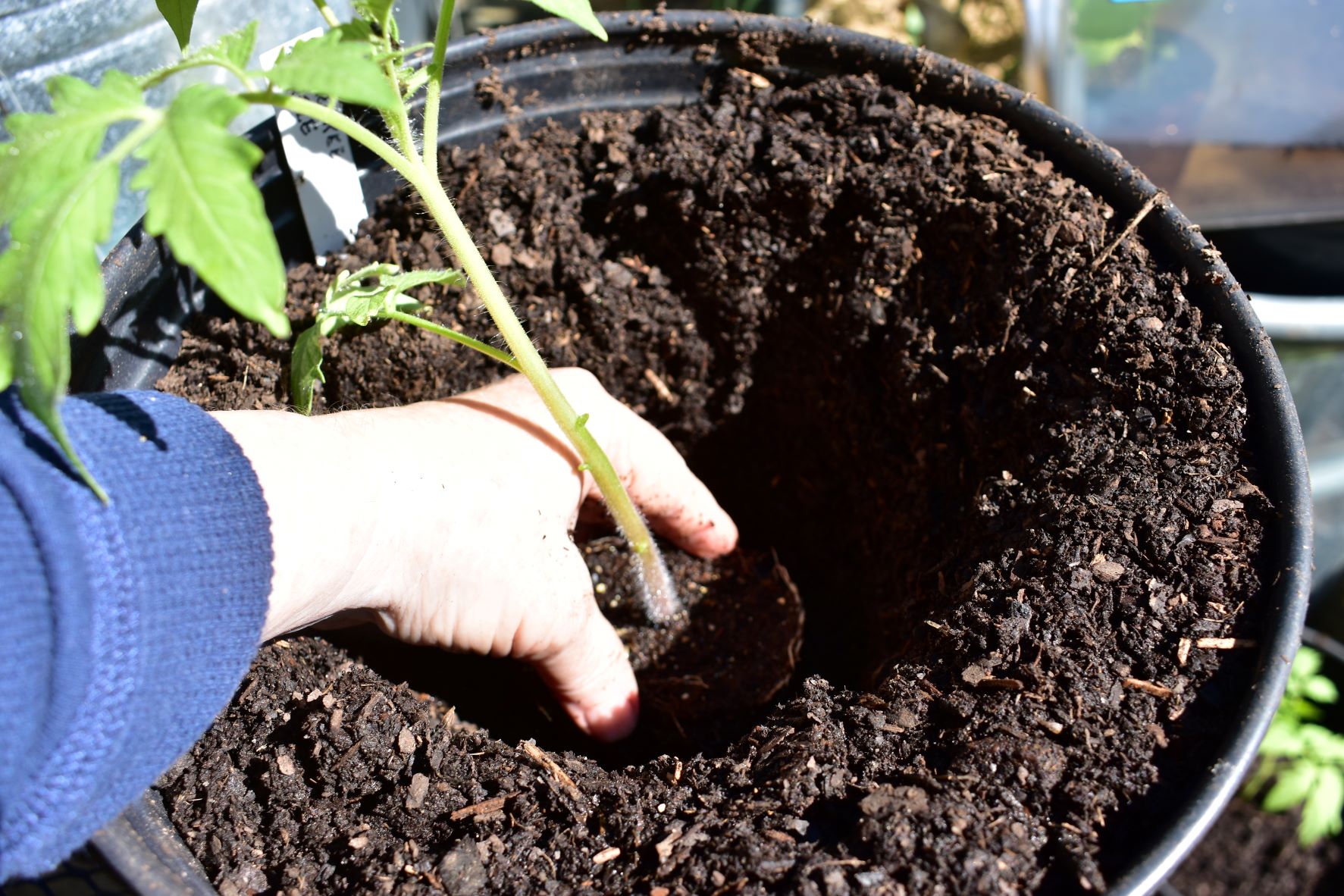 I plant them as deep as I can, up to the leaf stems. These are heirloom Cherokee purple tomatoes.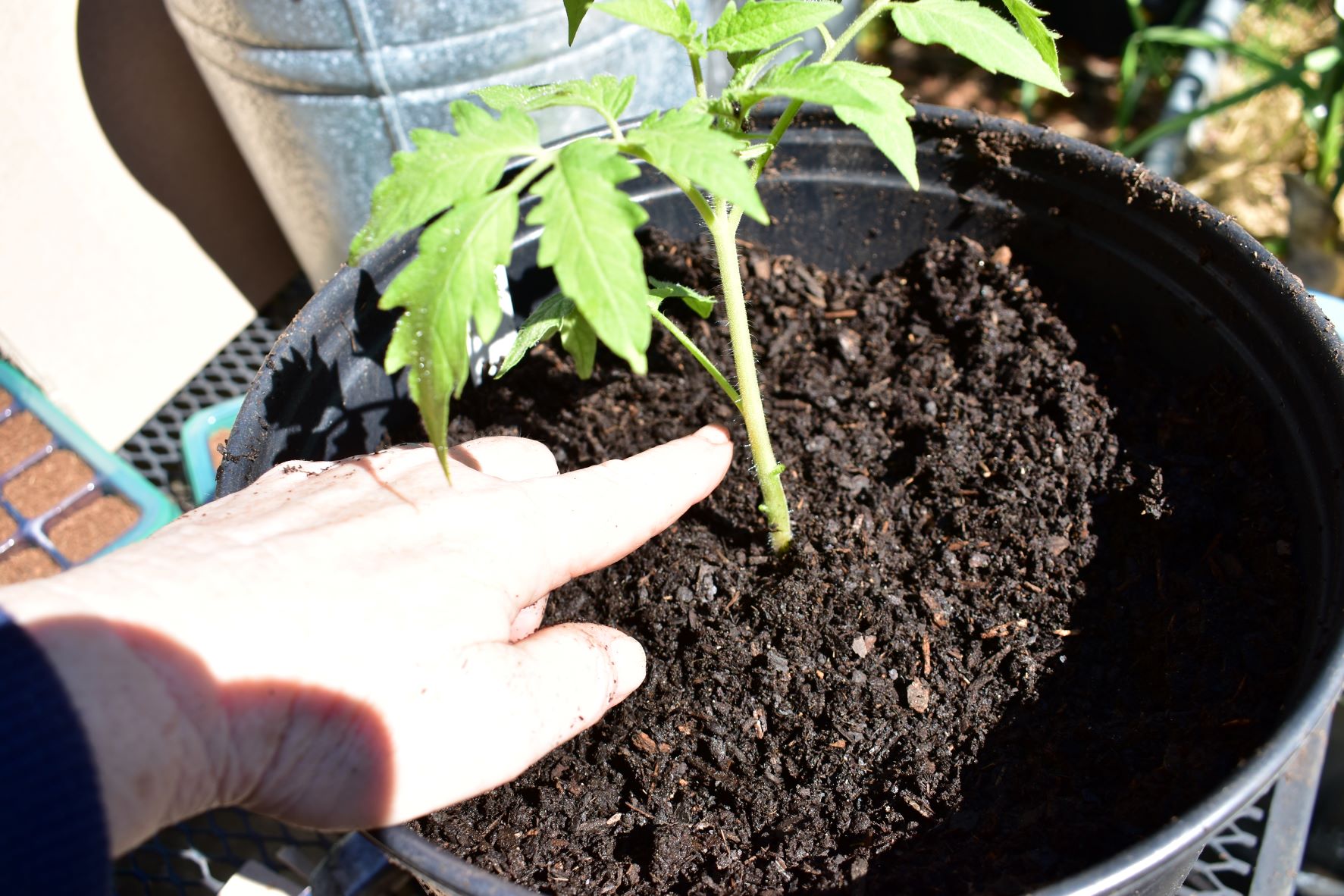 This is as deep as I could go with this pot and I can go higher with the soil. I may let them grow all summer in these pots instead of putting them in the ground. The taller our trees grow the less sunshine we have so I really need to be able to move them when needed to follow the sun.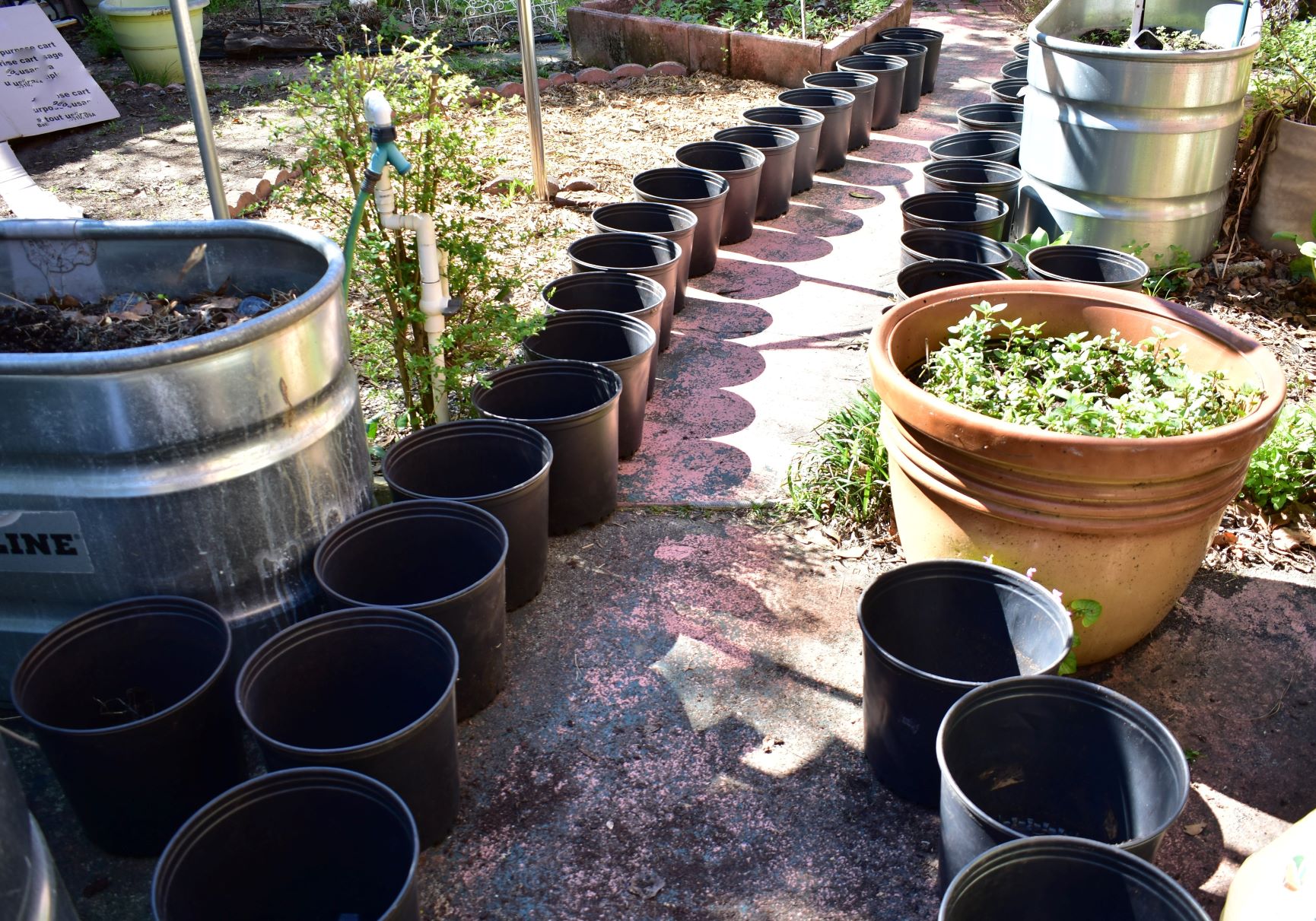 Planting time here at our house looks like this shown above. Some of our plants will go up to Madge. We will put them on her deck so she can walk out and pick vegetables.
Since our front and back yard has a lot of shade we are planting more in containers. Many years ago I purchased two boxes of these black pots. I forget how many came in a box but there were many. They have been very strong containers and I hope they last many more years.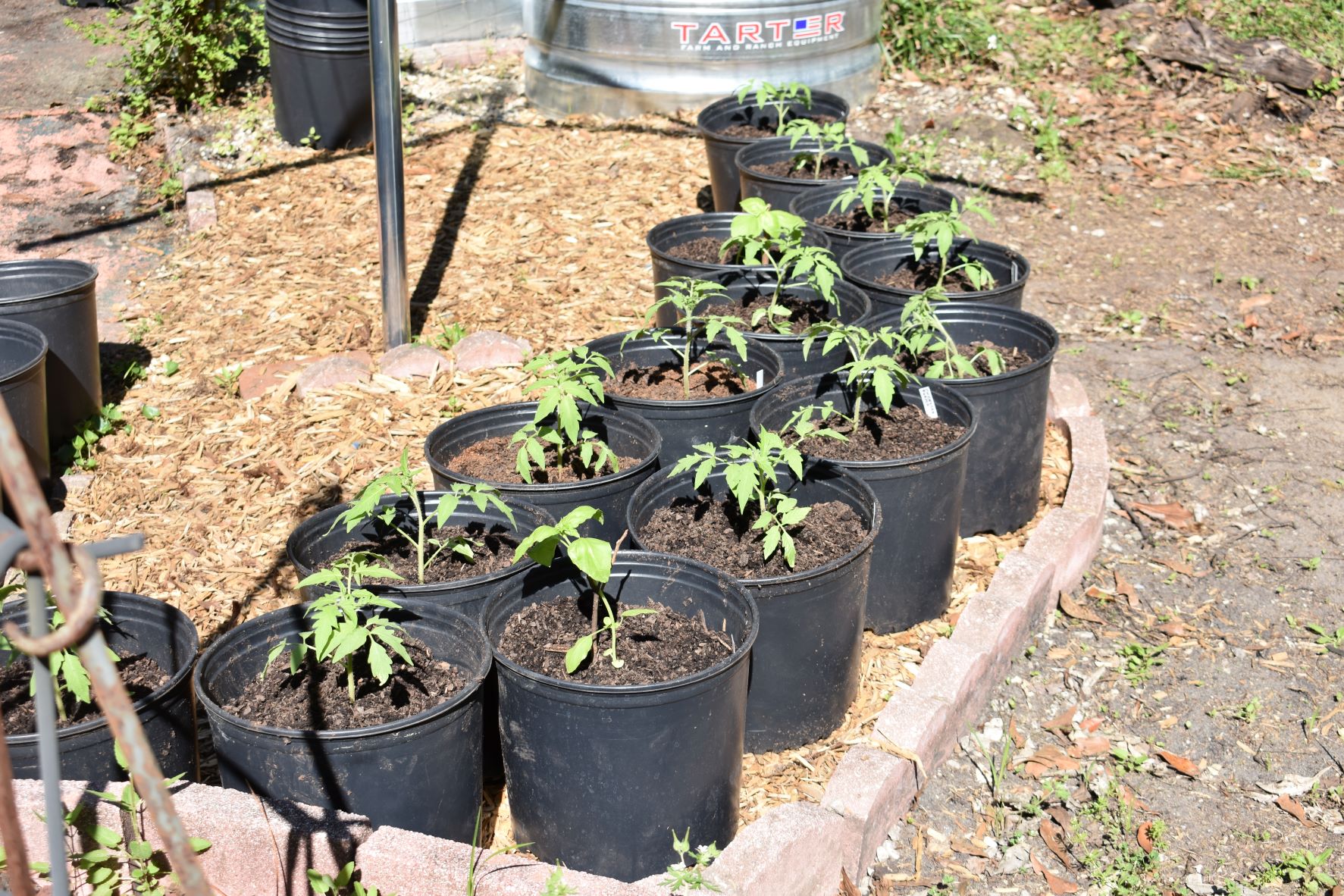 The bright sun makes these look pale. The barren ground to the right has been another project. This is the area where our lemon tree was.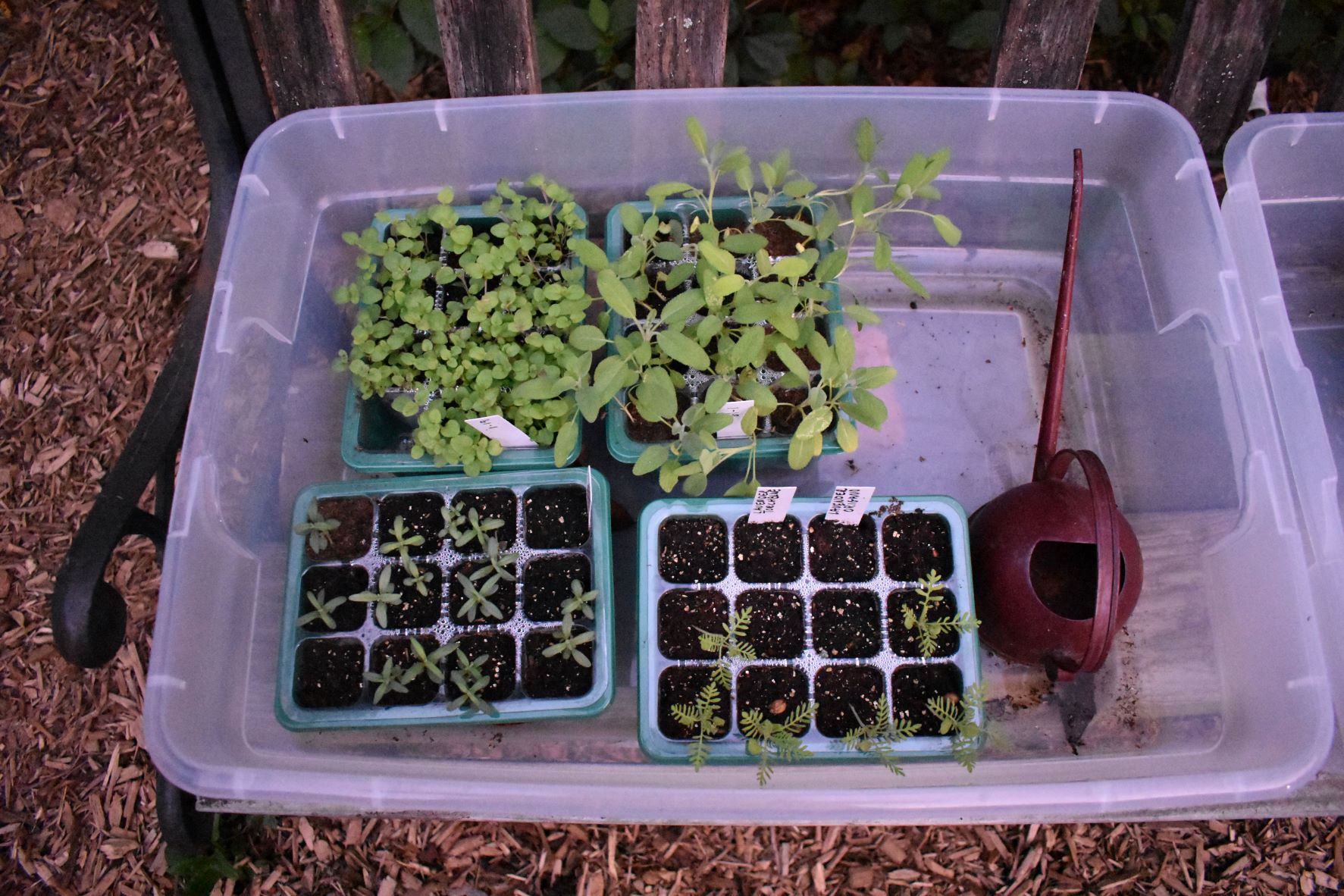 I planted the seeds in small seed trays like these above and each morning if the weather was warm enough I carried them outside for the day and back inside for the night. If it was too cold I would wait until the sun was bright and set them down in plastic totes because when the sun reached them inside the tote it would be warmer.
I have been taking them in and out of the house since January 19. When the weather warmed I starting leaving them out all day and they actually hardened off this way. I have not used any kind of grow light.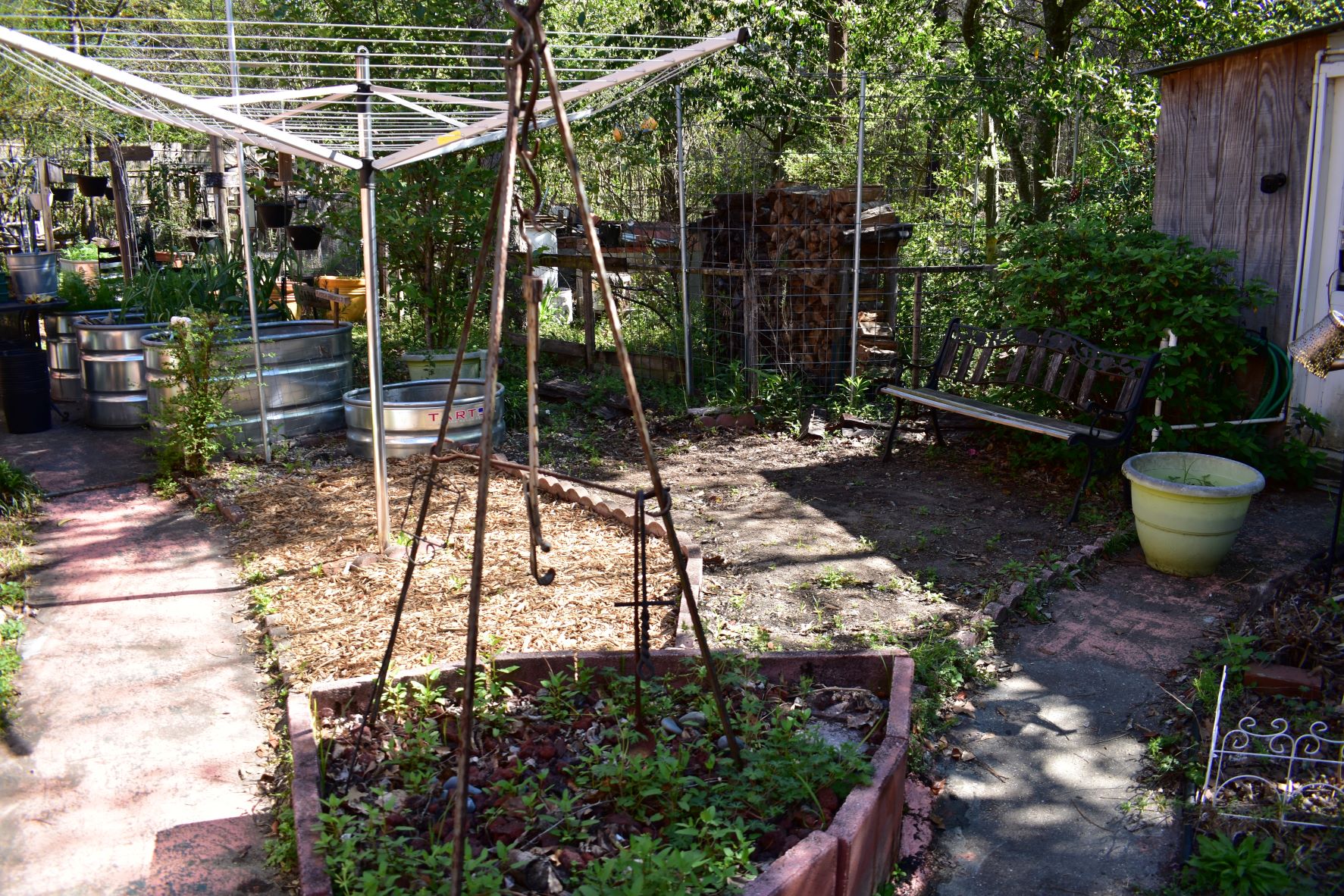 It came time to remove the dead lemon tree and we have been working on this area since we did this. Gardening can be messy and it is for us. It will not take long to green up and get things in order. We added an area for the new type clothesline and worked on a sitting area with the bench. We still have our old clothesline for rugs and sheets up by the shabby cabby.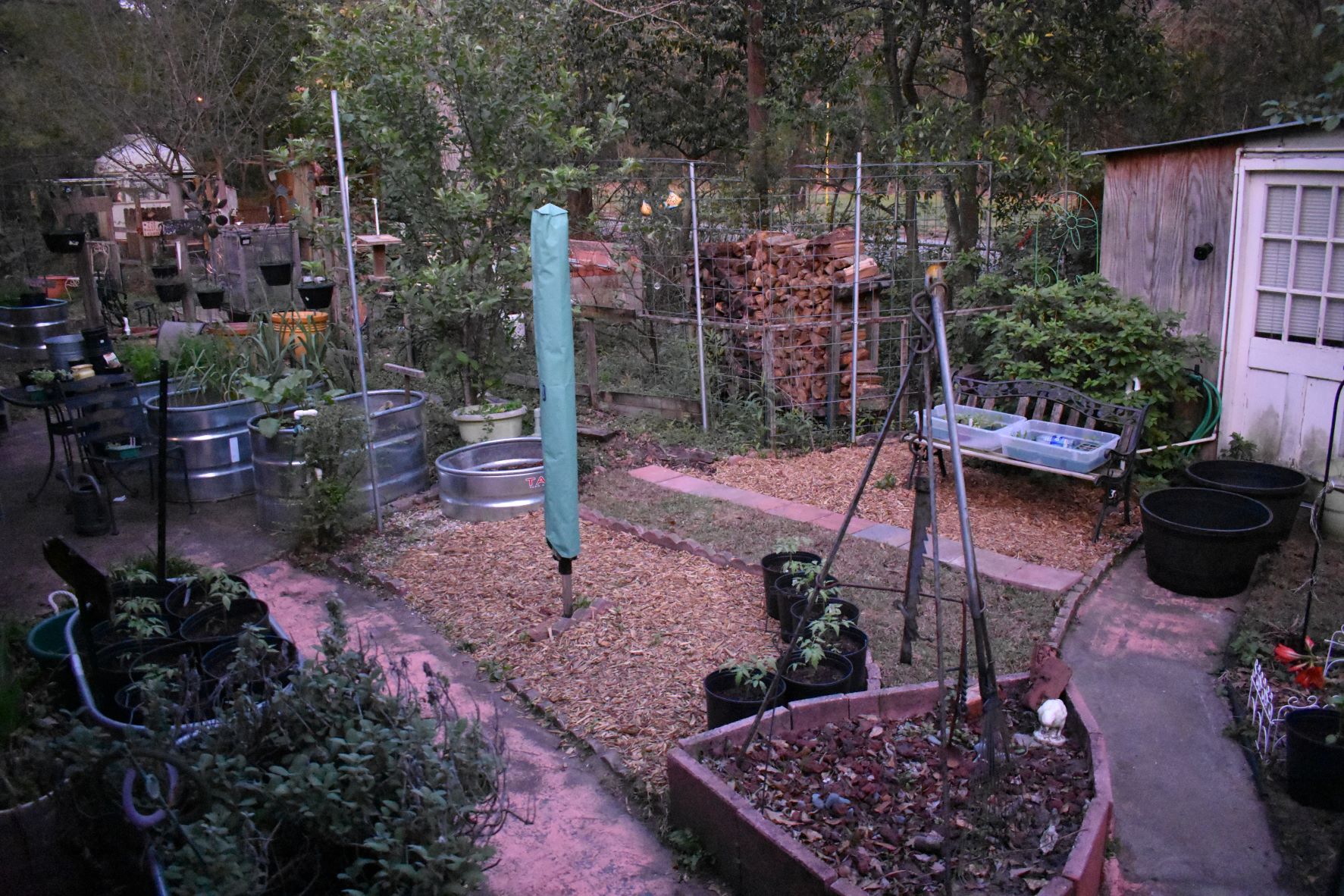 Taken this evening..
We added some mulch, sod, stepping stones, we are going to clean up the fire pit so we can do some outdoor cooking. As we get closer to spring this will pretty up with flowers and vegetables.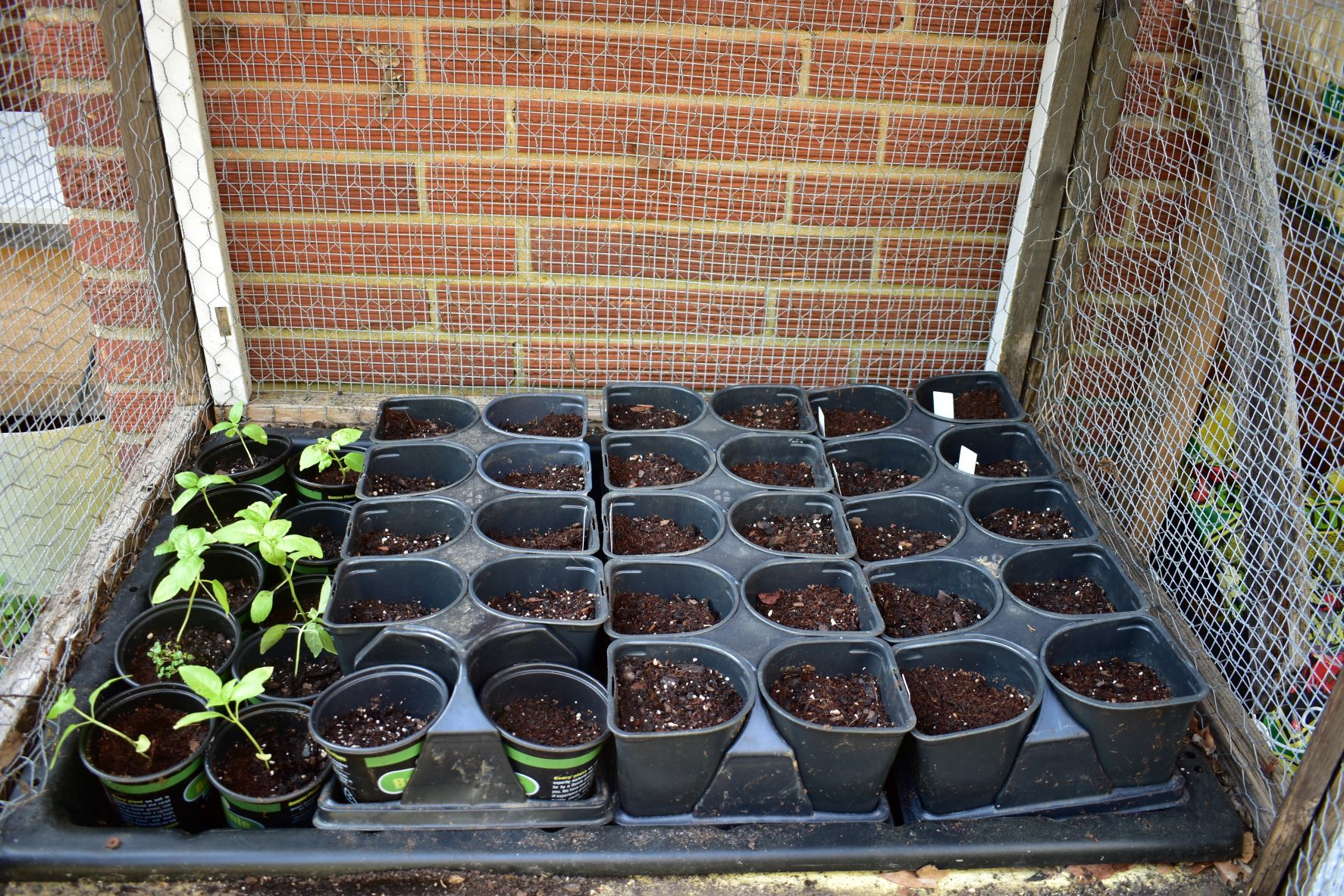 The seeds I planted today are, zucchini, white scalloped squash, some Moringa trees. Basil to the left that just transplanted from the seedling tray.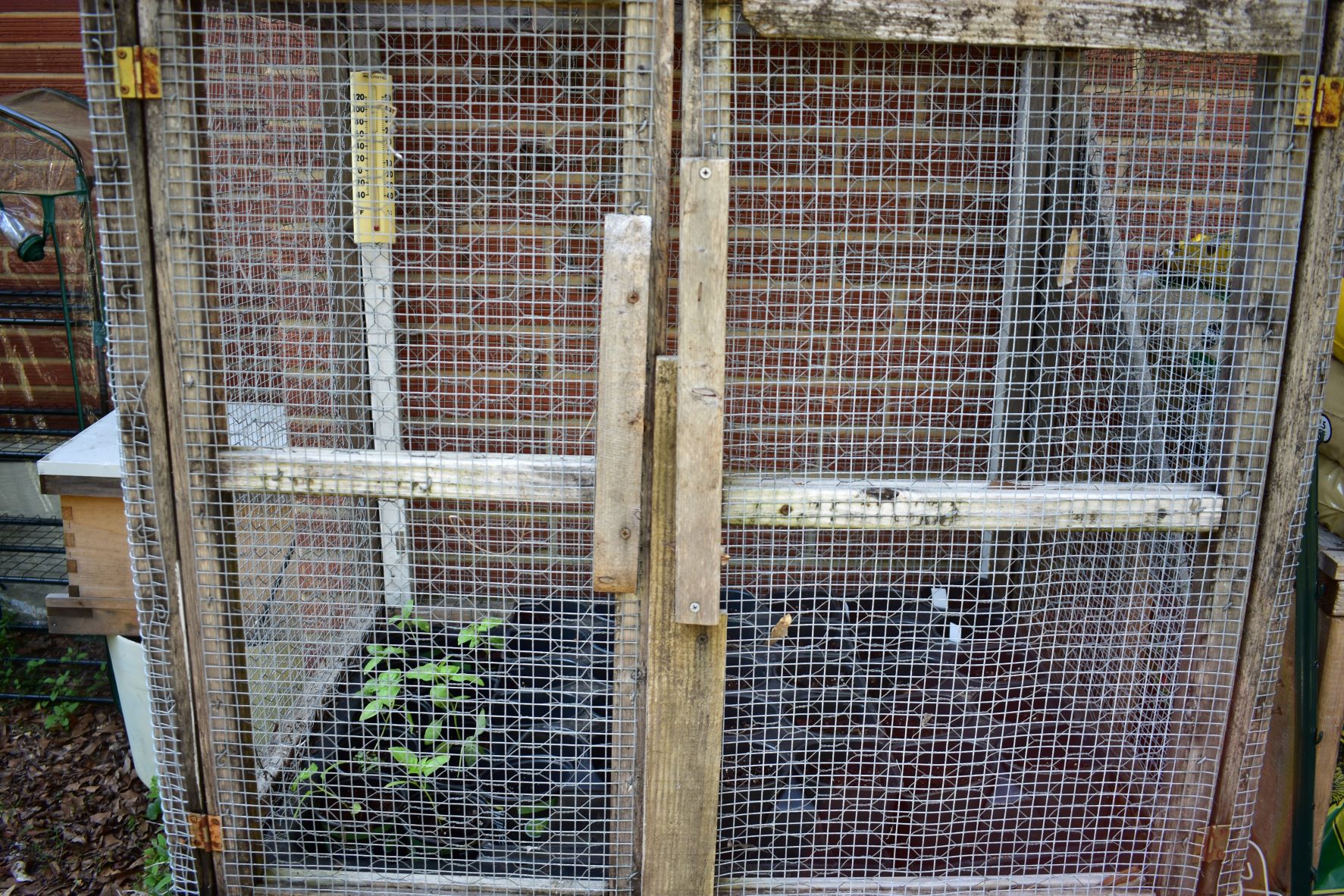 I am keeping it tucked inside this cage to protect it from critters.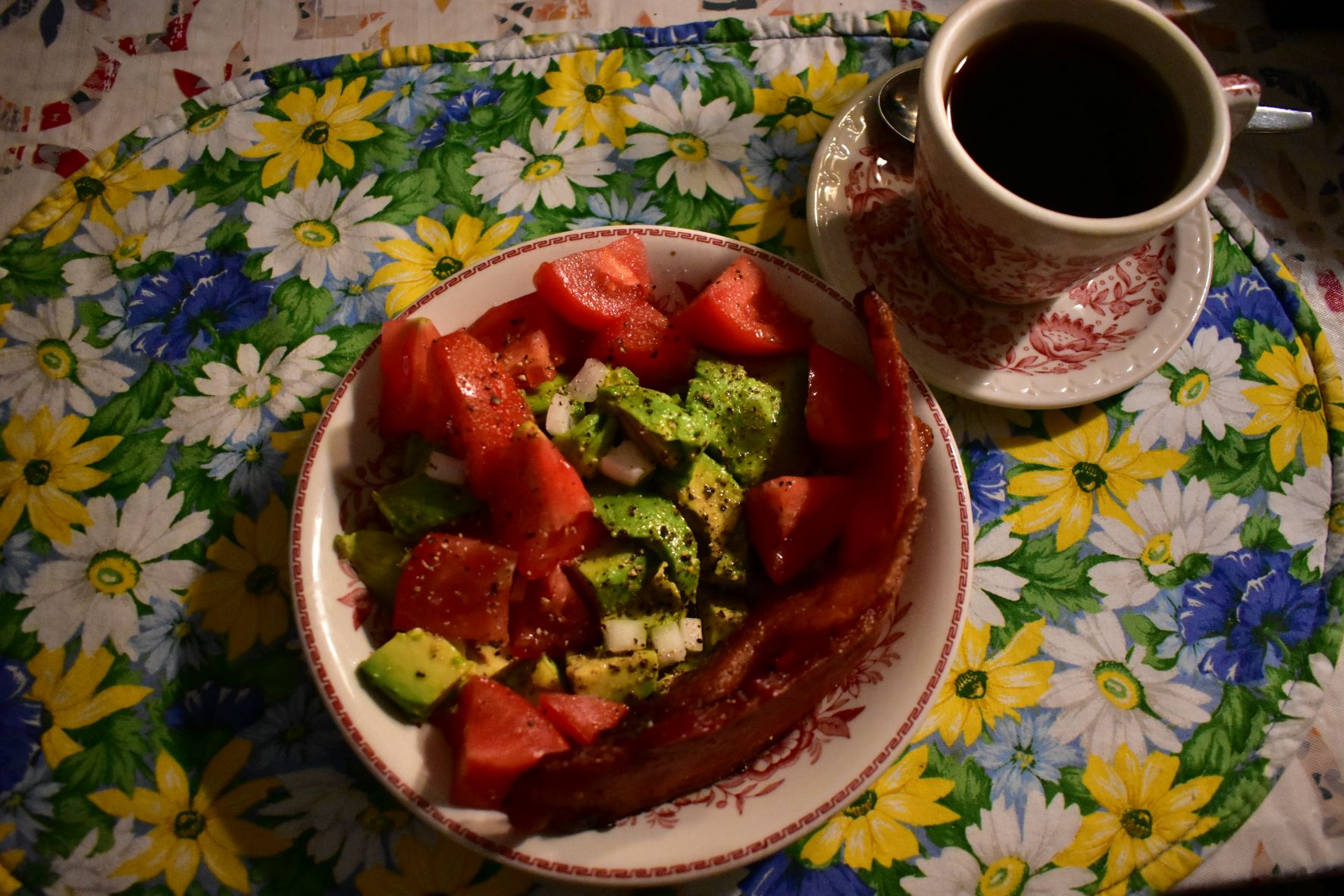 Another quick meal for a busy day. Avocado, tomatoes and bacon, a little onion, balsamic vinegar & olive oil and olives can be added.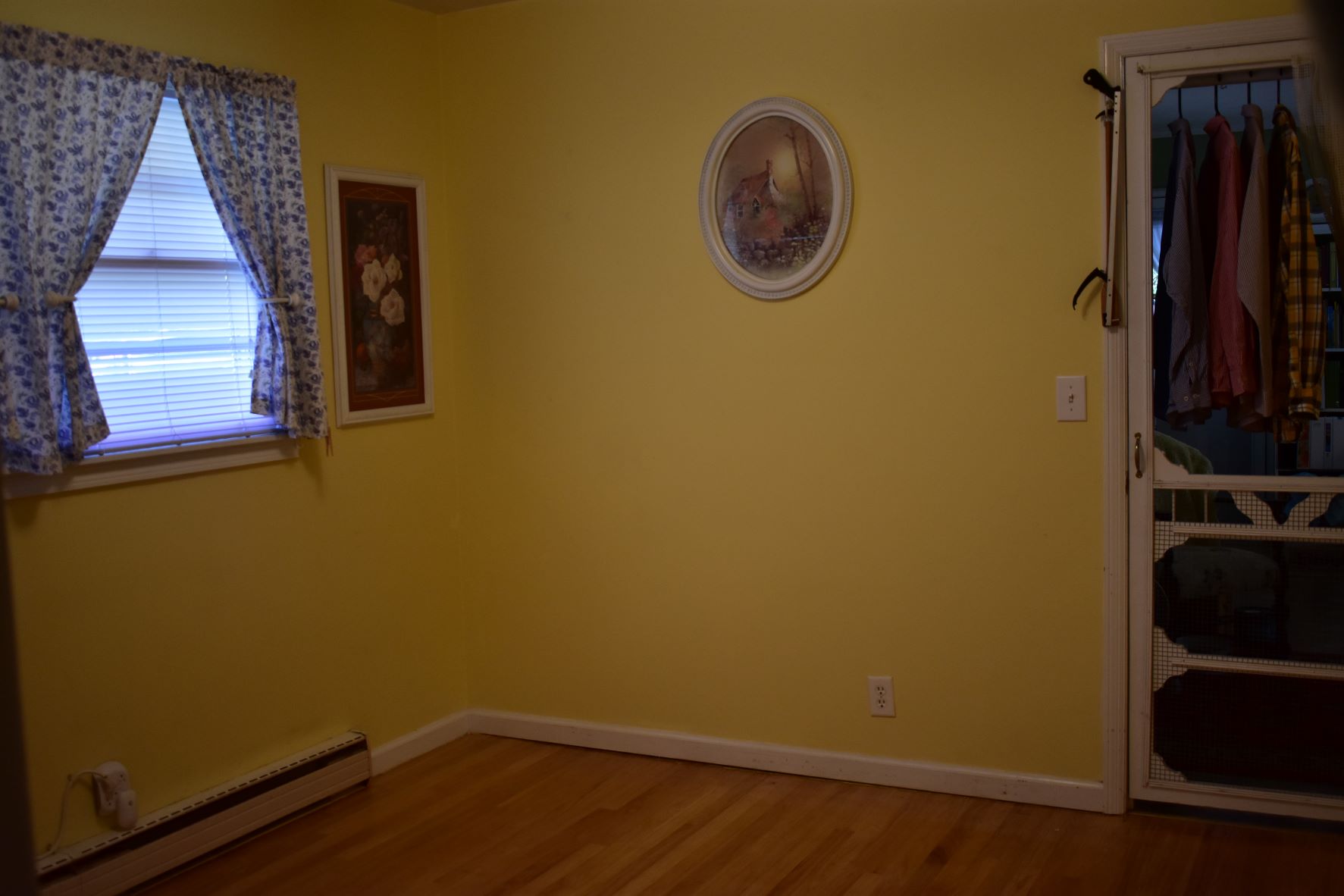 As I mentioned last post we decided to to give the coating on the floors extra time to cure. Since the furniture is out of the room, we have decided to put a fresh coat of paint in a lighter color.
At this time I am writing this post I haven't been able to paint the bedroom because Charles needs to be home before I work on a ladder. He will help me with the high part of the wall and I will do the mid to lower part. He has knee problems and I have shoulder problems so we balance out with this job. :) He might have to help me with the lower part though because I cannot walk around wearing reading glasses because I can't see to walk due to blurriness and I cannot paint the trim without them. Oh how fun it is to be old. :)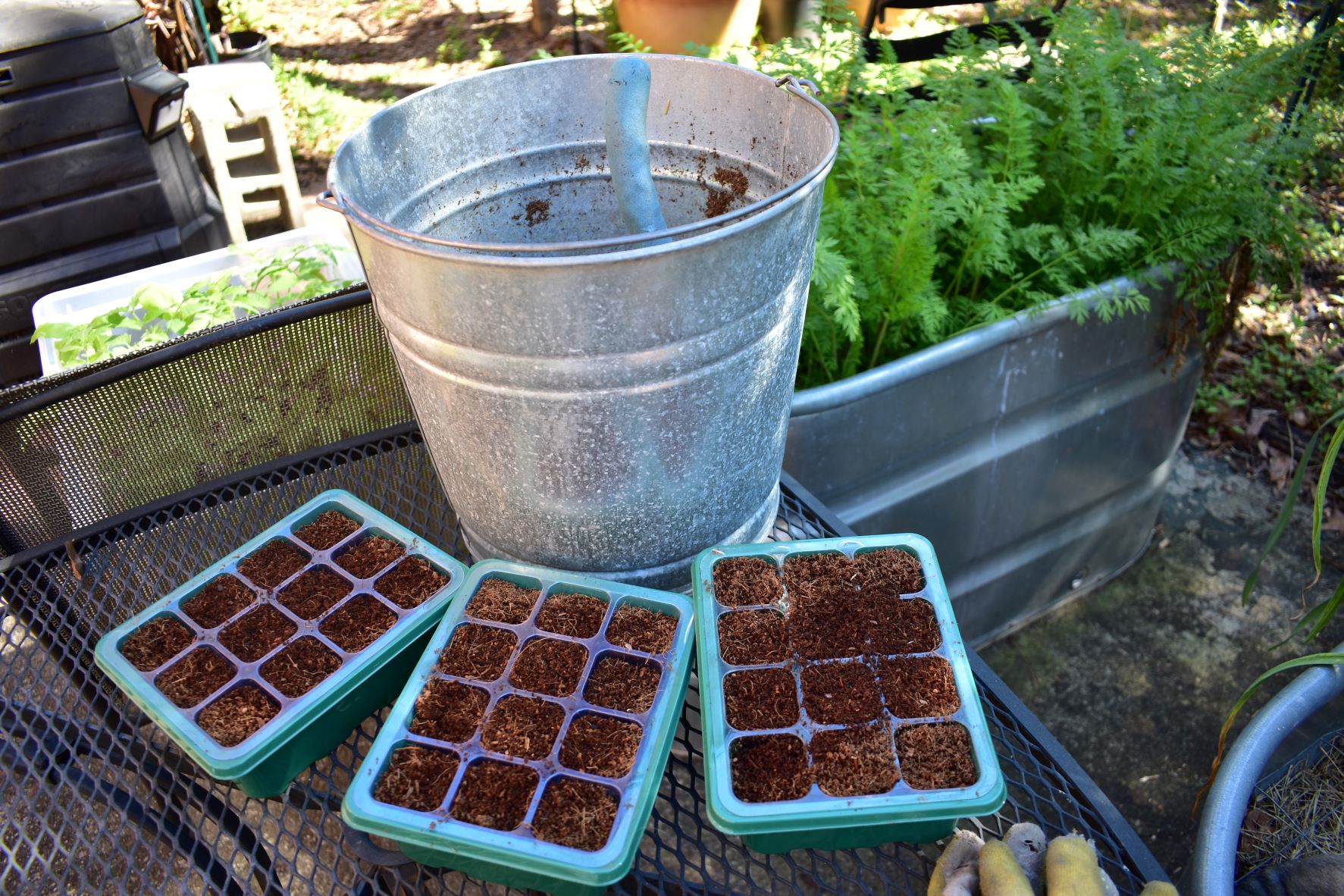 When I write about myself and pain, please take it with humor because that is how I try to do it, I do not want anyone worrying and most of us have some kind of pain and issues. I am not saying these things to complain but to say don't let pain stop you. We laugh a lot about our changes such as my new sock puller upper thing, it really works!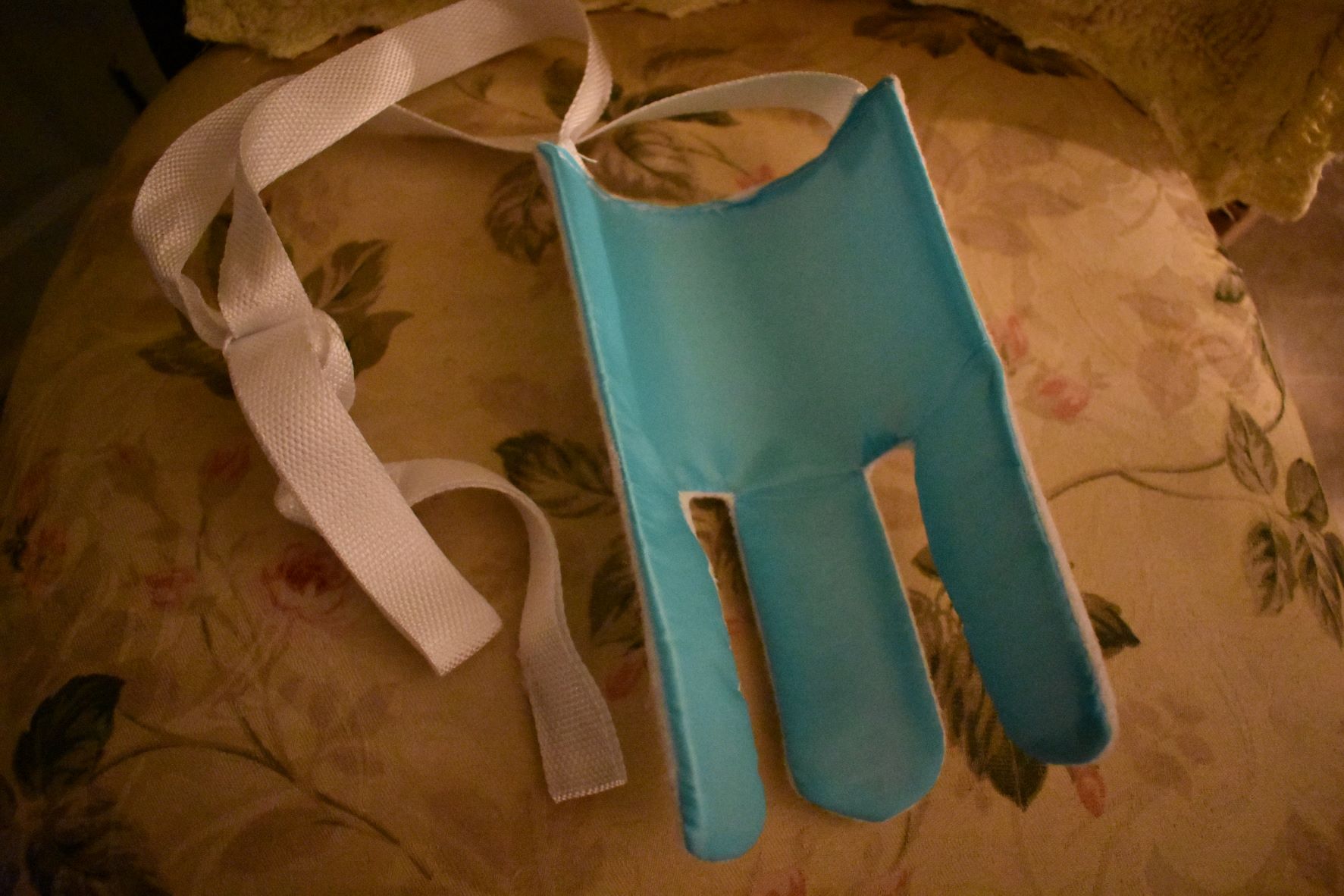 The sock puller works very well. You fold the three finger things and pull your sock over them and push it into your sock and then put it on the floor and ease your foot in it and pull the straps and it slides right on your foot. I ordered it on amazon but some medical places might have them.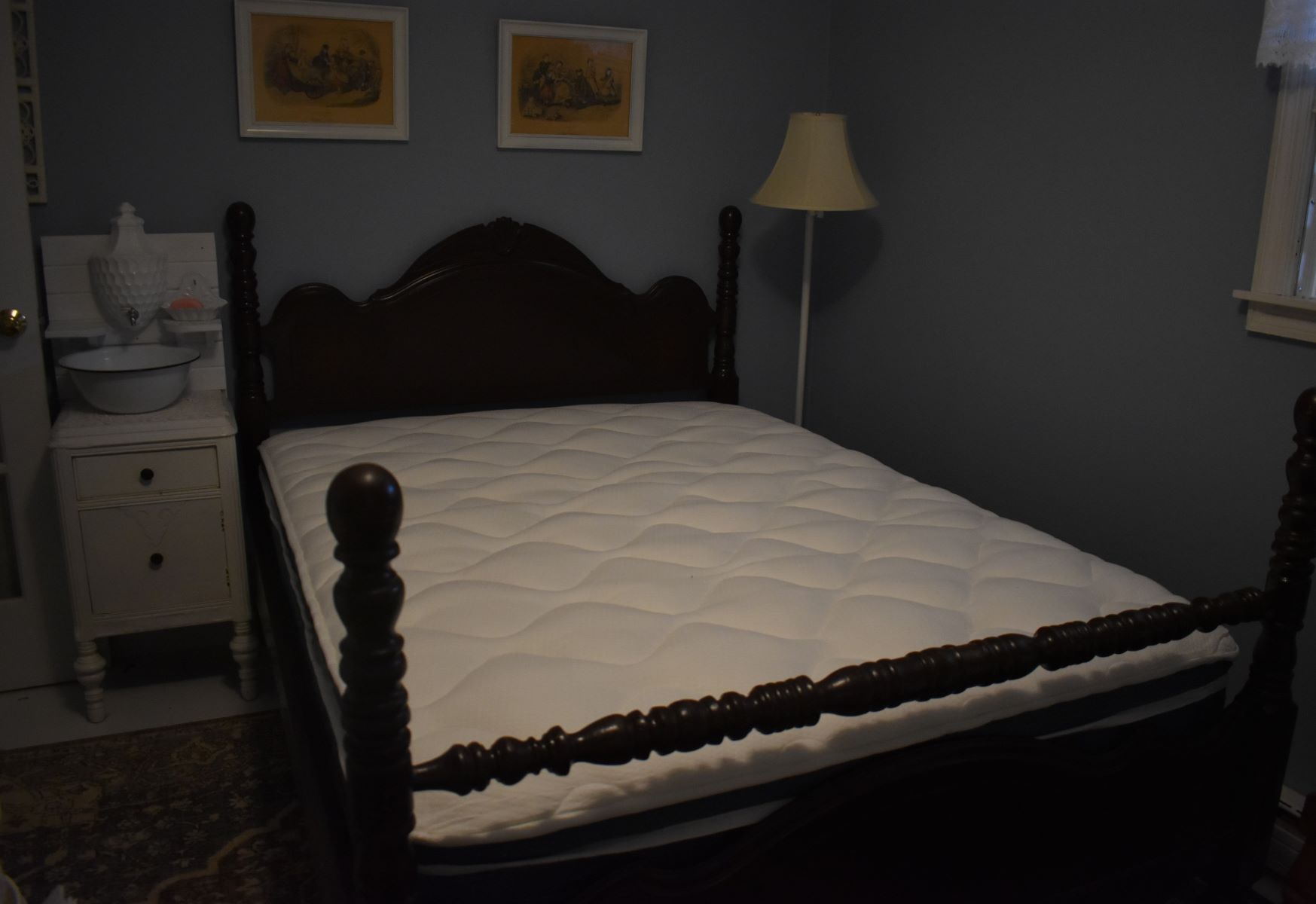 Charles and I have just gotten past the feeling of being hit by a truck due to soreness from doing the floors. The past several days I laid some new sod in the front and back lawn. I got spasms from that, couldn't hardly get in and out of the bed and when I got in the bed I couldn't roll over for the past couple of nights. The good part is we just bought a bed in a box mattress and when Charles rolls around on his side of the bed during the night it doesn't make me feel like I am going to roll out of the bed. Ha!

Getting the bed in the box inside the house, un-rolling the mattress and cutting off the suction contraption was a real interesting experience. We still cannot figure out how they got a regular mattress suctioned down and rolled and stuffed into a box. It saved us hundreds of dollars and it is actually a very nice mattress.
The reason we got the mattress is because we took the guest mattress up to the Myrtle to put on that bed leaving us with no mattress in the blue guest room, the room that we are sleeping in right now until we finish our bedroom.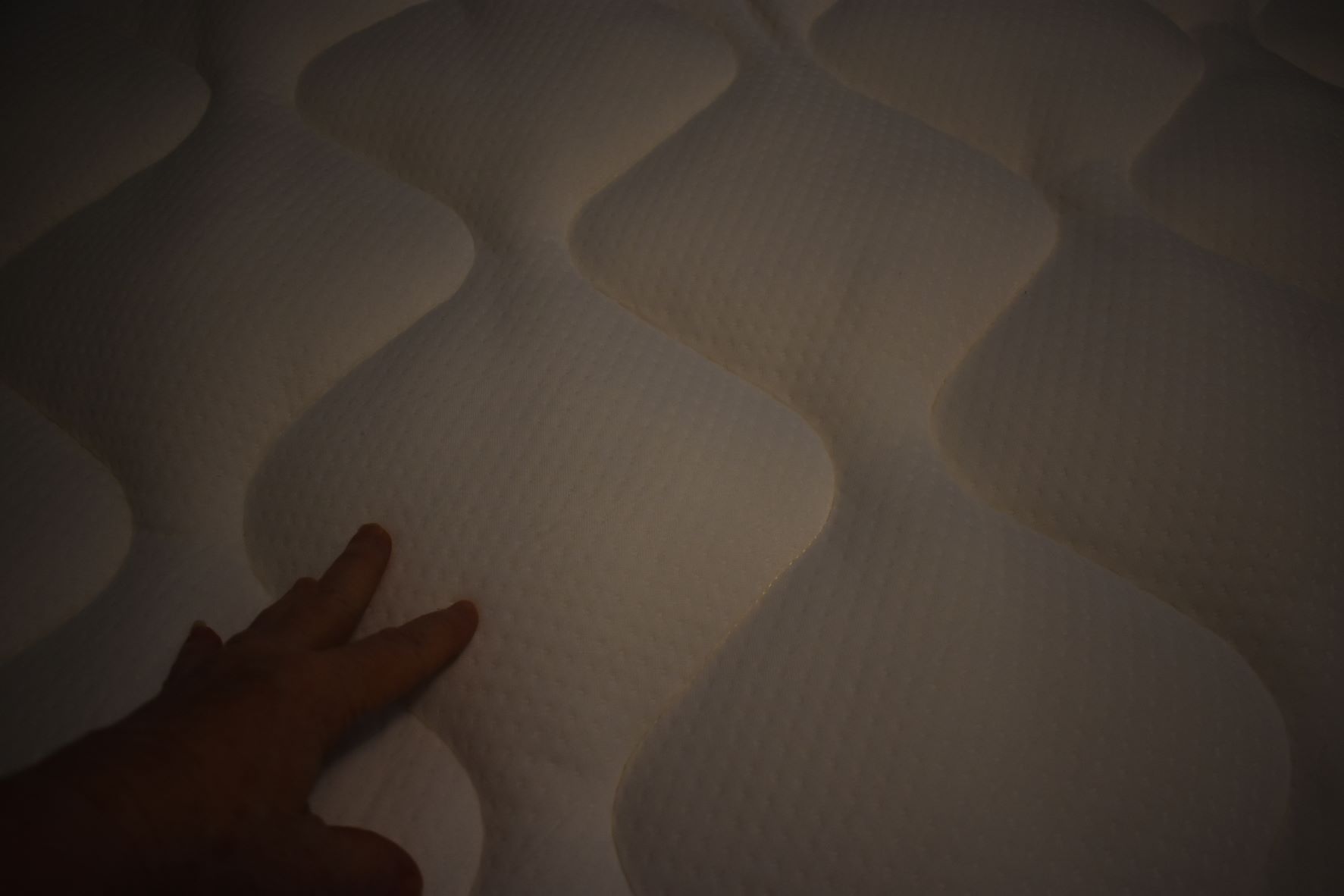 Some people have emailed me asking about my surgery so I will explain. I am a pacemaker expert, not really, I am not a doctor. I am in need of a fourth pacemaker, that makes me a pacemaker expert because I am getting to the end of the battery life of my third pacemaker so that qualifies me for some kind of title right?

My heart is okay as long as my pacemaker is working properly. The problem I am having right now is not my heart, it is my pacemaker. The pacemaker is going to run out of battery soon and this time around I have a lead issue.
The pacemaker is implanted in my upper left chest/shoulder area. The leads attach to the pacemaker and run down into my heart. The leads were put in with my first pacemaker 32 years ago. One lead is malfunctioning due to the age of the lead. There is a possibility of the other one having an issue. This could possibly be a complication with the new pacemaker I will be getting. I haven't wanted to know how he is going to fix this problem, we did discuss it a little bit last appointment but I really did not want to know more so I did not have to dread it. I guess I will find out soon enough.
Last September when I saw my doctor in the office and had the pacemaker computer information checked, he said the longest this pacemaker I have now would last, would be August 2023 and most likely sooner than that. He wrote on my records my readings qualify me for replacement at any time. That was last September 2022.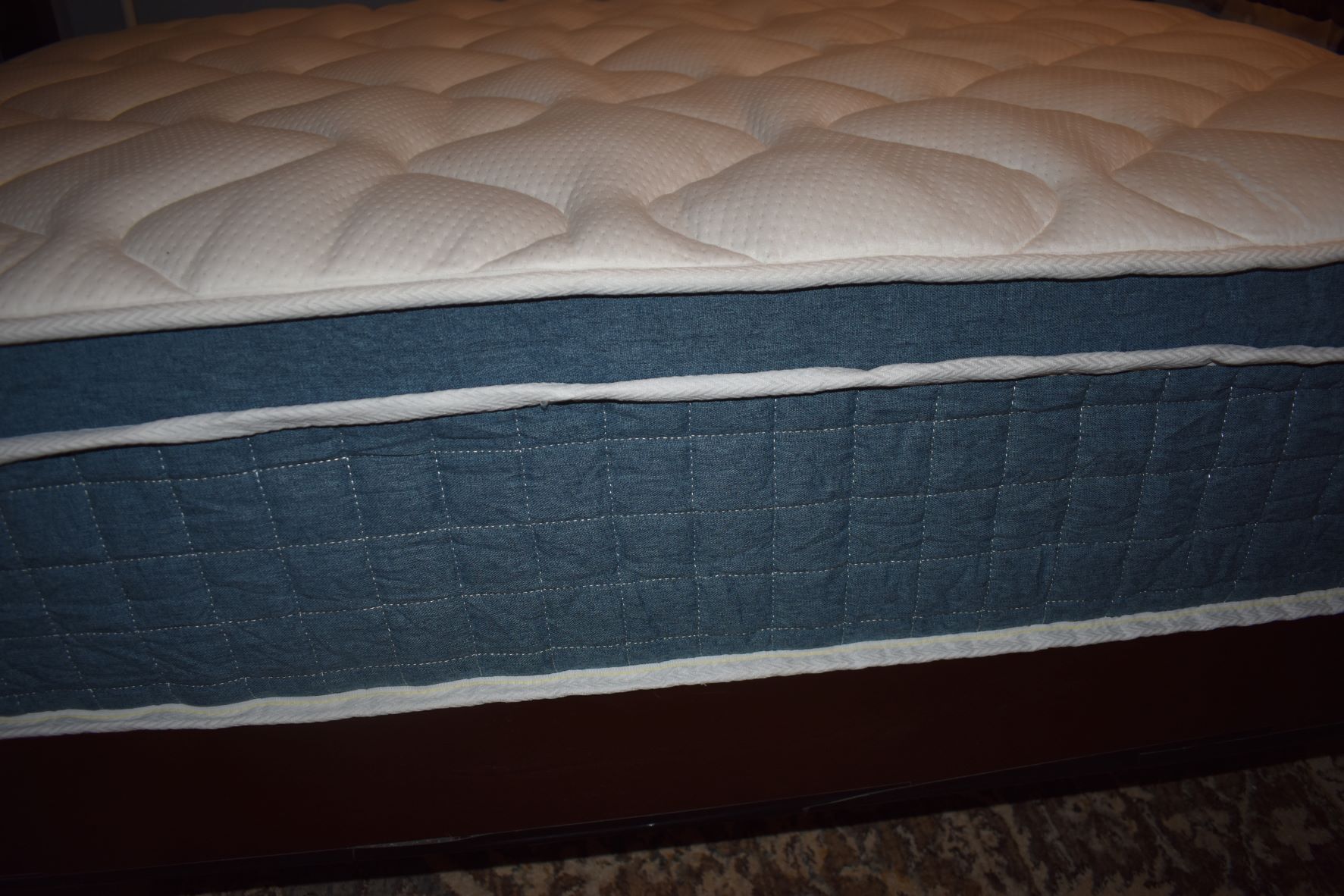 I also have a machine here at home that I do a heart check and they receive it at the hospital. I received a handwritten note from my doctor after the last phone check to make sure I am in his office for my March appointment. He has never in 32 years sent me a letter or a handwritten note and I have never missed an appointment and he indicated a change has occurred. Since the letter, Charles and I both had a tough bout with Covid so my demand on the pacemaker may have been higher since that phone check. We will hopefully get some answers at my appointment on the 23rd because they will use the machine there that checks the computer inside my pacemaker. I will let everyone know what we find out.
Between now and then I will see what I can finish up around here. Could be interesting, I hope to have the bedroom painted, all the furniture back in place and all of the things that are completely out of place back in place.
Don't let aches and pains or worries stop you from doing what you want to do because that just makes more work to do later and sometimes doing nothing can actually cause more pain.
Is your area experiencing normal or abnormal weather conditions? Let us know the answer to that or anything else you want to discuss over in the forum.
Grandma Donna