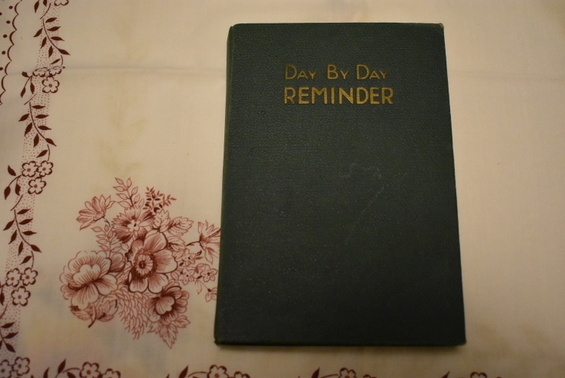 We continue the diary of Phoebe, April 1939
Phoebe and William live in a three story adjoining home with the Griffiths living next door.
Their story is told in the January diary.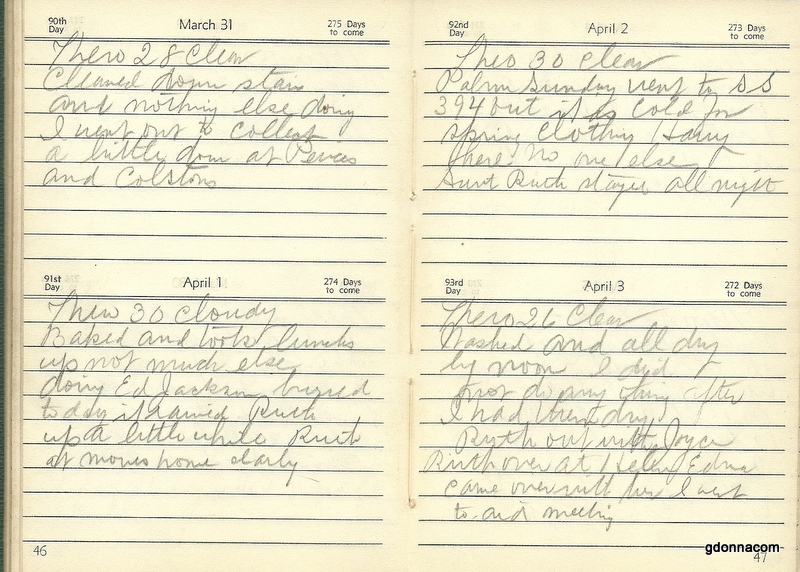 Saturday April 1
Thero 30 Cloudy. Baked and took lunches up not much else doing. Ed Jackson buried today it rained. Ruth up a little while, Ruth at movies, home early.
Sunday April 2
Thero 30 clear, Palm Sunday, went to S.S. 394 out it as cold for spring clothing. Harry here. No one else. Aunt Ruth stayed all night.
Monday April 3
Thero 26 clear. Washed and all dry by noon. I did not do any thing after I had them dry. Ruth out with Joyce. Ruth over at Helen. Edna came over with her I was to aid meeting.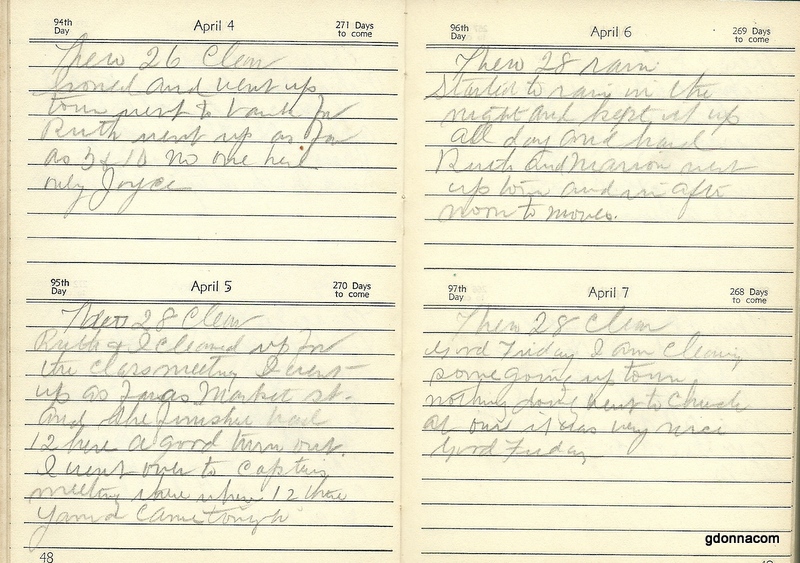 Tuesday April 4
Thero 26 Clear. Ironed and went up town went to bank for Ruth? I just do not understand what she is saying here.
As 3 and 10 no one here only Joyce.
Wednesday April 5
Thero 28 Clear. Ruth and I cleaned up for the class meeting, I went up as I was. Market st and the finisher had 12 here a good turn out. I went over to captains meeting there where 12 there. Yama came tonight.
Thursday April 6
Thero 28 rain. Started to rain in the night and kept it up all day and hard. Ruth and Marion went up town and in afternoon to movies.
Friday April 7
Thero 28 clear. Good Friday. I am cleaning some going up town nothing doing went to church at one it was very nice good Friday.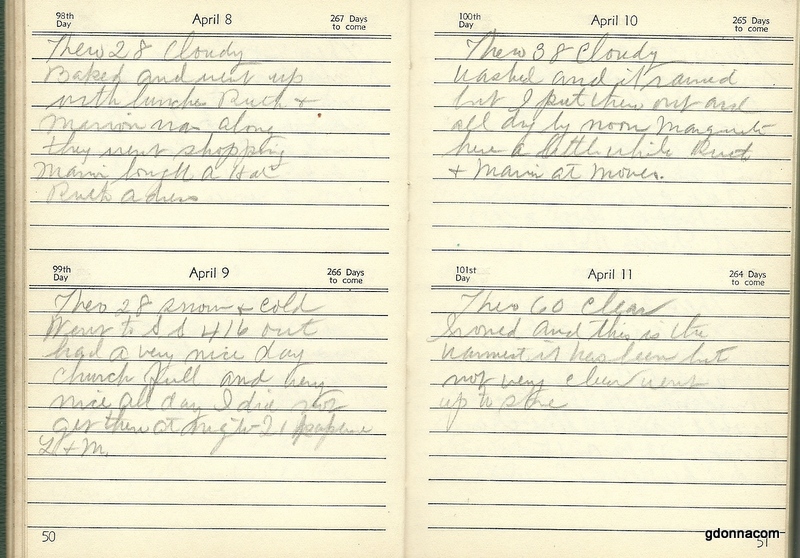 Saturday April 8
Thero 28 Cloudy. Baked and went up with lunches.Ruth and Marion was alone, they went shopping. Marion bought a hat, Ruth a dress.
Sunday April 9
Thero 28 snow and cold. Went to S.S. 416 out. had a very nice day. Church full and very nice all day. I did not get there at night. 21 ? L&M.
Monday April 10
Thero 38 cloudy. Washed and it rained but I put them out and all dry by noon. Margarite here a little while Ruth and Marion at movies. (I want to know how here clothes always dry by noon even if it rains?)
Tuesday April 11
Thero 60 clear. Ironed and this is the warmest it has been not very clear went up to store.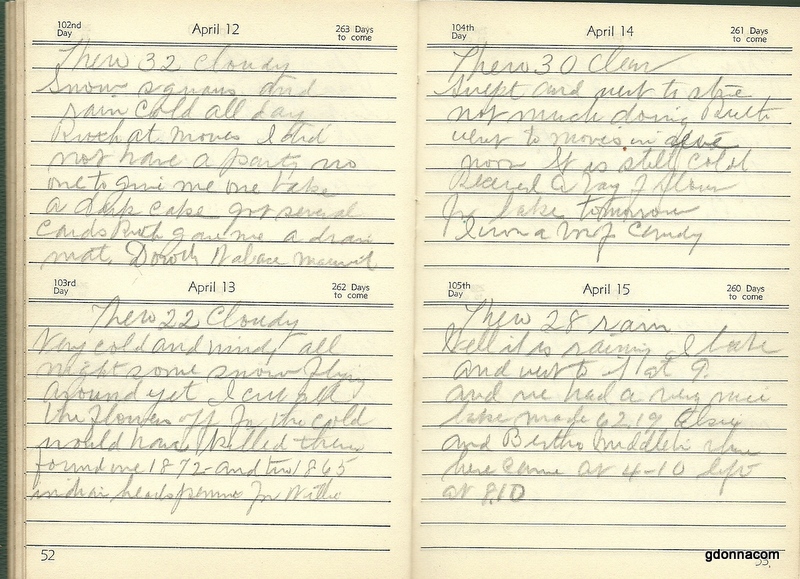 Wednesday April 12
Thero 32 Cloudy Snow ? and rain. cold all day. Ruth at movies. I did not have a party no one to give me one. Bake a dark cake, got several cards. Ruth gave me a drain mat. (Do not know last three words.)
Thursday April 13
Very cold and windy all night. Some snow flying around yet. I cut all the flowers off in the cold. Would have killed them. found me 1872 and two 1865 Indian head pennies for William.
Friday April 14
Thero 30 clear. Swept and went to store not much doing. Ruth went to movies in afternoon. It is still cold Reared a bag of flour for bake tomorrow. (cannot make out the rest )
Saturday April 15
Thero 28 rain. Well it is rainning. I bake and went to flat 9 and we had a very nice bake made $62.19. Elsey and Bertha Middleton came here came at 4:10 left at 8:10.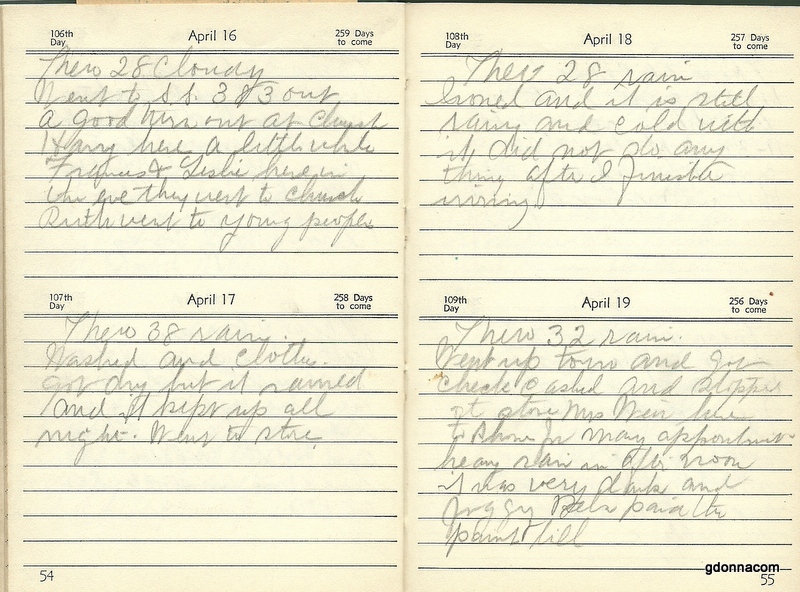 Sunday April 16
Thero 28 Cloudy. Went to S.S. 383 out a good turn out at church. Harry here a little while. Frances and Lesli here in the eve they went to church. Ruth went to young peoples.
Monday April 17
Thero 38 rain. Washed and clothes got dry but it rained and it kept up all night. Went to store.
Tuesday April 18
Thero 28 rain. Ironed and it is still rainy and cold with it, did not do anything after I finished ironing.
Wednesday April 19
Thero 32 rain. Went up town and got check cashed and stopped at store. Mrs. Weir here to phone for May appointment. Heavy rain in afternoon. It was very dark and foggy ? paid the paint bill.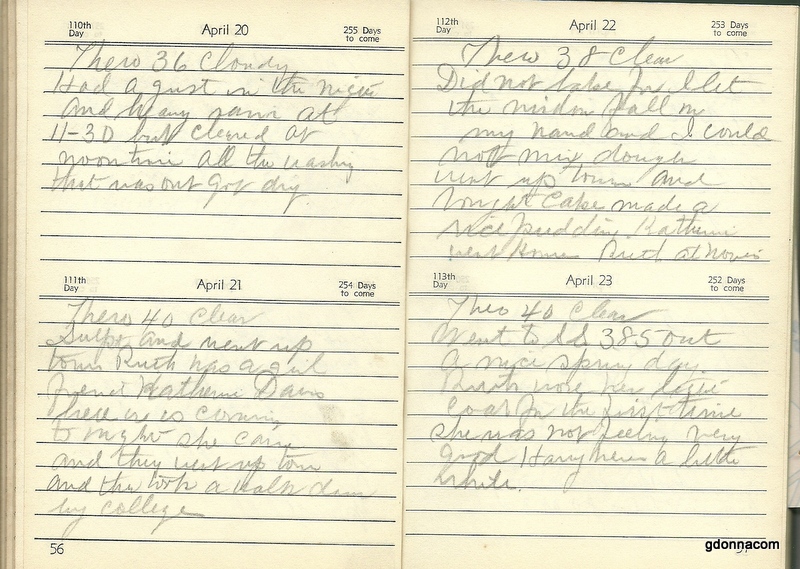 Thursday April 20
Thero 36 Cloudy. Had a gust in the night and heavy rain at 11:30 but cleared at noon time all the washing that was out got dry.
Friday April 21
Thero 40 Clear. Swept and went up town. Ruth has a girl friend Katherine Davis here and is coming tonight she came and they went up town and then took a walk down by college.
Saturday April 22
Thero 38 Clear. Did not bake for I let the window fall on my hand and I could not mix dough. Went up town and bought cake. Made a rice pudding. Katherine went home. Ruth at movies.
(Anyone besides me wondering if Ruth needs to be put to doing some home work besides me? Just had to say this.)
Sunday April 23
Theo 40 clear. Went to S.S. 385 out. A nice spring day. Ruth wore her light coat in for the first time. She was not feeling very good Harry here a little while.
Monday April 24
Thero 40 Clear
Washed and all dried. I put coats out and brought them in going to put them away. William wore his other suit, old one gone.
Tuesday April 25
Thero 50 Clear. Ironed and not much else doing put some screens in. Council meeting tonight. Made 65.00 at Bake in April 15th Sunday school Ms Hellis was not there down at Crozier. Thero 80 at 3 o'clock.
Wednesday April 26
Thero 50 rain. Rained after midnight some what cooler still raining. I put screens in Yesterday. Wasps were bad getting in.
Thursday April 27
Thero 40 rain. Rained part of the day. Circus came in Ruth went to movies and then came home and Mary Horn and she went to circus, she said it was good. They got a woman for Mrs Faddis. Mary Myers ?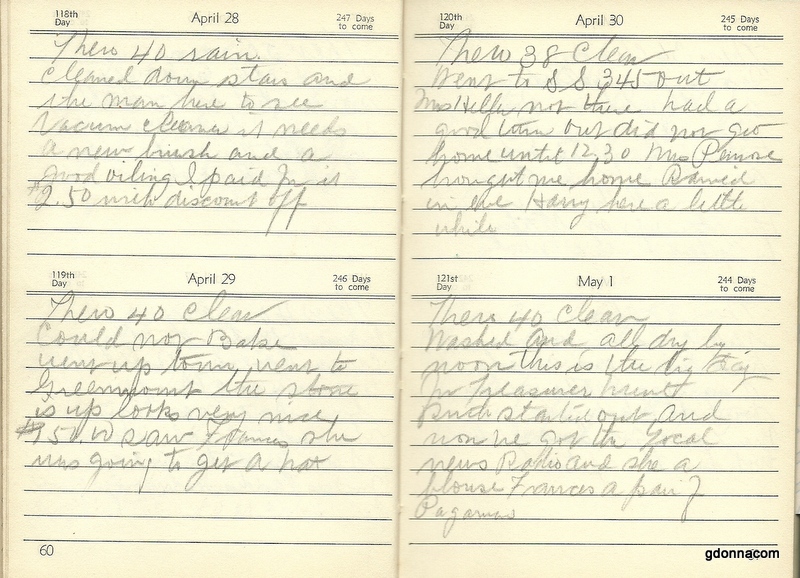 Friday April 28
Thero 40 rain. Cleaned down stairs and the man here to see vacuum cleaner it needs a new brush and a good oiling. I paid for it $2.50 with discount off.
Saturday April 29
Thero 40 Clear. Could not Bake, went up town, went to Greenmount, the stone is up looks very nice. $150.00. Saw Frances she was going to get a hat.
Sunday April 30
Thero 38 Clear. Went to S.S. 345 out. Mrs Hellin not there had a good turn out did not go home until 12:30. Mrs Pemrose brought me home. Rained in the Eve. Harry here a little while.
Monday May 1
Thero 40 Clear. Washed and all dry by noon. This is the big day for treasure hunt. Ruth started out and won. We got the local news Radio and she a blouse, Frances a pair of Pajamas.
End of the month of April, will be back with this diary in May. As it warms up
Grandma Donna