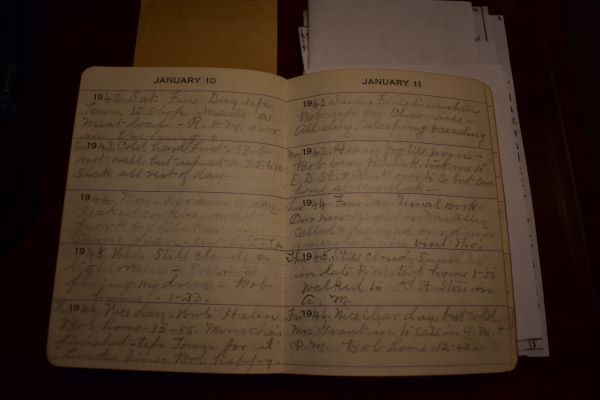 We have been reading from Lil's Diary, I posted her first week under the blog post "Four Days in with our 1943 History Project". I will try and get this on tract to where it is in a post that is titled the diary so you can read along better. This comes from a five year diary including the years 1942, 43, 44, 45 and 46. Our history project this year is 1943. (I will give some information as we go along to help you figure out what Lil is talking about)
January 8, 1943. (Friday) Fine again today. Cleaned House & Venetian blinds. B (Bob) over at S. Cut Frahm's lawns in P.M. Marjory and J called. (visited)
Jan 9th 1943. Saturday. Fine Day. Walked up to 3rd St. store. Wrote Ralph and Betty. Bob home late, was shopping all over town for meat. (Remember this diary is during ww2 and there are shortages and rationing. At this time meat is not rationed but it will be)
Jan 10 1943 Sunday. Cold hard frost. Bob not well but up at W T 8:00 - 10:00 Sick all rest of day. (Bob does war duty by going to top of hotel to take watch for two hours, Bob is in his mid seventies W T is watchtower)
Jan 11 1943. Monday. 42 degrees, heavy fog till noon. Bob very punk, took me to E.D St. & went over to s. but came home at 10:00.
Jan 12 1943. Tuesday. Fine but hard morning frost. Done the washing. Bob home all day but is better. R & M over in Eve.
Jan 13 1943. Wednesday. Fine Early Frost. Done the ironing. B to S. left 9:15 & home at 2:15. Mrs. Bridge called. Out pruning with Emma in P.M.
Jan 14 1943. Thursday. Fog in a.m. Cared for baby again at D. St. from 8 to 2:20. Bob at S. 9:30 till 2 P. M. R. A. called.
I will go back and re-read 1942 to figure out what the S. is referring to. We have been studying the 1930s before this new study and I have been reading the 1930s diaries. I have not read this entire 5 year diary. I suspect the S. is for Sonoma but I am not sure at this time.
I have purchased diaries over many years from antique stores, ebay and some families just have no need for them and do not want to pass them down.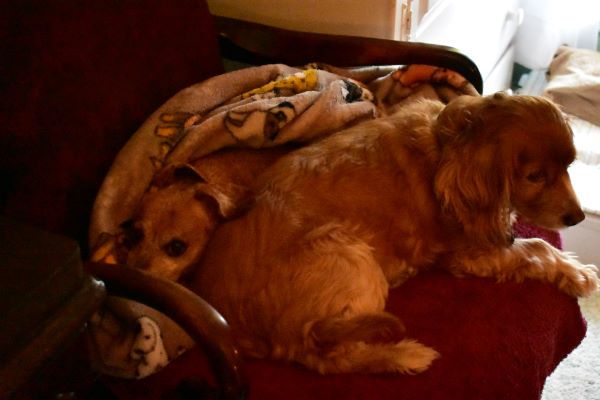 It is a chilly morning here. This new history study has kicked us into cleaning up gear and I have not written down a short daily diary post as I said I would do. This is only the beginning of our second week into this History Study and any history study we do it takes us many weeks to adjust our home. We actually try and remove as many things that we would not have during the time we study so we can get the feel of the home long ago.
We have been packing away extra clothing and items of today that are made from plastic or modern items just do not feel right when doing a one year history study like this. We actually do not have a lot of modern items in our home anymore.
I make my own laundry soap but I got behind and need to make some more soap so I can have some to grate to make my laundry soap. I was surprised that it was difficult to find powdered laundry soap in the store because everything was liquid and in plastic bottles and now those pod things, so I ordered some Charlie's laundry powder and that is working well for our laundry. I have no complaints about it so I will stick with this and get on with making some homemade soap bars.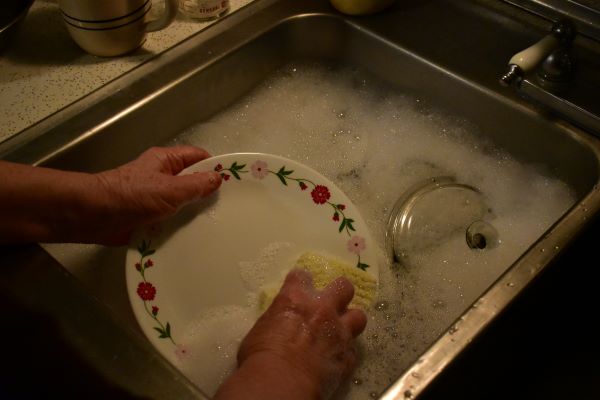 I checked the 1943 ads for dish soap and the search just kept coming up soap dish. I finally worded the search to where I got "soap washes dishes" and it came up Ivory snow, a laundry soap. Soap flakes were used most often during this time and also bar soap, Swan was also a floating soap and the advertisement said the bar would float in your dish water. Ivory also was a floating soap. But after many years of trying to wash dishes with bar soap like the past I got tired of the glycerin feel to the water. Todays laundry detergent would not be good for dishes or not any that I have found at this time. Maybe Charlie's would be but I would need to email the company.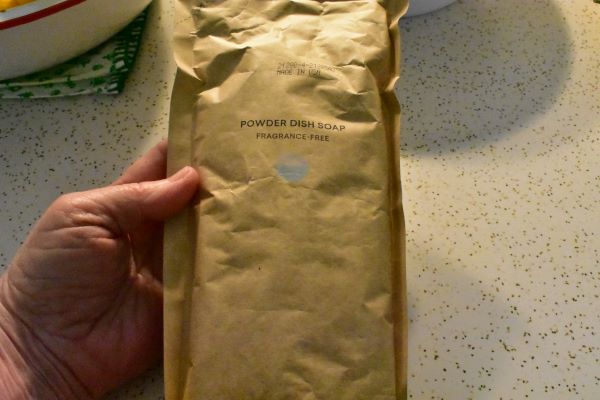 Squirting liquid soap out of a plastic bottle would not work for this history study. Then I finally found some powdered dish soap called "Blueland powdered dish soap" and I ordered some last month to give it a try. I am in no way affiliated with this company, I am only a customer. I really like this dish powder.
Their videos show using it by shaking it out of a silicone shaker container onto a sponge and washing the dishes. They would not have done this in the past so I did not order the shaker container. I started experimenting with it in my sink each time I washed dishes.

The first three days I used it I was not sure about it and then as I adjusted the amount of dish powder in the water I was hooked! I really like it. I cannot find it locally so I ordered it through their website. In the past people ordered items through catalogues so ordering would be okay for our study. I like that it comes in powdered form, in a simple bag, not a plastic container.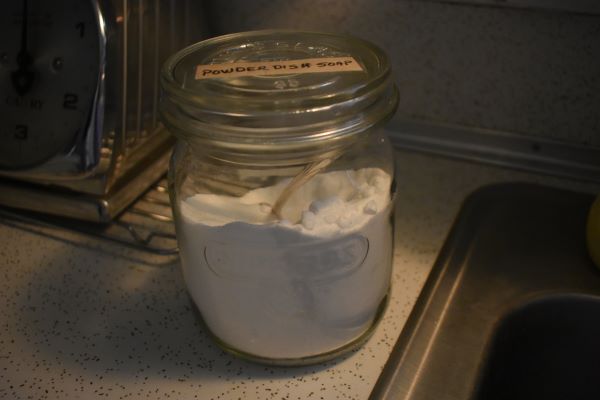 I put it in a nice old jar that I had found at the thrift store a few years ago.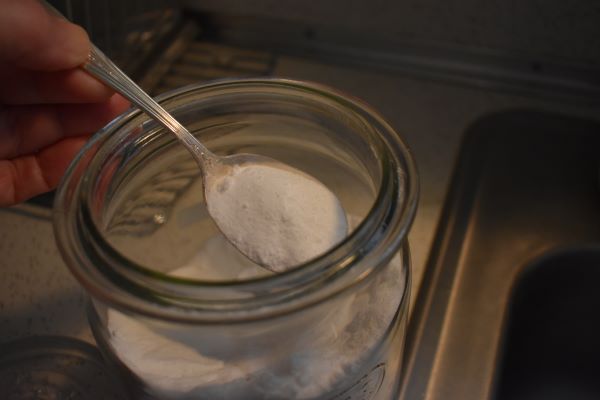 Each time I washed dishes I figured out how much I would need. So when I found out how much I needed I found a spoon that was just the right size that I keep in the jar.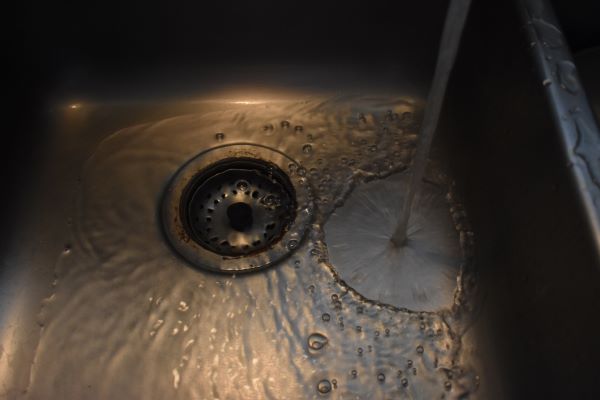 So this is how I do it. I add very hot water from my faucet to cover the bottom.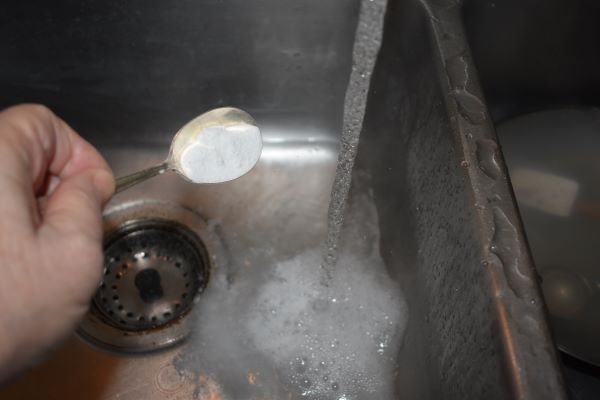 Then I sprinkle my soap under the running water.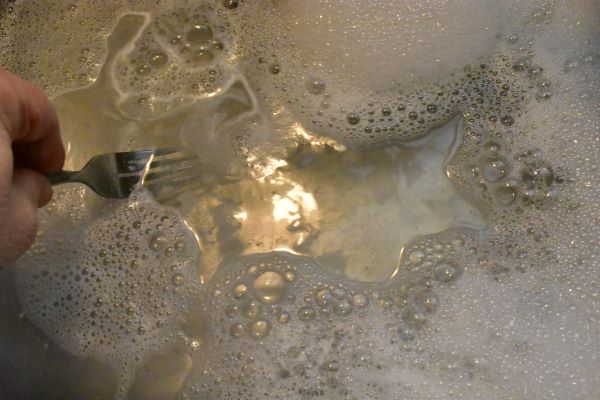 The water is very hot so I use a fork or whisk to make sure all the powder is dissolved and this makes suds. I actually like doing this. When the dishwater is not scalding hot I use my hands to give it a good swishing.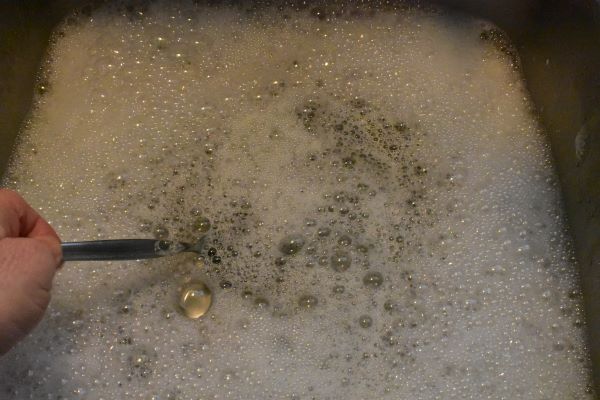 All the while I am whisking I am adding the amount of water I need in the sink.
I have not had any film or greasy feeling when using this dish powder. It rinses away well and much better than liquid dish soap. I like to dip rinse my dishes by filling up a container in the other sink with rinse water.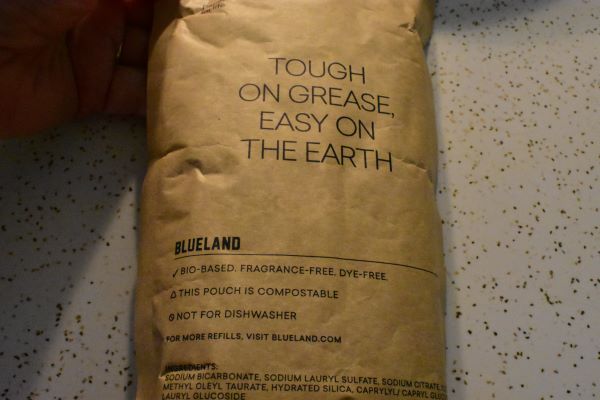 This is the back of the bag. I have not done the price figuring, when we cut back on as many things as Charles and I do, we have the money to spend on something like a good dish soap that comes in a bag so we don't add another plastic bottle to the landfill.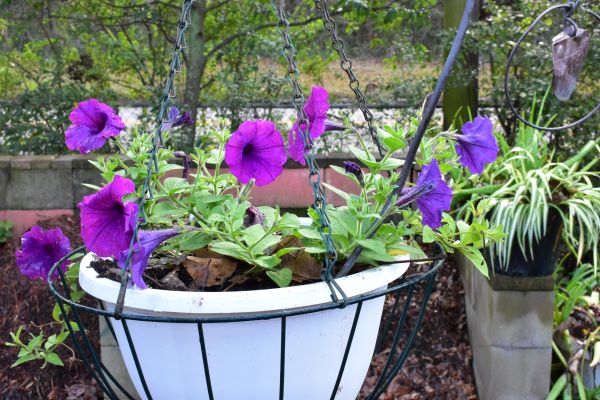 The petunia just keeps going, never seen it in bloom here at our house in January.
I will post Lil's diary weekly about this time of the week.
I made a video this week to view click here. https://www.youtube.com/watch?v=T17TXza6xWo
Grandma Donna