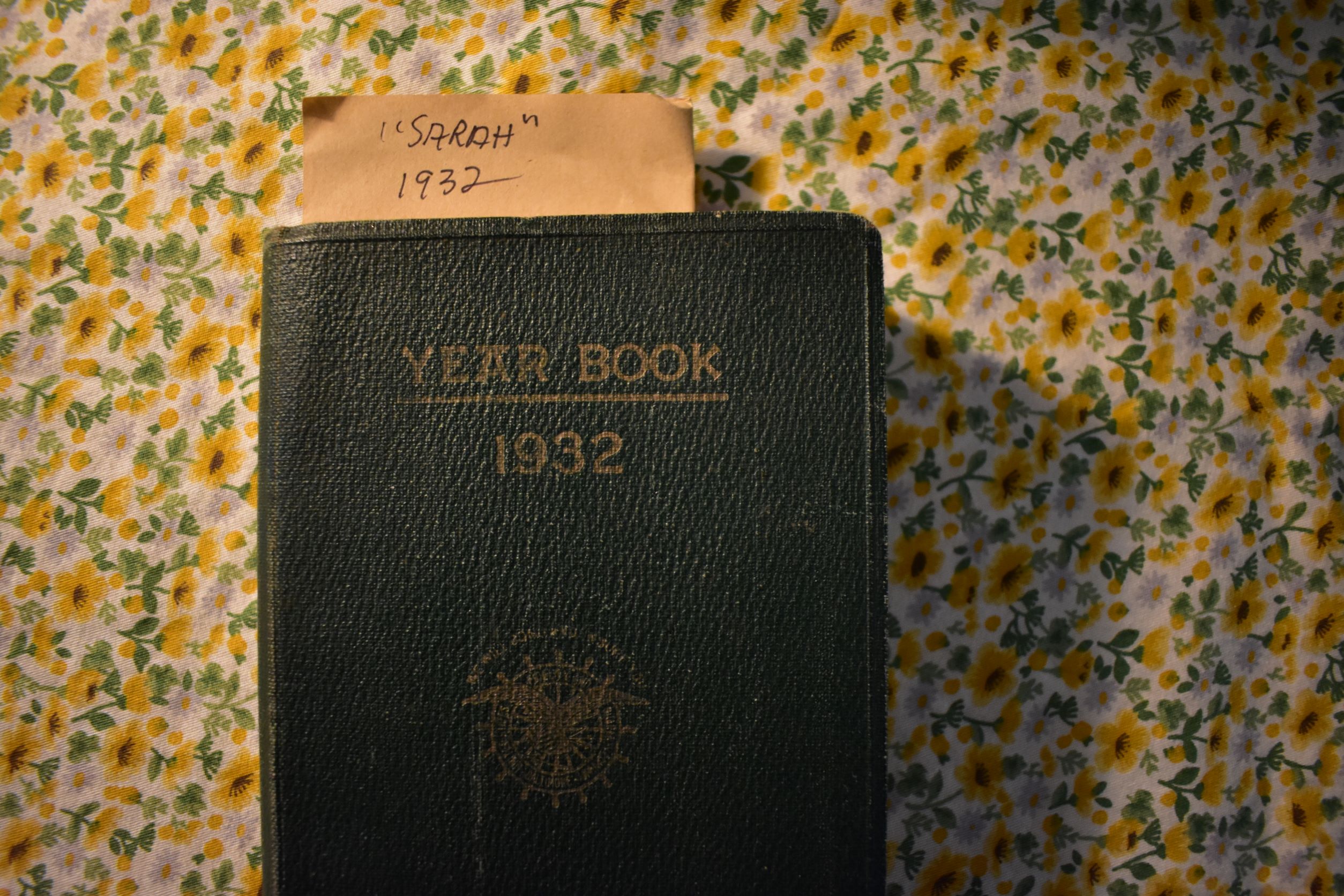 We continue the reading of Sarah's 1932 diary.
Sunday, May 8, 1932. Some clouds and some sunshine, altogether a good day. Had the usual necessary tasks outdoors and inside. Made preparation and attended Church and S.S. services at both of which, special tribute was paid to the mothers - this being Mother's Day. Home for dinner. Looked after the chickens and then Lay down and took a good nap. Father & I were alone today. I was quite well remembered by the children. Ernest, Vera & Jimmie here this evening. 10:30.
Monday, May 9. Cloudy a good part of the day but, a good breeze astir this P.M. Had the usual morning tasks indoors and outside. Made preparations and got at the washing in good time. Finished the regular washing alone 10:30. Then I washed two big comforters for Sherley and with Father's help got them through the rinse water and on the clothes line. Dinner. This P.M. I collected news & saw to the chickies, supper. Did a good bit of copying this evening, 9:30
Tuesday, May 10. Cloudy and cooler with a good breeze astir. Had the usual morning tasks indoors and outside. Set the bedroom and living-room in order and swept all around. Prepared early dinner, after studying the list of candidates for this P.M. Dinner. This P.M. father, Joseph and I got off to Franklin in good time and saw to voting. Home again at 1:30. After dinner work & the poultry to see to, Emptied the washer & stored it, Set flowers in one of the tubs, Evening tasks. Baked a velvet sponge cake. Supper, iced the cakes. Letters from Aunt Liz & Ruth to-day. 9:40.
Wednesday, May 11. Dull gloomy, cloudy and rainy the whole day through. Had the usual morning tasks indoors and outside. Prepared some chocolate for coating and dipped a lb. of marshmallows. Set the house in order, stored some of the ironed clothes. Dinner. This P.M. I saw to the young chickens. Father & I shelled several bu. of corn & got down a few bu. of wheat from the granary in preparation for grinding chick feed. Usual evening tasks. Supper 9 o'clock.
Thursday, May 12. Dull and cloudy all the day through. A rather cool stiff breeze astir all day. Warmer and somewhat more quiet towards evening. Had the usual daily routine of duties indoors and outside. For addition, I put a binding on one end of a comforter, mended a bed-sheet, hemmed four or five kerchiefs, clipped the asparagus, helped the men with the feed grinding and carried water to the chickens. Usual evening tasks & supper 9:40.
Friday, May 13. Cloudy and bright alternately this A.M. - fine & bright still this afternoon. Had the usual morning tasks indoors and outside. Set out the flowers in the front yard tub, gave our bed-room its special clean up for the week & did some mending. Prepared and served dinner. This P.M. I baked a white cake, spent quite a bit of time with the young chickens and the telephone. Clipped the asparagus & had the usual evening tasks. Iced the cake, some reading 9:40.
Saturday, May 14. Fine & bright early this A.M. clouding up a little later and remained dull and cloudy until evening, with some sprinkling rain this P.M. Had the usual daily routine of tasks indoors and outside. Baked several pies, gave the living-room and kitchen a special clean-up and & swept the east porch, scrubbed the west porch and pavement, did some mending since supper. Ernest, Vera & Jimmie here for supper & the evening. After 11.
End of this weeks reading. Sarah will be heading into warmer weather soon. I do wonder how many chickens they have, sure wish we could see their farm. Grandma Donna